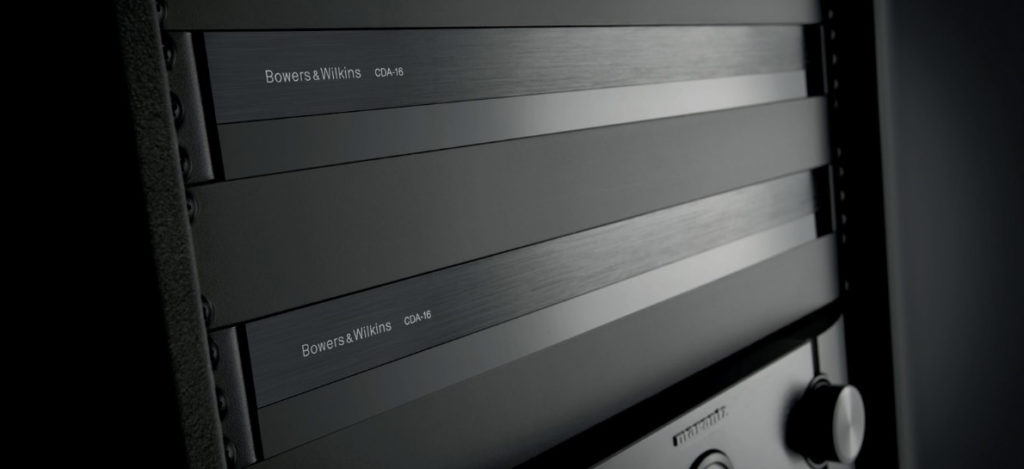 Yep, you read that right. Bowers & Wilkins (B&W) today announced that they have launched an impressive looking 16-channel distribution amplifier aimed at the custom integration channel. Long deemed by many to be the king of Hi-Fi stereo sound, the company is making a power move into a decidedly integrator mainstay category. So say "Welcome" to the new CDA-16…
Learn about the Bowers & Wilkins CDA-16
The company says this interesting new product is available today and is designed and robust enough to work with any B&W custom installation speaker. The company offers a fairly full line of in-ceiling, in-wall, and outdoor speakers – all of which remain consistent to their premium brand positioning.
The CDA-16 is a 16 x 100 watts (4Ω) for eight stereo zones of B&W quality sound. It can also be configured as 8 x 200 watts (8Ω) for a rockin' four zone system, or eight powerful monaural zones. The standard configuration will be more than sufficient for most installations, giving integrators 16 channels of solid 50 watt power (8Ω). And it does all of this in a relatively diminutive 1U rack space.
Basic but Useful Features
The unit also makes connectivity a breeze with eight pairs of RCA jacks for line-level analog inputs. There is even an option to have one set of inputs act as a "global" connection to apply its signal to all zones.
The amplifier itself is a clean and cool-running Class D design and features what the company calls "robust, reliable protection features" to guard against overload or short-circuit problems. The design of the unit works perfectly with either home system racks or more professional installation racks.
Bowers & Wilkins CDA-16 Features List
16 x 100 watts into 4Ω giving eight stereo zones, or 8 x 200 watts in 8Ω in bridged mode
8 RCA analog inputs for stereo sources per zone, plus the option of a global source for all zones
Three power mode options for control – on, auto-source detect and 12v trigger
Robust, reliable protection features to prevent damage due to overload, short-circuit or heat
Ultra-compact 1U rack-mount design for easy installation and configuration
The CDA-16 is available as of April 1st and sells for an MSRP of $1,999.99.
For more on Bowers & Wilkins, visit: bowerswilkins.com.