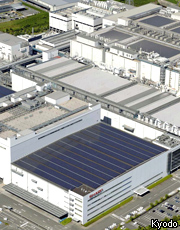 Two key banks in Japan announced yesterday that they will extend Sharp Corp. an additional line of credit of ¥150 billion ($1.5 billion) over and above all of their other financing. Mizuho Corporate Bank and Bank of Tokyo-Mitsubishi UFJ originally had considered a ¥100 billion line, but ultimately decided to up the ante with each bank kicking in ¥75 billion – a real lifeline to the struggling electronics manufacturer.
See more on this surprise announcement out of Japan…
According to a report by the Nikkei, Sharp will use the desperately needed funds to redeem ¥200 billion in convertible bonds. These bonds are coming due in September, and the deadline has loomed big with Sharp management.
The banks have also decided to extend the payment deadline for ¥360 billion in loans they had already made to Sharp for retiring commercial paper. Originally, the deadline for payment of this amount was the end of June. The banks have generously extended this payoff to March 31, 2016.
But…there's a catch…
But this largesse comes with a hitch. Bank of Tokyo-Mitsubishi UFJ will send Yoshihiro Hashimoto to become part of Sharp's upper management team. Up to now, Hashimoto is President of Mitsubishi UFJ Capital Co. Now he will join Sharp's management – most likely to ensure they hit their targets to pay back all of these funds they've borrowed.
Mizuho Corporate Bank will also send one of their executives to join Sharp management. They are sending Satoshi Fujimoto – a former bank official – to take a senior position at Sharp.
By placing bank employees on Sharp's management team and supporting the company's extraordinary fundraising, the banks effectively change the nature of the relationship. This move, the Nikkei says, will "ensure the company will follow through with a medium-term business plan."
Sharp's medium-term business plan is expected to be released next week.