AudioControl, a specialty electronics supplier with growing influence in the residential custom integration channel, has recently expanded into the commercial space with their CM Series of products. At ISE last week, the company announced a significant expansion of that lineup with three new 70-volt amplifiers that feature Dante digital audio networking capability built-in.
See more on AudioControl's new Dante amps
Strata-gee first reported on Dante back at the 2019 CEDIA Expo. Available for some time now in the professional and commercial spaces, many manufacturers are looking to embrace the technology in the residential space as well.
At that CEDIA Expo last year JBL Synthesis, Elan, Powersoft, as well as a few other brands, were announcing new Dante supporting products. But a long laundry list of other companies were listed as supporting the technology as well, suggesting it was gaining ground in its share of networking technologies.
As noted in our report from CEDIA:
"Dante's technology provides for the delivery of 'hundreds of uncompressed audio channels' all over a standard Ethernet network. By leveraging standard Ethernet infrastructure, Dante is said to lower cost and increase the speed of installation as compared to systems requiring proprietary single-purpose audio cables – music to integrators' ears.

"The company also claims that Dante offers audio delivery over long runs with no degradation in the signal at all – 'making it perfect for higher-end residential homes with multi-zone audio setups.'"

CEDIA 2019: Popular Pro Technology Migrates to Residential, Can You Speak 'Dante'?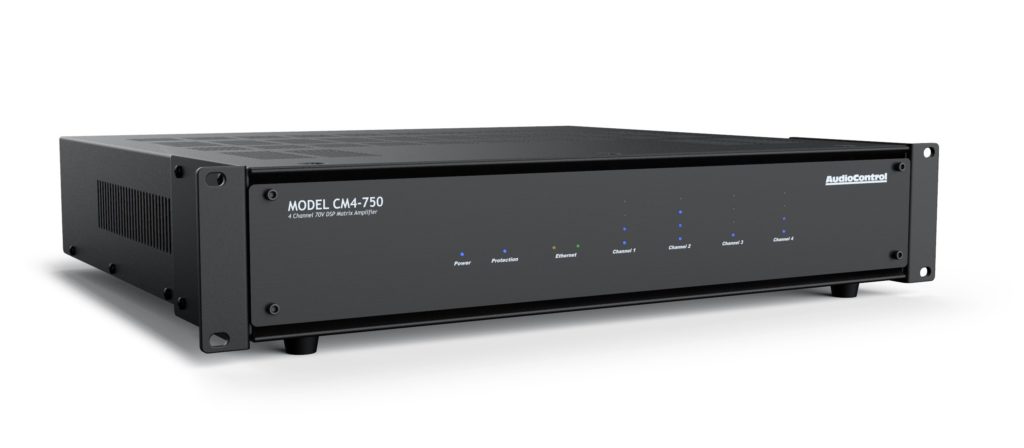 Three New 70/100-Volt CM Models with Dante
As I learned at CEDIA, the Dante world is already quite large with more than 2,000 products from over 430 manufacturers already in the market – all with guaranteed interoperability. This offers AudioControl integrators tremendous flexibility as they design systems to meet virtually any circumstance with the company's new Dante-enabled CM models.
AudioControl's new CM models will be offered in three versions: a 4-channel model, 3-channel model, and 2-channel model. Each of these new commercial series models offer 750 watts/channel in 70/100v mode. They also offer 500 watts/channel at 8-ohms (stereo or mono output), and 750 watts/channel at 2 or 4 ohms.
Lots of Connectivity Flexibility

Other features include 8 analog inputs (four stereo), four digital stereo inputs with digital coax and optical. The four outputs of these amplifiers can be individually controlled or controlled as two stereo pairs, offering integrators total flexibility for system configuration.
These new CM amplifiers also feature AudioControl's remarkable DSP control and signal matrixing capabilities which allow the amplifiers to be optimized for almost any acoustic environment whether in the commercial realm, such as Houses of Worship, Boardrooms, Hospitality, and Collaboration Suites; or in the residential realm.
Remote Web & App Control
Finally, system setup and diagnostics can be accomplished remotely via web browser or app (either iOS or Android) over IP and/or RS232.
Learn more about AudioControl by visiting: audiocontrol.com.