AudioControl, the scrappy specialty manufacturer for both home and mobile electronics, announced today that it is launching the M5 Preamp-Processor as part of its popular Maestro home theater processor line. The M5 appears to be a worthy contender for one of the best values in a high-end, if not audiophile, preamp-processor with all the right stuff at a reasonable price.
See more details on the impressive Maestro M5…
As AudioControl has made strides in building its residential business – scoring some impressive gains in home theater receivers against formidable competitors – the company began expanding into the Pre/Pro and Home Theater Amplifiers business. Their Maestro line of Pre/Pros have earned some positive buzz with integrators who are looking for a step-up product over the mainstream Asian brands, but want to be positioned under the rarefied air of the lunatic fringe on planet audiophilia.
This sweet spot is where AudioControl lives. And the M5 is a welcome addition to the family.
All the Latest Tech
The new M5 adds in the latest surround formats like Dolby Atmos and DTS-X and even adds in one of our favorite room correction technologies, Dirac Live. Did you ever see the article Strata-gee editor Ted Green wrote for Residential Systems on the amazing story of the birth and growth of Dirac? Follow this link to The Perfect Room, and see why we like the Dirac Live system…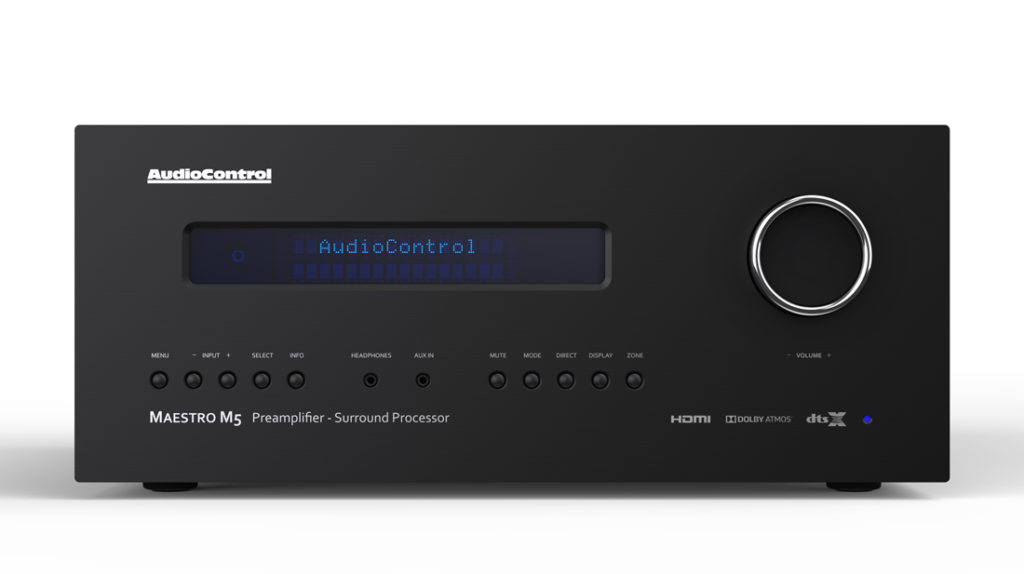 Beyond these excellent technologies onboard, AudioControl designed the M5 with both balanced XLR inputs and outputs on all channels – including height channels critical to new surround formats – as well as unbalanced RCA outputs on all channels as well. Inputs are assignable and the company has thoughtfully included a USB input (rear panel) both as a source input and to facilitate firmware updates.
Lots of Connectivity
The M5 features no fewer than seven HDMI inputs – that should be more than enough to cover all of your needs. And the dual HDMI outputs come with ARC (audio return channel) capability. The company has also included Ultra HD 4K video pass-through and upscaling capability, which supports the increasingly popular HDR (high dynamic range) of today's flat panel displays and top projectors.
Additional M5 back panel connectivity includes Ethernet and the obligatory RS-232 jack. The M5 has drivers for most of the top home automation brands and comes with its own programmable remote control.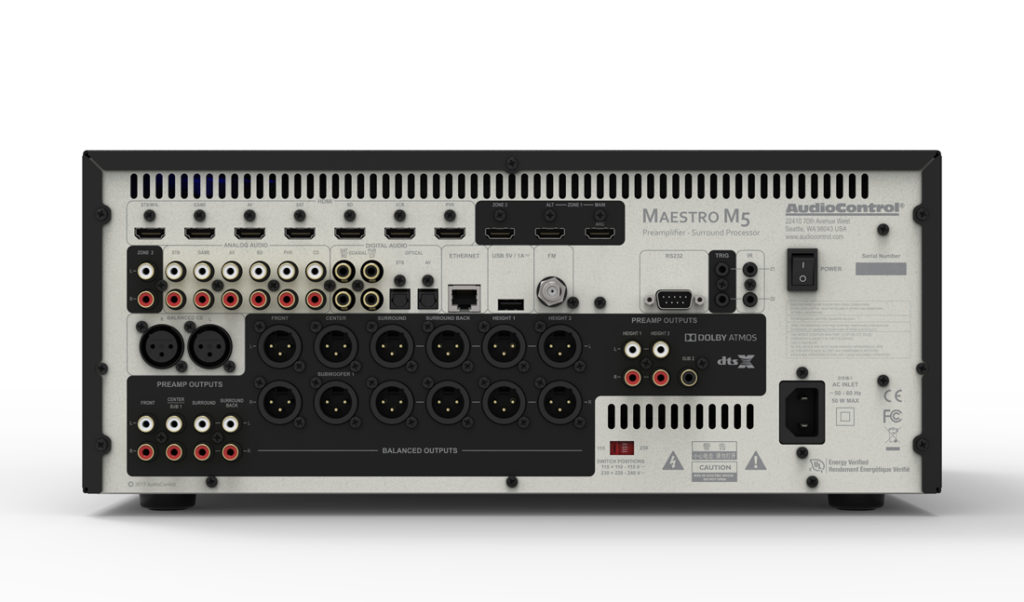 Pricing & Availability
AudioControl is so proud of the M5 that they offer an excellent 5-year warranty on it. Available beginning September 1st, the M5 carries an MSRP of $5,900.
Going to the CEDIA 2017 Show? See the M5 in AudioControl's booth #3929.
Learn more about AudioControl at: www.audiocontrol.com.