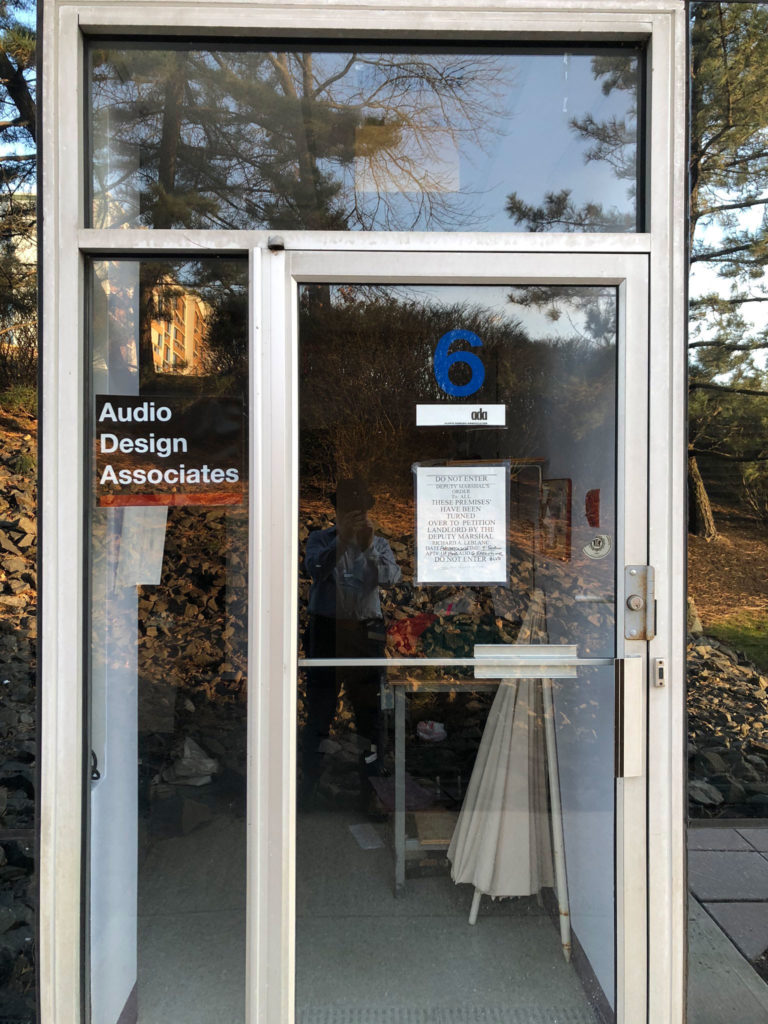 When last we heard from Audio Design Associates just this past December, the company had put out a statement to industry media that a company shutdown was likely imminent. This was shocking news from a company with a long and venerable history as both an integrator and a well-respected manufacturer of custom integration gear.
Now, we learn from a Strata-gee reader that Audio Design Associates has apparently closed their location in Yonkers, NY …
See more on the status of Audio Design Associates' Yonkers location…
Long time reader and friend of Strata-gee George Tucker alerted me to the fact that the Audio Design Associates (ADA) facility in Yonkers, NY had apparently closed. Driving by the location during the day, it was immediately obvious that something was amiss. Clearly visible on the door was a large temporary sign, no interior lights were on, and no one appeared to be at the location.
Looking in the windows, Tucker was surprised to see that the building was still full of stuff. The scene was a very messy one and it looked to him as though the place had been vacated quickly.
'Do Not Enter' Sign on Front Door
On the glass front door, along with the company name and a large blue "6" for the address 6 Executive Way, was a large sign posted by the local deputy marshal. The sign was dated February 20, 2020 at 9:50AM. Printed in all capital lettering, it read:
DO NOT ENTER
DEPUTY MARSHAL'S ORDER
To: ALL
THESE PREMISES HAVE BEEN TURNED OVER TO PETITION LANDLORD BY THE DEPUTY MARSHAL
RICHARD A. LEBLANC
DO NOT ENTER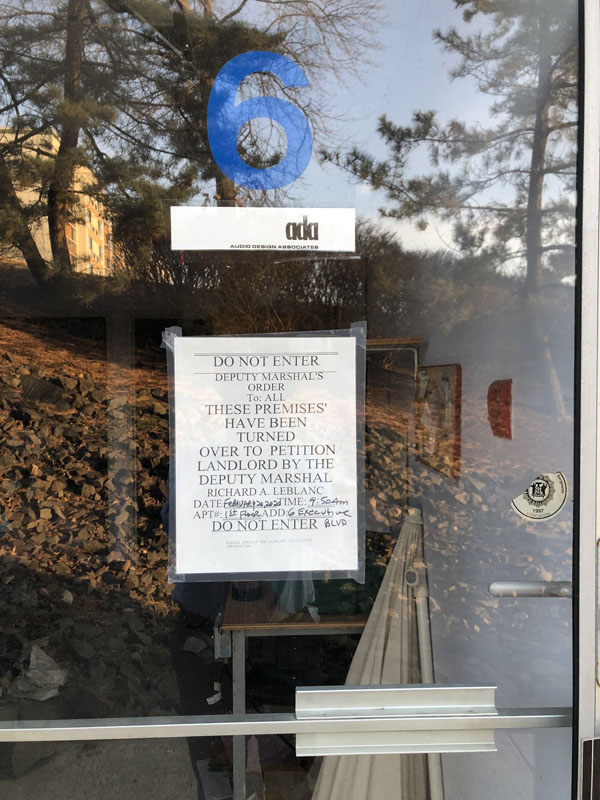 A Helter-Skelter Scene
The scene through the windows was surprisingly helter-skelter with desks, soldering irons, tools, carts, boxes, packing foam & straps, cardboard and other items strewn about haphazardly. In a larger room behind the entry way were multiple racks of equipment clearly visible.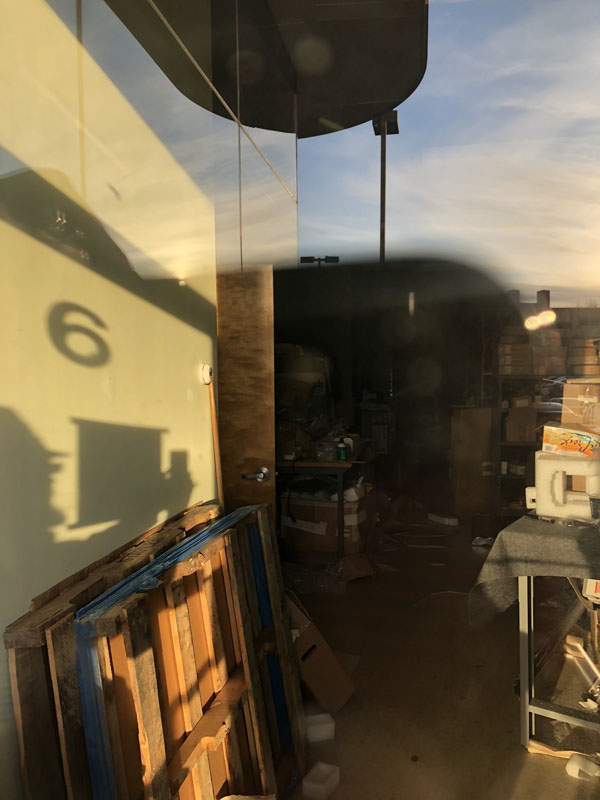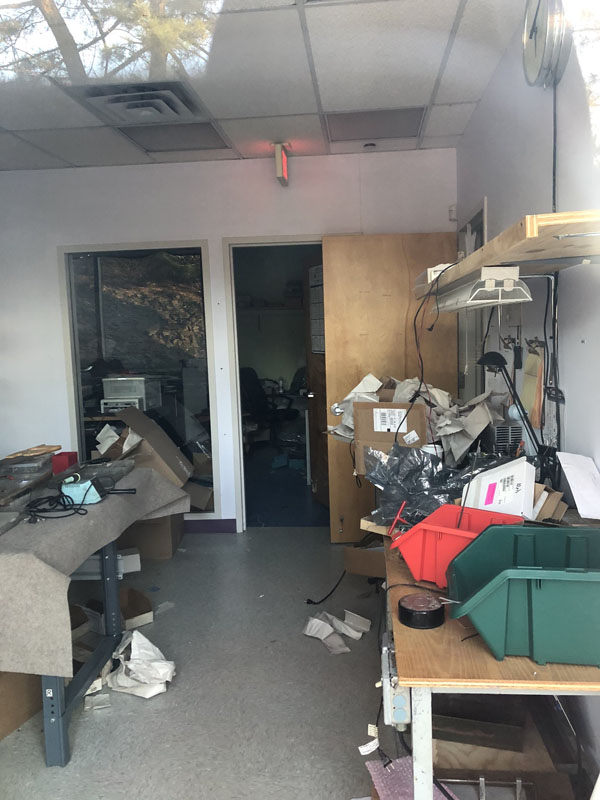 ADA Website is Down
Calls to the location were not answered, and there was no message as you would typically expect when calling an active business. I went to the company's website to see if there were any related announcements there. However, at their old address of ada-usa.com (ada.net) you just get a blank page saying that account has been suspended.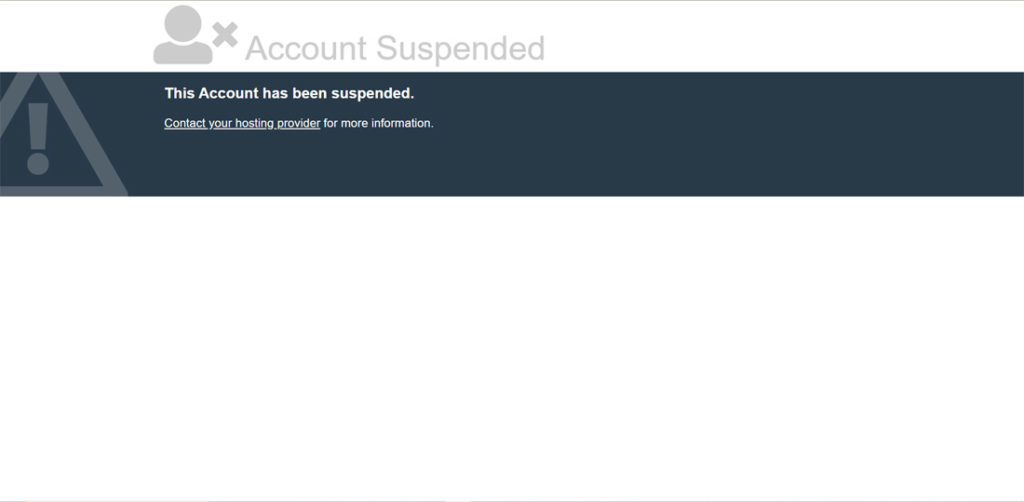 I reached out to ADAs Richard Stoerger to find out if the whole company was closed, or just this location. In a brief discussion, Stoerger shared with me an update of the company's current status, assuring me that things were progressing.
"I can confirm that the Yonkers location is closed."

Richard Stoerger, CEO of Audio Design Associates
ADA is Doing Business
Stoerger said that the company is operational, doing business with their partners around the country via phone and email. He sounded upbeat about the future, telling me that he is working on some projects that he feels will have a major impact on the industry.
While he was not in a position to share any specific details on these projects at this time, Stoerger promised that it would not be too much longer when he would be able to say more. So standby folks, there's apparently more to come from ADA.
For the time being, those integrators in need of ADA products can reach out to Stoerger directly at: richard@ada-usa.com.