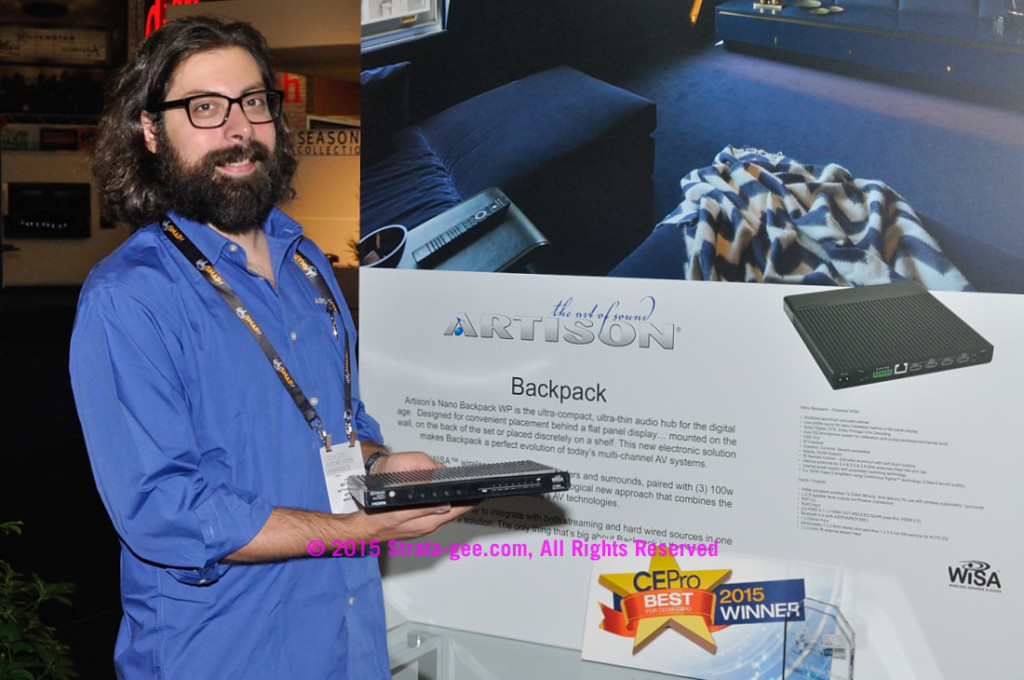 One of the neatest solutions we saw at the 2015 CEDIA Expo was Artison's clever new product called the Nano Backpack WP (WiSA™ Powered). Don't let its diminutive size fool you – the Backpack solves a huge problem – how to add exciting theater surround sound without resorting to bulky, and (to consumers), ugly electronic components.
Learn more about the Backpack, which features a clever technology twist…
As we traversed the show floor at the 2015 CEDIA Expo, we kept running into people who told us about the Backpack. And these were not people connected to Artison, but folks who really thought it was a remarkable product…so we sought it out. After getting a great presentation from Artison's Director of Engineering Matthew LaBruzzo, we concur…this is a very innovative solution that all integrators should check out.
So just what is the Backpack? It is a full-blown, surround sound integrated amplifier/audio processor in an exceedingly small package (just 1″ x 9″ x 9″), with a very clever twist that allows integrators to easily install a high performance surround system with an electronic backbone that's completely invisible.
A Real Artison Product
Make no mistake…this is an real Artison product. That means that even though it is an extremely  small package – performance was not sacrificed to get there. The Backpack has popular surround modes such as Dolby Digital, DTS, and Dolby ProLogic II/IIx decoding and three 100-watts per channel amplifiers (Class D with Continuous Sigma™ technology, said to yield Class A quality sound) to drive front L/C/R passive speakers.
Also included with the Backpack is Bluetooth 4.0 technology, an IR remote control, 2.4 GHz and 5.8 GHz antennas for WiFi (and Bluetooth) access,  and WiSA-compliant 24-bit/96 kHz wireless output. You're going to use that wireless output to drive your powered subwoofer and surrounds to complete the home theater installation.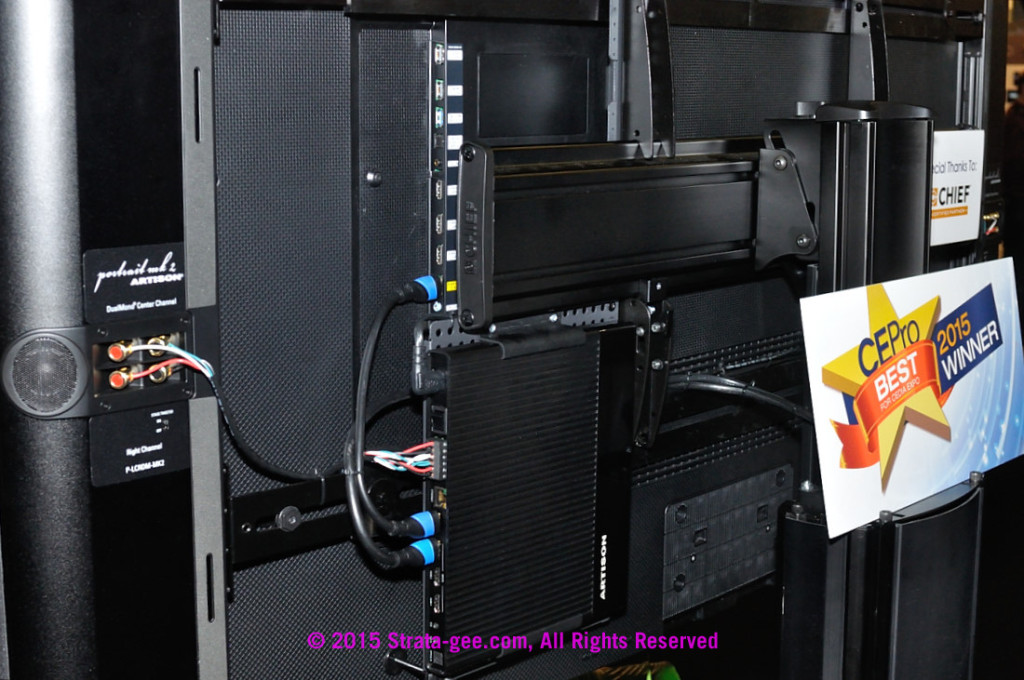 "Even compact integrated amplifiers tend to be big, boxy products that are at best barely concealed in a large rack," said Cary Christie, Artison's founder and chief designer, in a prepared statement. "With Nano Backpack WP, we're incorporating the best qualities and flexibility of the most advanced products in a compact and ultra-shallow package that is easily concealed behind a TV, in a wall or anywhere else the integrator and the end-user care to hide it."
Easy Breezy Hook-up
Hooking up the Backpack is a breeze with three HDMI 2.0 inputs, one Toslink input, one 3.2mm stereo minijack input, and one RJ45 input. And the HDMI output is ARC/CED/3D/4K for added hook-up flexibility.
The Backpack is meant to be mounted behind the set, on your favorite flat-panel TV mounting bracket for a sleek, invisible installation. But it can just as easily be mounted on the wall, or even in a wall box. The Backpack is clearly meant to be heard…not seen.
So Far We've Only Seen It, But…
We did not have the opportunity to listen to the Nano Backpack, the show floor was just plain too noisy. So we have to reserve ultimate judgment until we've actually auditioned a Backpack in a more controlled environment. However, we tend to give Artison the benefit of the doubt, based on our experience with other Artison products.
But we could clearly see the power of the concept – and based on that alone, we applaud the company for its innovation. The Nano Backpack WP is expected to ship in 2016, Q2 with a retail selling price of $999.
To learn more about Artison, see: www.artisonusa.com.