Popular Executive Leaves the Company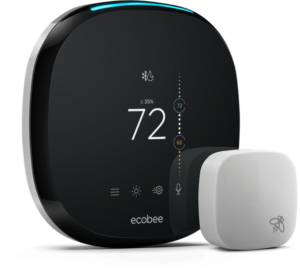 Just one week after Amazon made a widely reported purchase of video doorbell maker Ring (for a reported eye-popping $1 billion), we learn that it has made another investment into the smart home space, taking a share of smart thermostat maker Ecobee. Although this was an investment made through their Amazon Alexa Fund and not an outright acquisition, it seems pretty clear that Amazon is getting very serious about the smart home business.
See more on this unexpected development from Amazon…
Not only is Amazon working fast to grab more territory in the smart home business where it initially achieved a beachhead through the success of its Echo voice-controlled smart speaker – it has also launched a trade war with rival Google, dropping select Google products, such as Nest, from its store.
Ecobee recently announced it had closed a $61 million Series C funding round that was led by Energy Impact Partners (also a Ring investor) and included an investment from the Amazon Alexa Fund. Other investors in the round included Thomvest, Relay Ventures, North Leaf Capital Partners, Export Development Canada, Ontario Capital Growth Corporation, Tech Capital, and GXP Investments.
Investment Will Be Used to Expand Their Suite of Products
Toronto, Ontario-based Ecobee says it will used the funds – it's raised a total of $146 million to date – to "build upon its suite of smart home technologies connected by whole-home-voice control, sensor technology and artificial intelligence." Competing with the likes of Google's Nest, and Honeywell, Ecobee is no slouch – catching more than a third of the smart thermostat market since its launch.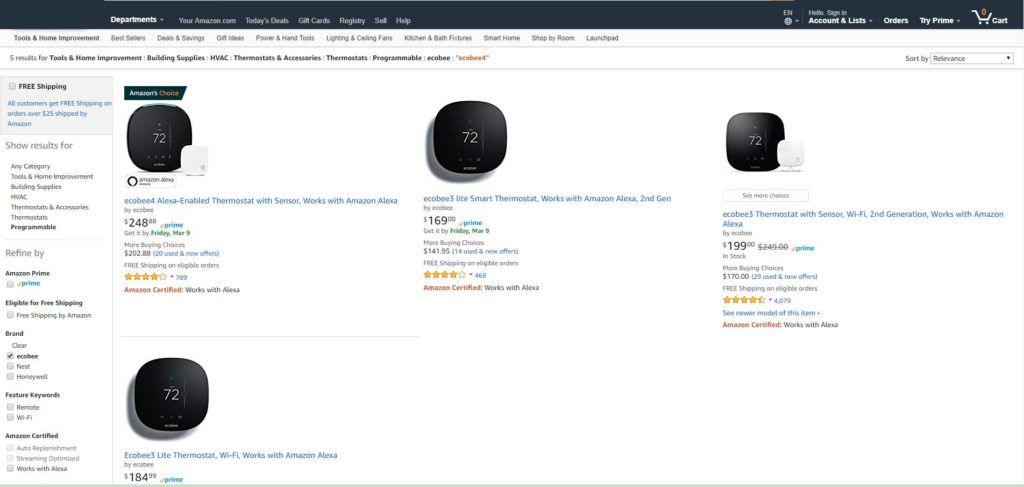 Ecobee's smart thermostat is designed to work with a range of software and systems, such as those from Amazon, Apple, google, Samsung, and IFTTT. The company's products are sold through stores such as Apple, Best Buy, Home Depot, and Lowes.
"Our goal is to build a home that learns and anticipates your needs, making your home an intelligent space that simplifies your life rather than complicates it," said Stuart Lombard, President and CEO of Ecobee in a prepared statement. "We believe that by building voice capabilities, advanced sensor technology and powerful A.I. into the operating system of your home, we are helping to create a new computing platform. This technology will transform the way consumers interact with their favorite services for the better."
Talk to Your Ecobee 4 Smart Thermostat
In 2017, Ecobee launched the Ecobee 4, its latest smart thermostat with built-in Amazon Alexa voice control. Users can simply tell the thermostat how to adjust the temperature with no need to fiddle with dials, knobs, or even apps. Users can even ask their Ecobee 4 for a weather or news update…or even order a pizza or a Uber.
According to Ecobee, later this month they will launch an Alexa-enabled smart light switch called the Ecobee Switch+.
"All of our products are built around helping customers save money and conserve energy," said Lombard in a report by CNBC. "But we also have a vision to change the smart home from a collection of hard-to-configure devices to something with a better outcome for consumers."
In Other News: Popular Amazon Executive Leaves the Company
"We're excited to continue our support of Ecobee through participation in its Series C financing and our broader work together across a number of important Alexa capabilities," said Paul Bernard, Director of the Alexa Fund at Amazon. "Ecobee is a leader in driving the adoption of voice in the smart home and continues to innovate through the creation of new products like the Ecobee 4 smart thermostat and Ecobee Switch+, both of which have Alexa built in."
In separate Amazon news, popular Vice President of Amazon Prime, Greg Greeley, who is credited with helping build that business and was also a big part of the integration of Whole Foods, has left the company. Greeley is said to be joining Airbnb as it's new president of the "Home" division. Greeley has been with Amazon since shortly after it went public and the news of his departure actually caused Amazon's stock to decline 1% in trading Wednesday morning, although it later recovered.
Learn more about Ecobee at: www.ecobee.com.