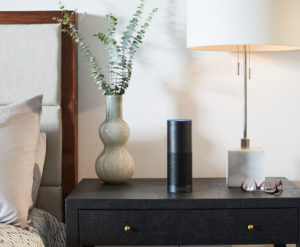 Reports have surfaced over the last several days of Amazon devices, such as the Echo, randomly emitting a human laugh. Different reports vary as to the conditions under which it occurs. However, many say it can just randomly be emitted on its own…and it's really creeping out some users.
Amazon admits the problem, but see their surprising comment about it…
Perhaps you've seen some of the reports on social media and elsewhere around the Internet, where Alexa-device users claim their unit has let out a strange, creepy laugh. Sometimes this happens as an incorrect response to a command, but other times…Alexa comes up with this on its own.
Users are getting creeped out. Some say it reminds them of that scene in the movie 2001:A Space Odyssey, when the spaceship's computer, known as HAL 9000, began to assert control of the craft, refusing astronaut Dave's order to "Open the pod bay doors HAL." "I'm sorry Dave, I'm afraid I can't do that." Things went downhill from there. Although we believe that Alexa is unlikely to kill crew members, as HAL did in the movie.
News Outlets Ask Amazon, What's Going On?

Several news outlets contacted Amazon about the problem, and they readily admit that they are aware of the problem. Alexa is programmed to laugh, Amazon says. But it is only supposed to do so when specifically commanded. When it comes to this random laugh, Amazon does not currently know why it is occurring.
"We're aware of this and working to fix it," Amazon told the Bloomberg News Service.
Hopefully, A Fix is Coming Soon
Amazon did not say when they anticipated being able to correct the problem. However, Amazon is able to push updates out to units in the field – so when a fix is discovered, your Alexa will be automatically fixed.
Twitter user @CaptHandlebar was one of the first on Twitter to report the bizarre event. Click on the image below to go to the gif and hear the laugh…
Son of a…
https://t.co/18sh5be1cZ

— CaptHandlebar (@CaptHandlebar) March 7, 2018
Sums up The Verge, "Maybe it's a sign that having smart devices in our homes is another step toward a creepy, dystopian future where robot overlords rule." Or…maybe not.