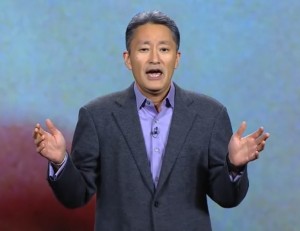 Sony's CEO Kazuo Hirai gave a relatively compelling keynote presentation that was in stark contrast to their rather dry Mike Fasulo and unemotional press conference. Not only was Hirai dynamic and at times, emotional even – he competently and capably articulated a new and strong vision for the company based on the Japanese word "kando" and the English word "wow."
See the surprising twist in the Sony CEO's presentation…including a moment that NO other Sony CEO would ever dare to try…admitting past product failures…
We know that many Strata-gee.com readers have stopped closely following Sony developments, feeling that they just aren't important to the daily lives of most of us anymore. But for better or for worse, Sony remains an industry bell cow – as goes Sony, so goes a significant chunk of our overall industry.
And things have not been going well for Sony over the last few years. The company reported losses in three of the last four years, and its TV division has been losing money for eight years. The company had a change at CEO with current CEO Kaz Hirai taking over from former CEO Howard Stringer who was unable to stem the tide of bad news at the company.
A formerly successful architect…
Hirai speaks almost perfect English with very little accent. But more than that, he is comfortable on a stage in front of thousands of people. Hirai was best known within the company as a successful architect turning the company's gaming (PlayStation) division profitable – and its clear that this division is where his heart remains.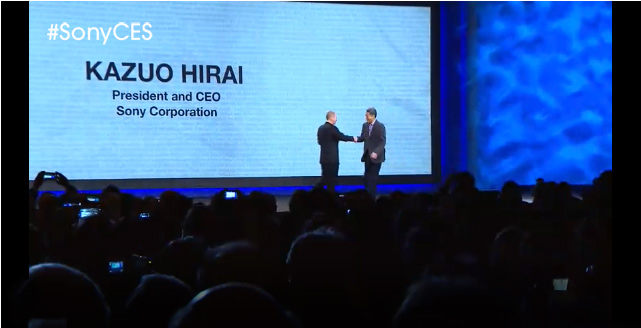 He is facing a situation where momentum is driving the company in the wrong direction. Turning it around won't be easy…and will take a lot of time. Some in the financial press believe that Hirai is not up to the task…a lightweight.
Feeling the pressure…
At CES, he was comfortable onstage…and compelling in his pitch. He obviously is feeling the pressure to perform – and, in this keynote at least, he delivered.
Behind him was a giant screen that had a fun animation that played out real time in conjunction with his presentation. Simple, almost school child-like sketch graphics rolled across the screen…perfectly timed, and guided with some clever speech writing – including some light and amusing humor.
Romper Room…
Hirai spoke easily about his childhood, never sounding as though he were reading from a script – which, of course, he was. He spoke of his favorite show…Romper Room! Romper Room? Instantly, many in the crowd could identify with the CEO from Japan.
Hirai described himself as "very inquisitive." And as he sought knowledge and growth, he often found moments where he said/thought "Wow!" Actually, Hirai told the audience, what he felt was the Japanese word "kando" which doesn't really directly translate into English but roughly translates as something that is both deeply satisfying and intensely exciting. The feeling of kando is far deeper in Japanese…but the closest English equivalent as far as Sony is concerned is wow.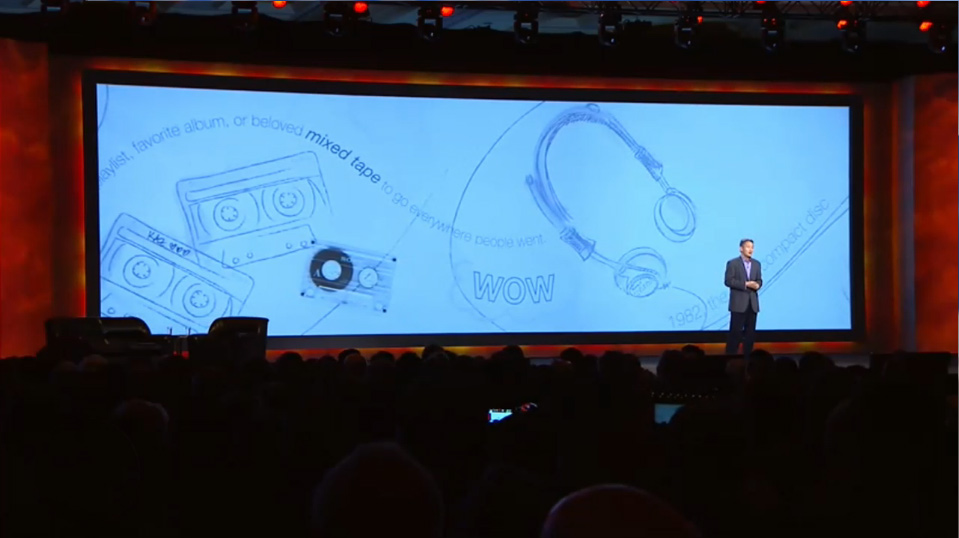 The disaster known as Betamax…
Hirai then went on to discuss a couple of Sony's major innovations. He took us to 1979 and the Walkman. Then we went to the mid-80s and the Compact Disc. From here we zoomed to 1994 and the launch of PlayStation – which he called "a game-changing product" (no pun, apparently, intended).
We watched and enjoyed this more unique style presentation…until the CEO did something we've NEVER SEEN BEFORE. Something so different that we literally dropped our pen…and our jaw.
He poked fun of Sony's product failures. What?!?! Did he say that?!?!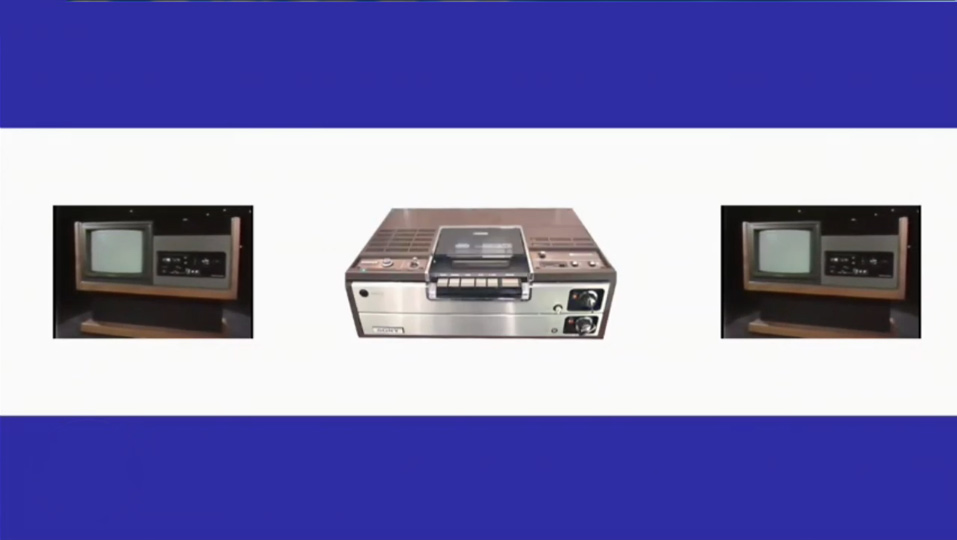 Had to see it, to believe it…
Yep…we wouldn't have believed it if we hadn't seen and heard it ourselves. On the screen was a picture of the Sony Betamax. Betamax…as you know…lost to VHS in the battle for dominance of the VCR business. It has always been a sore spot for Sony executives. For years after its failing, Sony executives would say to me – somewhat plaintively – "Beta was better."
In a moment of very lightly handled corporate self-deprecation…the Sony CEO very visibly demonstrated that this is a new world…and he is a new CEO. We were impressed.
Obvious misses…
And even though he went on to minimize the damage by saying that Beta was successful in the professional market…and even though he tended to draw overly-lofty connotations from Sony's past successes (Walkman launched "mobility"…CDs helped people "feel music") – we are inclined to overlook these excesses, given his honest criticism of Sony's obvious product misses.
The truth is there are many products carrying the Sony logo that were the result of market tone-deafness. Products that were made not because there was a need or desire…but "because we can." There are many more examples of instances where companies like Sony tried to "push the rope" instead of listening to the market to discern and meet needs.
The future is not now…the future is WOW…
Hirai then proceeded to tell the audience that the company would, from now on, focus on delivering wow. So of course, to Sony that means 4K. "4K content on a 4K TV," Hirai said dramatically, "is Wow!"
Apparently, according to the Sony CEO, so is Hi-Res Audio…another new category that the company is pushing. "Wow, is getting goosebumps as the music reaches a crescendo," Harai said.
It's a new day at Sony, Hirai told the audience. "A product isn't a success…unless it delivers Wow," Hirai proclaimed.
Today's consumer…is different…
The Sony CEO went on to say that the market has changed – the consumer has changed…dramatically. These new consumers, he called them Digital Natives "no longer worship at the altar of technology," Hirai said. "They will be the arbiter" of what will wow them.
And this means we need better content…and better delivery. Hirai was building the case for why Sony is uniquely positioned to create the meaningful products of the future. He intends to tap the "vast talent network at Sony" to deliver on that promise.
Can Sony Break Bad by launching a streaming gaming network?…
To demonstrate how Sony indeed has a vast entertainment network, Hirai brought up Vince Gilligan, the producer of the TV hit "Breaking Bad" (a Sony Pictures Television property) to talk about how changing technology is impacting the creative process. Perhaps the most interesting element of this little chat (which went far better than Samsung's chat with director Michael Bay who stormed off the stage in mid-presentation) was the announcement of a sequel to Breaking Bad called "Better Call Saul."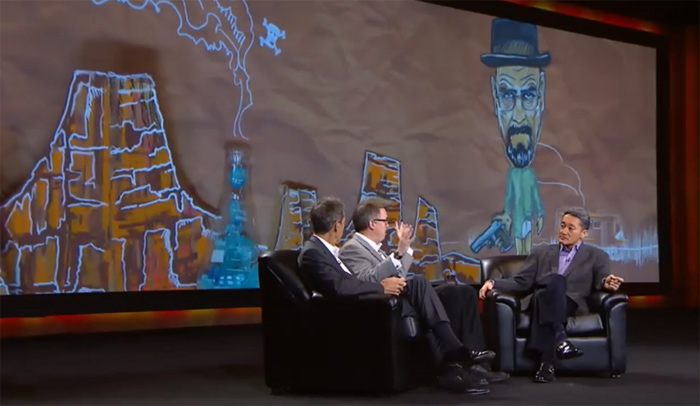 The two major announcements from the Sony CEO included the launch of the PlayStation Now gaming network. According to the company, PlayStation now will stream games – including some favorite PlayStation 2 and PlayStation 3 games – to any of your devices. Sounds interesting but, as they say, the devil is in the details.
Content creation, distribution, and playback…
The company also intends to upgrade its Sony Entertainment Network such that users will be able to stream both live TV and also see content on demand. This sounds as though they are going into competition with the cable companies around the country – but again, we must await further details.
Still, the company says that we are on the verge of "a new era of home entertainment" and that the company will "break out of current boundaries." Whew…that's a tall order. And just what is Hirai referring to with these lofty words?
Hey buddy! Gimme some Life Space UX…
Hirai says Sony is testing a new concept they call Life Space UX. This is a system that incorporates a ultra-short-throw projector – placed at the bottom of any wall – that beams a 147-inch image on your wall (paint your walls bright white, people).
The result? "Borderless entertainment." And, "A window to the outside." (Can't I just look out of my physical windows?) "More and more walls," Hirai enthused, "will become fluid space." And all in 4K, of course.
Hirai tells us that Life Space UX is a "transformative technology" that is truly "a visionary concept." We'll withhold our breathless adjectives until the time we have the opportunity to actually test one…but clearly, the Sony CEO is sold.
Passion? Or running out of time?…
As the end of the presentation neared, Hirai's presentation picked up both speed and volume. This was designed either to articulate the imperative facing Sony…or because he was running over time. Still, the presentation did swell in a kind of crescendo all its own.
But here, it seemed to us, the hyperbole began to creep back into his presentation. But maybe that's just us. Far too many times, we've heard a compelling vision articulated by some well-meaning, earnest CEO…only to have our lofty dreams dashed on the rocks of disappointing reality. Can Hirai pull it off? We'll be watching…
We'll close out this article with CEO Hirai's own words…you be the judge.
I believe the mission of Sony is to inspire and fulfill people's curiosity around the world. I believe that we must have a unified single vision in a One Sony ethos. And I believe it's time to move beyond the 'just good enough' era.

No more commodity products…no more parity products…no more 'just good enough' products. We must…and we can…do better.

And I believe people care deeply about the products that define their lives – your lives!  These products must be fantastic objects of sensation that engage all of our senses.

And I believe that we must empower our creators, designers, and engineers to be curious…to take risks…and make great products that deliver kando. I encourage them to follow their passions.

And I expect them to always strive, to fight, to dig deep inside themselves and create a product that they can be proud of. To make products that are worthy of the four letters SO…NY…

And I believe that products created with pride will in turn instill a pride of ownership and create meaningful emotional value with all of our consumers.

And finally, I believe in the power of Wow!