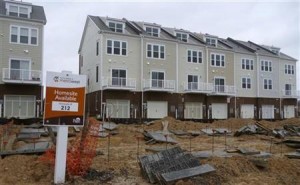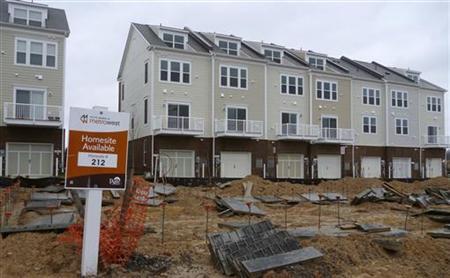 The U.S. Commerce Department released the latest data on new residential construction today and the results caught most off-guard as it was significantly better than expected with September overall housing starts increasing to 872,000 units – an amazing 15% over the revised August figure of 758,000. This data clearly suggests the nightmare of the 2007 housing market collapse can start to become a memory as the market recovers from a very scary bottom reached in the middle of 2009 when starts were at the lowest levels ever recorded since 1959.
More good news as housing's outlook brightens…
The more meaningful statistic for the electronics industry is single-family housing starts and, like the overall starts reading, the report showed an increase in September to 603,000 units or 11% over the revised August rate of 543,000 units. And the September single-family construction level is an impressive 42.9% over September 2011's rate of 422,000 starts.
Keep in mind that these figures are subject to revision and can move down (or up) from the initial reading. Nonetheless, it is hard not to be optimistic as the single-family starts numbers have consistently been at, near, or above the 500,000 mark for the entire 2012 year. While this is a far cry from the historical high of a little over 1.8 million single-family starts in November 2005…or even from what the National Association of Home Builders says is the "normal" rate of 1.2 million starts…it is still showing signs of a slow and steady "rebuilding" of the housing construction market.
Gaining traction…
Reuters called the news "…a sign the housing sector's budding recovery is gaining traction and supporting the wider economic recovery." The venerable news agency also noted that…when combined with other recently positive data points such as the drop in the jobless rate and recent reports of retail sales gains…it indicated an economy that has "shown signs of faster growth in recent months."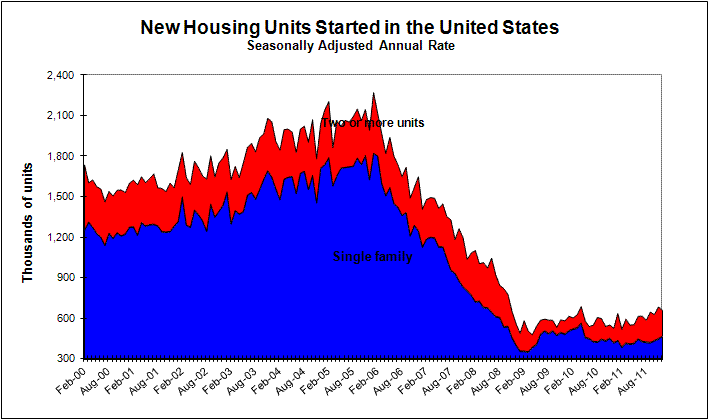 Economists had predicted a September housing starts rate of 770,000 units. The actual overall starts number exceeded even this optimistic forecast by more than 13%. The result seemed to catch analysts off-guard – but pleasantly so.
"One of the big headwinds for the economy has been the weak housing market and this indicates that headwind has dissipated," Gary Thayer, an economic strategist for Wells Fargo Advisors in St. Louis, Missouri told Reuters.
A growth engine…
A recovering housing construction industry could become a significant growth engine for the entire U.S. economy. According to economists, for every new home built, three jobs are created in this country.
Still, the housing industry is still plagued with a large inventory over-hang of unsold homes which while declining…is still significant. And by most reports, credit remains tight, limiting the number of people who can qualify for mortgages.
Mortgages tick up…
But with interest rates at an all-time low, there has been an uptick in mortgages. The Washington Post reported that Bank of America saw mortgage originations increase 18% over last year. And while the bank is losing money in its mortgage division (mostly due to problems related to the financial crises) they still found cause for limited optimism.
"I think we've clearly begun to turn the corner," Bruce Thompson, Bank of America's chief financial officer said in a conference call with investors. But Thompson was less sanguine than other analysts, saying on the call that he'd remain "a little bit cautious because there are headwinds out there."
But other than a few preaching moderation of the growing enthusiasm…most find solid cause for the growing breakout of optimism.
"It's no longer a question of whether the industry is rebounding," Larry Sorsby, CFO of home builder Hovnanian Enterprises told Bloomberg News. "There is clear evidence that we have bounced off the bottom and are in the midst of a recovery."
As good as this news is, it looks to be a long slog back to normal. But, as the old Chinese proverb goes, the journey of a million miles begins with a single step. We appear to be on our way.