The race is heating up for global leadership in artificial intelligence, considered by many to be the next area of technology that will explode with activity. Many major players here in the U.S., both in Silicon Valley, as well as other places, seek to establish themselves as the leaders in AI.
But where in the world is the greatest amount of money going to fund startups who will drive the development – and ultimately the adoption – of AI? You might be surprised…
See where the money is flowing to create leading AI companies…
In a Forbes article last year, the author sought to identify those companies that are leading the charge into artificial intelligence research and development. AI is still in early stages of scientific research, but many are predicting it will have a huge impact on the world in the not too distant future.
The companies Forbes identified were, for the most part, the usual suspects. Big tech brands such as IBM, Apple, and Microsoft, are all to be expected. You probably could have guessed those were some of the top companies leading the charge.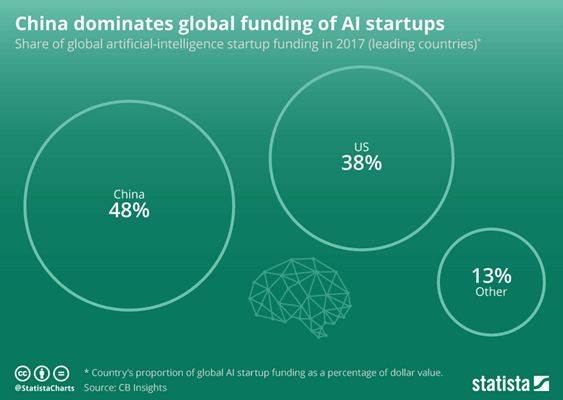 Joining them in chasing this new AI world, if perhaps a touch less intuitive, is Facebook and Google. OK, maybe you would have included Google in the first group, as they seem to be researching everything. But both of these players are seriously deep into the world of AI.
Next, and less well-known to the general public, is a small research group known as OpenAI. Predominantly a deep thinking group of engineers and researchers, OpenAI is said to have been publishing very interesting AI-related papers and analyses.
But number one on the Forbes list is an outfit called Deepmind. This group, according to Forbes, is the world leader in AI research. Interestingly, they are a non-U.S. located company…based in London.
Also on the Forbes list are Baidu SVAIL and Baidu Institute of Deep Learning. And these companies are based in China. Fast forward a little more than a year later to today and take a look at this latest chart (shown above) from CB Insights (published by Statista) showing the regions of the world pumping the most money into AI research. Not the U.S…not Europe…not Russia. Interesting, some might say ominously, it is China.
We're not sure just what this means, but our money would have been on the U.S. as the world AI technology leader. And we would have been wrong.
Did you get it right?