Vanco continues to impress me with their wide assortment of solution products needed and used by integrators every day. But they aren't just an outlet for useful tools and gadgets – they also know how to push the envelope in core product performance. No better example of that exists than their latest announcement of the launch of a new line of Ultra High Speed HDMI 2.1 cables.
These cables aren't just fast…they are certified fast by HDMI themselves.
See Vanco's latest line of Ultra High Speed HDMI cables…
Let's face it, whether you love them or hate them, we are all stuck with HDMI as the predominant connectivity solution in today's digital video world. And that standard continues to get pushed further and further out there, as video resolutions keep advancing.
Higher resolutions means more data…which means that the HDMI cable between the source and the screen needs to continue to up its game – particularly in respect to the speed of the data flow – to deliver the ever-higher resolution our industry continues to advance. And while the industry moved relatively quickly to 4K Ultra HD resolution over the last four years – 8K is definitely gaining support.
8K Looks Good, But It Is Hard to Do
To help serve this new but growing 8K market, Vanco offers up their new line of HDMI cables that are certified to deliver performance in accordance with the Ultra High speed HDMI 2.1 spec. The company says that it is one of the first to field a line of cables to this challenging performance standard.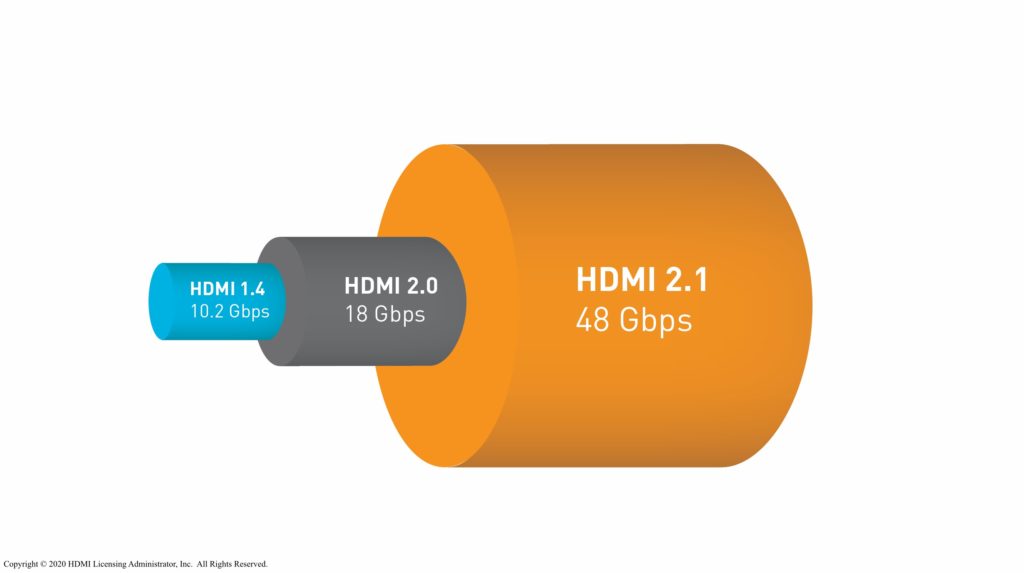 At CES 2021, several manufacturers showed a real commitment to begin marketing 8K TVs. But with the move from 4K to 8K resolution, the bandwidth jumps from 18Gbps to 48Gbps – a challenging leap. Only cables certified HDMI 2.1 are able to deliver that bandwidth, along with some new features as well.
Other features of HDMI 2.1 include:
higher resolutions (up to 10K)
higher refresh rates (up to 120fps)
support for static and dynamic HDR formats
backwards compatibility (same connector)
eARC (enhanced audio return channel) supporting audio formats such as Dolby Atmos and DTS Master
QMS (quick media switching)
HDMI cable power for a built in powered solution (yes, no more wall warts)
and more
In addition to all of these amazing features, there are even more capabilities that are sure to please gamers. These capabilities include: VRR (variable refresh rate) for more fluid and better detailed gameplay, ALLM (auto low latency mode) to automatically set the optimal latency settings, and QFT (quick frame transport) for smoother no-lag gaming.
Vanco's New Ultra High Speed HDMI 2.1 Cables
Vanco's new line offers four models that each offer uncompressed 48Gbps bandwidth and support resolutions up to 10K@30Hz, 8K@60Hz, and even 4K@120Hz. They embody all of the features mentioned above – for a performance level unlike we've experienced before now.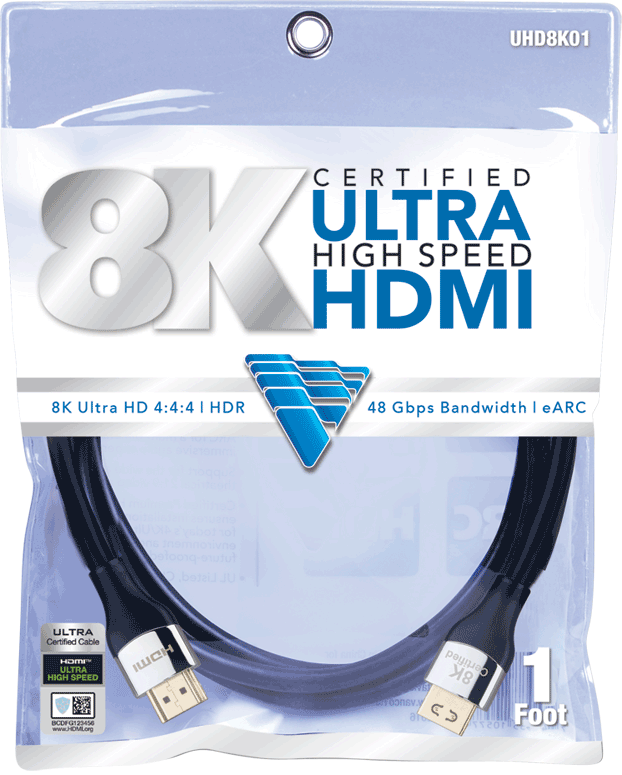 Over the years, the HDMI standard has seen continuous improvement, with extra features being added as the needs of today's television viewers have changed. But as video sources advance, they're only going to be as good as their weakest link. Developing HDMI cables that are certified to the exacting standard means Vanco is engineering top-of-the-line accessories at the bleeding edge of technology. It's a standard we're proud to have met."

Brandon White, Vanco's Director of Product Development
Availability Details & Where to Find More Information
These new Ultra High Speed HDMI Cables from Vanco will begin shipping in April. They are available in 1-foot, 3-foot, 6-foot, and 10-foot lengths. Each cable features a SecureFit connector that the company says provides a 45% stronger connection as compared to traditional HDMI connectors.
Contact your local Vanco distributor for more details, including pricing, and to pre-order now.
For more information, see: www.vanco1.com.