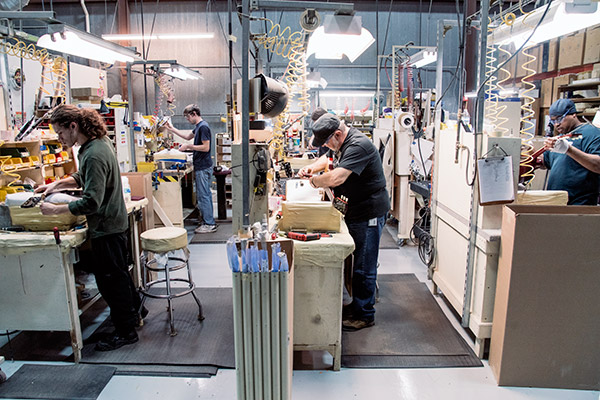 Not long ago, I weighed in on whether I believed that the U.S. economy would "bounce back" after the impact of COVID-19 began to taper off. A vigorous debate had erupted at the time, with multiple market observers offering their opinions as to whether there would be a v-shaped, w-shaped, u-shaped (or another character) recovery. We all wanted a v-shaped recovery, which would mean that the economy would essentially snap back instantly to where it was before the pandemic.
I did not expect a v-shaped recovery because it seemed to me that reopening the economy would be less coordinated than when the entire country basically shut down at the beginning of the pandemic. The latest government data on U.S. job growth shows this to be the case.
See the latest US jobs numbers in our sloppy recovery
The government tracks employment in multiple ways, but the most recent report shows the number of non-farm jobs added to the U.S. economy in May. According to the government's report, 559,000 jobs were added during the month – fewer jobs than many economists had predicted.
However, the May figure is about double the 278,000 jobs added in April, a figure that was well below economists' expectations then as well. Clearly, the growth in people returning to the workforce is slower than originally anticipated. What is the cause of that? I would say it is the result of two truths that are hard to measure: 1) people aren't simply black-and-white ciphers on a page, they have a say as to when they are ready to go back to work, and 2) concern over personal safety is driving higher levels of caution than originally anticipated.
A Car with Bad Shock Absorbers on a Bumpy Dirt Road
But also, as I have observed many times on Strata-gee, economic numbers rarely move in a linear fashion. Trends tend to bounce around like a car with bad shock absorbers on a bumpy dirt road and the numbers defining them jump right along with them. It is for this reason, many CEOs use trailing-twelve-months (TTM) data to follow their company results as it takes out seasonality and smooths out the month-to-month bounces.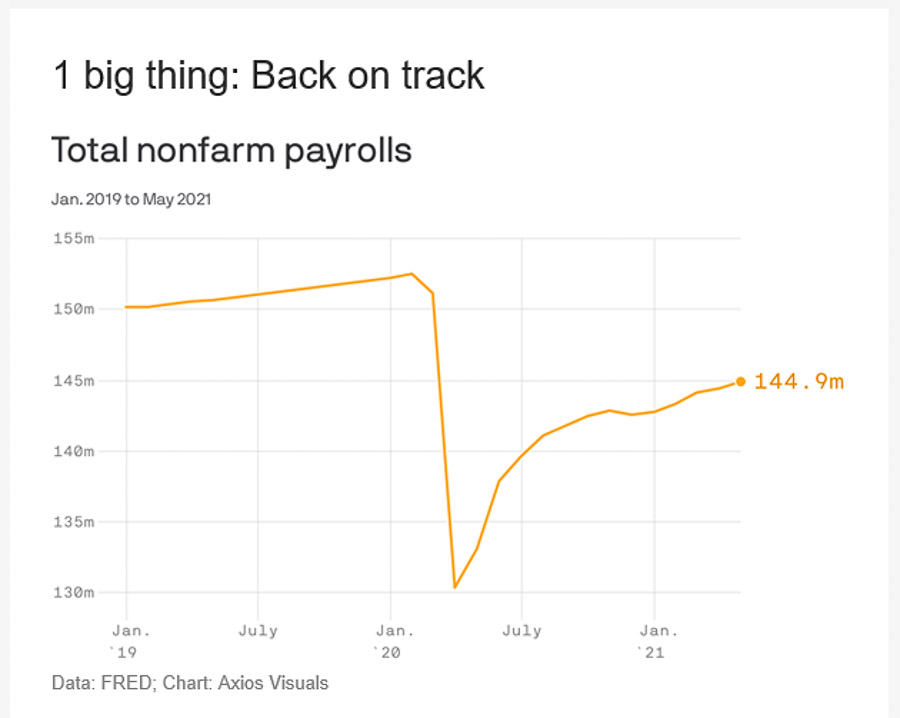 Accordingly, many of the news organizations reporting on these results used the same "bumpy" terminology I've been using – for example the New York Times whose article was titled: "U.S. Added 559,000 Jobs in May, but Road to Recovery is Bumpy."
Reason for Optimism
Still, while the economy is clearly not out of the woods yet, as Axios notes in a recent newsletter, "There's reason for optimism." First, the unemployment rate dropped to a new pandemic-era low of 5.8%. This means almost a significant half-million fewer Americans are unemployed. Second, the reading on wages in America also jumped by a fairly significant 2% as compared to this time last year.
More good news: the Wall Street Journal reported that fewer companies closed their doors permanently than economists had originally anticipated. In a normal year, about 600,000 companies close down permanently. During the 2020 year of COVID impact, it looks as though another 200,000 businesses permanently closed – far fewer than expected. It is generally thought that the government assistance programs, such as the PPP (paycheck protection program) helped small businesses ride out the pandemic storm.
Still, There is a Long Road to Recovery Ahead
Still, there are 7.6 million fewer Americans working now as compared to pre-pandemic levels, so there is plenty of room for continued improvement. New estimates suggest this will take another 13-months to fully recover.
At the end of the day, my favorite quote in the AXIOS article is from the NY Times Binyamin Applebaum who expresses a sentiment that has been my motto virtually from the beginning of the pandemic.
My main takeaway from this jobs report (as from the last one) is that you can't just flip a switch and turn an economy back on. Recovery is messy and it's just going to take more time than anyone would like."

Binyamin Appelbaum, NY Times contributor
Keep a Sense of Perspective
It is possible we'll see the rate begin to climb as vaccinations continue to increase and more and more of the economy reopens. But until then, try to keep a sense of perspective on the situation. Where we are now is just WAY better than where we were last year at this time!