Tributaries announced today that it has revamped its HDMI cable line-up with an all-new approach that the company says will deliver better, and more reliable, long distance performance. As part of this line overhaul, the company is introducing a new IHEC long-run cable – and an active extender, the HX102.
See more on this dramatic new line-up from a leading cable supplier…
The company's new introductions represent an overhaul of its HEC line-up and Tributaries says it's a significant performance upgrade with new conductors, new connector shielding, stronger connectors, and thicker gold plating on the contacts. In addition to this, Series 6, 8 and IHEC models feature their Full Body Armor – a special protective covering for the connector circuitry.
The new line keeps some of the popular features from the previous version such as Tributaries' BOSS system (raised bumps on the connector to ensure a snugger fit) and shorter connectors (popular for the many tight installation situations integrators find themselves in).
Upgraded features…
Tributaries new IHEC cables include several upgraded features to help it deliver well-above-average performance. All conductors are solid and sized at 24-gauge – from a little to a lot larger than most of Trib's competitors. IHEC also uses 2.5% silver-plated HC-OFC wire which the company says provides "superior digital performance."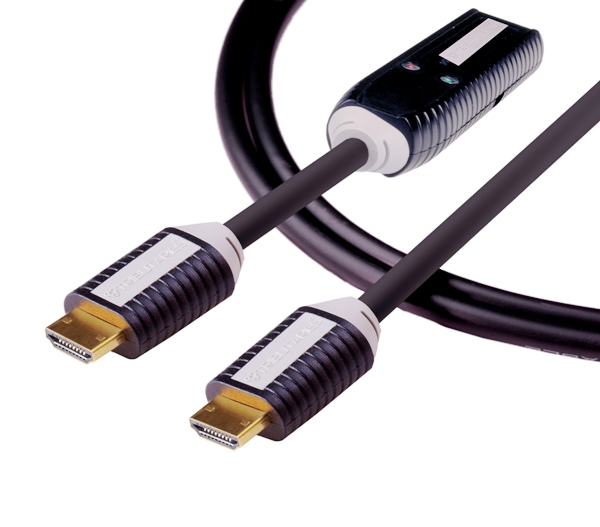 IHEC also features zinc diecast connectors with Full Body Armor and copper foil shielding for protection. Contacts have 15-micron thick gold-plating and the cables are certified to support Ethernet, 3D, 4K(24Hz) and ARC (audio return channel). Finally, IHEC cables are UL CL2 rated for in-wall use.
Long-run HDMI kits…
The company has created special long-run kits which includes certain long-length IHEC cables and one of their new HX102 extenders. According to the company, this kit can deliver full 12-bit color at 1080p resolution over a distance of up to 98 feet. [You can run 130 feet with 8-bit color at 1080i resolution.]
"Reliable HDMI over long distances continues to challenge installers and Tributaries is committed to providing our dealers with the viable solution as the technology evolves," Joe Perfito, President of Tributaries said in a prepared statement. "We determined that a multi-level cable approach was no longer feasible, therefore we designed one cable, the IHEC to go the distance. By doing so, we had to increase the gauge size but kept the electronics separate. The HX102 allow us to add electronics at the end of the long run between the cable and TV."
Line-up breakdown…
The existing HEC line-up includes: 3HEC, 5HEC, 6HEC, and 8HEC with a variety of lengths and features. Lengths run from .5-meters up to 6-meters with 2-meter prices ranging from $46-to $170 MSRP. All HEC models are available now.
The new IHEC models are available in a standard configuration with lengths of 12/15/20/25-meters. The IHEC also has a high-speed version in 8- and 10-meter lengths. IHEC is available now with prices ranging from $400-$1,250 MSRP.
The new HX102 Extender will be available in April with an MSRP of $175. The appropriate power supply is included with the extender.
The IHEC-X long run kits – which includes an IHEC cable and a HX201 extender – will also be available in April with prices ranging from $735-$1385 MSRP.
For more details on Tributaries HDMI offerings, see: www.tributariescable.com.