Toshiba Digital Products Division announced today that it has formed a strategic alliance with GrandCare Systems – a well-known company specializing in digital aging-in-place products, sensors, and solutions. According to Toshiba, GrandCare's telehealth and communications capabilities will now be delivered via "secure, high-performance Toshiba devices."
See more on this interesting diversification by Toshiba…
We first learned about GrandCare Systems back at the 2011 CEDIA Expo where it was highlighted in the Future Technology Pavilion. Many analysts feel that the market for aging-in-place products – that is products that facilitate older folks being able to extend the length of time that they are able to live independently in their own homes, rather than moving into assisted living facilities – could be huge.
GrandCare Systems is a leader in that market, having developed a very user-friendly (and older generation friendly) software package that makes their daily lives – and monitoring their health condition – a little easier. With a PC-based system that is designed to collect data such as weight level, glucose level, activity level, as well as access in and out of the home…the system can then make this data available to a primary care giver…or a health professional.
Set your own rules and alerts…
In addition to this, caregivers can set "rules" and system "alerts" such that they are able to intervene if these rules are violated (i.e. too much time in a bathroom, medicines not taken as anticipated, unusual level of activity at night, etc.) or if in general normal living patterns are deviated from.
"New digital technologies are transforming caregiving, allowing individuals to be independent, but still giving families peace of mind knowing their loved ones are safe," Patrick Mani, vice president of sales Toshiba America Information Systems, Inc., Digital Products Division said in a prepared statement. "Through our strategic relationship, GrandCare Systems will have the Toshiba tools to make this possible."
System also facilitates the residents' lifestyle…
The clever GrandCare system also facilitates the lifestyle of the elderly with a large, simple touchscreen system that provides them with easy email communication with children and grandchildren (or others), an easy way to share family photos & videos, and access to listen to music…or even video chat with family. All of this means greater communication for caregivers – and greater communication for these older residents.
"Our mission is to provide a cost-effective digital caregiving solution, enabling individuals to remain healthier and more independent, while empowering care providers with more meaningful, proactive and predictive data," Laura Mitchell, VP of Business Development, GrandCare Systems said in the prepared statement. "To achieve this, we've aligned with Toshiba to provide top-of-the-line, innovative tablet solutions to seniors, care professionals and medical providers, truly encouraging 'point of care,' virtually anywhere."
Here's where Toshiba comes in…
As a result of this new partnership with Toshiba, GrandCare Systems' solutions will now be based on Toshiba Excite 7 tablets and PX30 All-in-One desktops. This new version of the GrandCare Systems' solution can be seen now during the HIMSS Conference &n Exhibition in Orlando running to February 27th.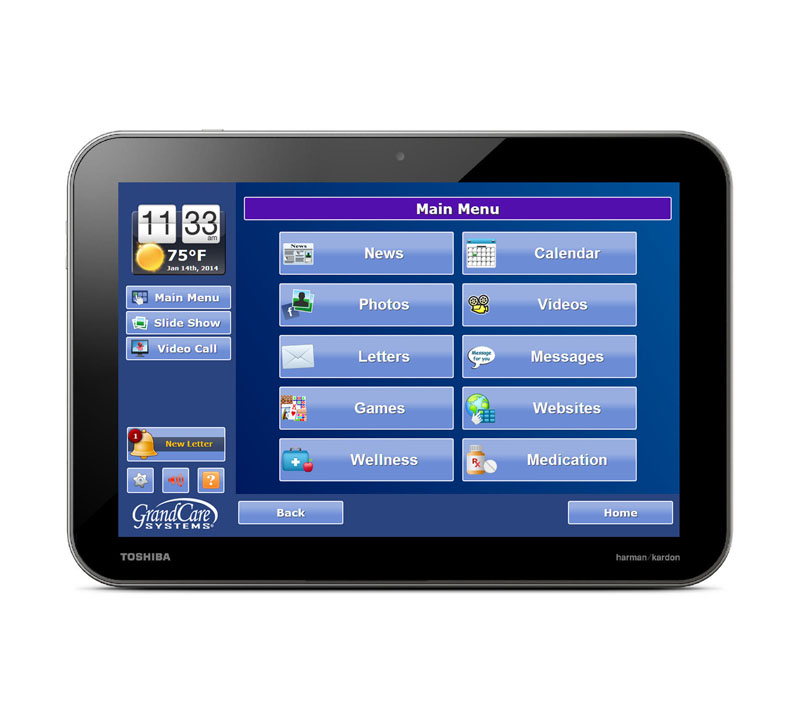 For more information on Toshiba, see: www.toshiba.com/us/healthcare.
For more details on the GrandCare Systems, visit: www.grandcare.com.