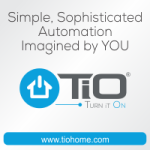 Turn it On (TiO), makers of smart and simple home automation solutions, announced this week that they have added a new Wi-Fi controlled lamp dimmer and delivered a system software update that adds exciting new functions to their system. The clever new dimmer module and software update are part of the company's continued system enhancement and update program.
See more on this latest update from TiO…
We continue to be pleasantly surprised by the interesting and clever additions that TiO regularly rolls out for their multi-room home automation solution. This new lamp dimmer, the LMPNA, is no exception. A slim and diminutive module, you simply plug a lamp (or fan, or just about anything really) into it…plug it into the wall…run a short system discovery process and voilà,  you've ready to control it over 802.11 Wi-Fi.
Certainly, one of the strengths of the TiO home automation system is the amazing balance between power and capability…coupled with ease of use via a simplified UI (user interface) and well designed processes that are almost intuitive. It's so simple, you keep thinking there are more steps when in fact, you're already done!
"The TiO Lamp Dimmers bring a lot of added connectivity to a TiO control system," said Sanjay Patel, president and chief executive officer of Anuva Automation, parent company of TiO. "Adding plug-in lighting and/or fans is incredibly simple and the Lamp Dimmers truly round out our lighting solution."
Dimmer is Load Agnostic
TiO's LMPNA Wi-Fi Lamp Dimmer
According to the company, the LMPNA Lamp Dimmer is load agnostic – meaning it will handle just about any type of load, such as incandescent, LED, dimmable and non-dimmable CFL – AND – electronic low voltage, magnetic low voltage, motor loads and cold cathode loads. The LMPNA handles a dimming load of 300Watts.
TiO also rolled out a fairly significant update to their system software to version 3.2. This new update brings significant enhancements, including adding control for motorized shades – yet another subsystem. The software update also brings added refinements for the Android and iOS apps.
Multi-Level Software Update
The company says the software updates and refinements include speeding up app loading and recognition, improved audio performance with 5GHz wireless networks, and polished Bluetooth StreamShare performance.
"We will show both additions at the upcoming TecHomeX and HTSN's Prime Time in Orlando in March," Patel said. "These new additions demonstrate our continued commitment to making TiO a feature rich home automation solution that [is] easy to use and quick to install."
TiO has been diligent at continually updating and improving both the system software and mobile apps.
Learn more about TiO's home automation solution by visiting www.tiohome.com.