Draper, Inc., a leading manufacturer of commercial and Draper at Home residential shades and screens will be showing a wide array of solutions for both indoor and outdoor spaces at the upcoming CEDIA Expo 2023 in Denver, CO running September 7-9. Included in their displays this year are some of their latest designs, some offering unique solutions to sometimes challenging situations.
See more on Draper at Home offerings for CEDIA Expo '23
As the Draper at Home brand continues to grow its share of the CEDIA channel, the company has continued to expand its products and support for the channel. As such, it will be proudly showing its latest designs of Made in America products, many of which you likely haven't seen yet.
On the indoor front, the company says it will show new roller shade innovations as well as debut a new fixed frame screen. The latest roller shades at Expo will include the FlexStyle Cassette, a trim and elegant shade that ships assembled and ready for mounting.
Unique Solutions That Might Be Perfect for Your Project
The company will also be showing a unique Gabled Bottom-Up FlexShade designed for angled windows. Another interesting product the company will have on display is its Ascend roller shade, a safe manual shade that retracts with the touch of your hand. And of course, there will be plenty of samples and examples of the company's many custom fabric color capabilities.
On the projection screen front, the company will have its latest Draper at Home projection screen innovation – the StyleLine. The company says that this fixed frame screen is "designed for flexibility" with three trim options. The StyleLine frame is incredibly light and easier to install than others on the market.
This year visitors will get a sense of just how wide ranging our capabilities are. As a residential shading and AV partner we offer solutions and support that you otherwise won't find in one place.

Clint Childress, Draper's Director of Residential Markets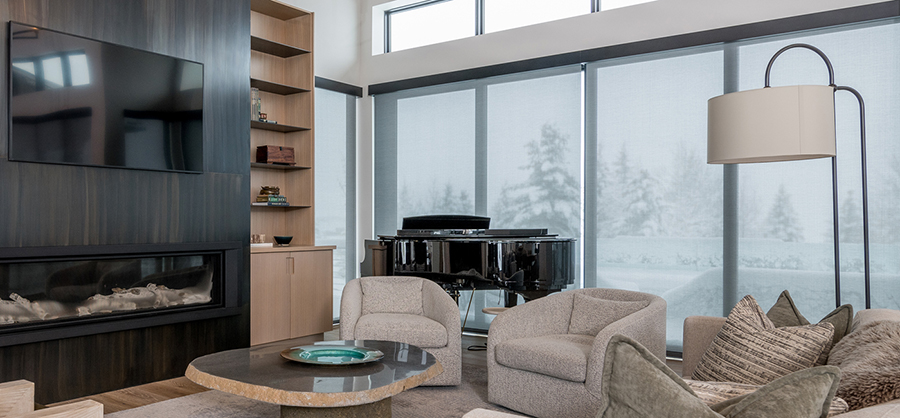 'Destination Outdoors' Features More Innovations from Draper at Home
Draper at Home products will also be shown in the parking lot in front of the exhibition hall in the special "Destination Outdoors" display area. Here you'll find Draper's FlexShade ZIP, a motorized, wind tunnel-tested roller shade that the company says "resists wind, weather, and insects" to create a comfortable outdoor space.
The Exterior Motorized FlexShade is an economical and easy-to-use outdoor shading solution. The shade fabric is held securely in place in side channels or cable guides.
The company says it will also be showing unique shading solutions from European partners that will be available exclusively through Draper at Home.
See Draper at Home at CEDIA Expo
If you're attending CEDIA Expo, be sure to stop by both of Draper at Home's display areas to see the latest indoor solutions in Booth 3912 and outdoor solutions at "Destination Outdoors." CEDIA Expo 2023 takes place at the Denver Convention Center in Denver, Colorado from September 7 to September 9, 2023.
Learn more about Draper at Home by visiting www.draperathome.com.