*

Strata-gee

EXCLUSIVE*
Company Leaving Lexington after 38 Years, Moving to Nashville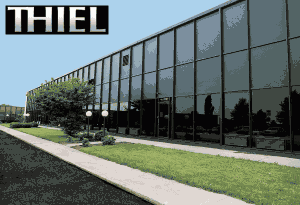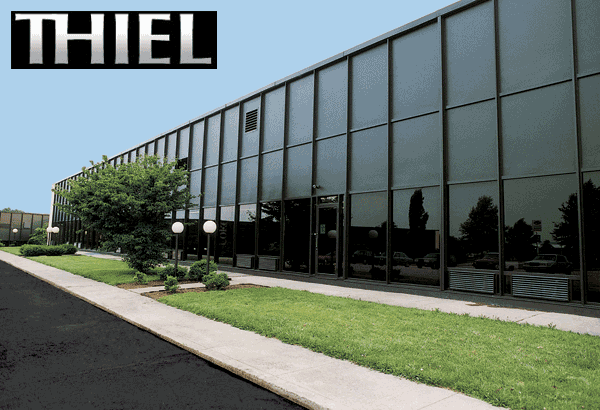 Thiel Audio Products Company (Thiel), the iconic high-end speaker manufacturer founded in 1976 in Lexington, KY by engineer Jim Thiel and two friends – and purchased by investors in 2012 – is in the throes of major change as we mentioned in our post last month. Now new details are slowly emerging…some of which are troubling.
See what we've learned about what's transpiring…and what the company told Strata-gee…
Earlier this month, several independent sources sent us a link to a public auction of industrial equipment taking place in Kentucky. We followed the link which took us to the website of Industrial Recovery Services (with the unfortunate initials of IRS) and found ourselves at the auction identified as that of Thiel Audio Products, whose auction was because "Assets no longer required for the continuing operations of Thiel Audio Products." This statement, to say the least, caught our attention.
The auction was fairly large with a total of 53 lots of items and included everything from a small lot of drill bits, to three large computer-controlled CNC routers…and even to a huge dust collection system that was attached to the building exterior and towered above it. When perusing the auction, it quickly became clear that Thiel was auctioning off everything in the building.
Many rumors…some confirmed…
We have been hearing rumors for some time now about Thiel closing operations in Kentucky – but there was no official word from the company. In fact, we have made several requests to speak with company officials, including CEO Bill Thomas with whom we've spoken to in the past.
But the company repeatedly declined to speak with us, other than to say that the timing is not right for them to make a statement. When the time was right, we were told, there would be a statement.
What can be surmised by the auction, which is now complete, is that the Kentucky facility is now, or will soon be, closed. Much of the equipment offered for sale has been sold and we believe it is safe to assume that the company – at this moment at least – is not manufacturing any speakers.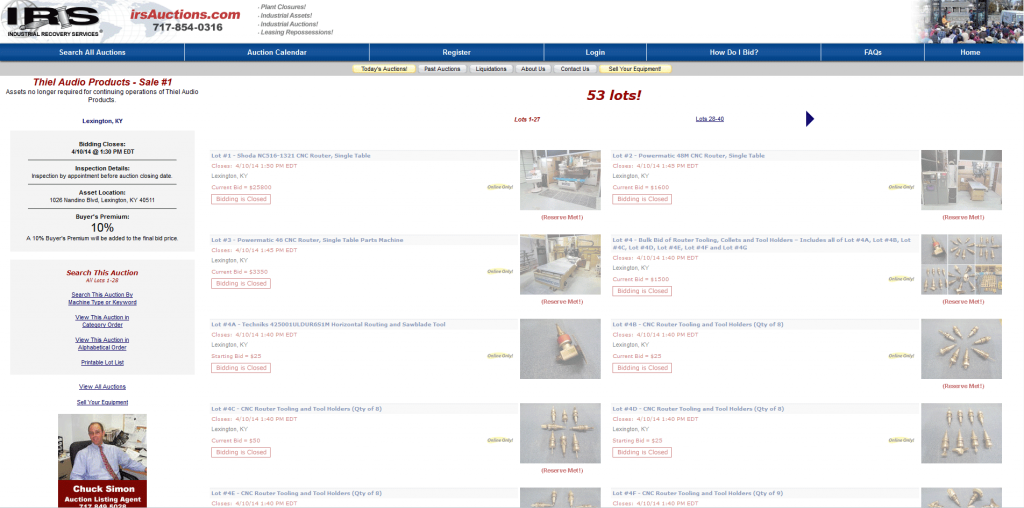 Big change is coming to Thiel; company is leaving Kentucky…
Prior to this article being posted, we reached out yet again to the company to try to find out what is going on. Although, again, company executives declined to speak with us…we did finally receive a rather terse statement from the company. This statement confirmed some of the rumors we'd heard…and confirmed what some would say, their worst fears – change was coming to Thiel.
"THIEL is moving to Nashville, TN and outfitting two new facilities including a high visibility showroom in the heart of Music City and a factory/administrative office complex outside the city," the statement read. "THIEL held an auction of older factory equipment because they are outfitting the new facility with modern gear and bringing on new employees including additional engineering support."
The company will say no more beyond what was said in this statement. But the ramifications from what this statement does say are huge.
Thiel turns away from CEO Thomas' past promises…
When we first interviewed CEO Bill Thomas, he was quite complimentary about what Thiel had accomplished. In that interview, conducted shortly after the new owners took control of the company in 2012, Thomas sought to allay dealers' fears and concerns with many assurances…including the fact that nothing was going to change. Thiel, he told us, wasn't off track, they just "needed the finances to do exactly what they wanted to do."
Thomas went on to tell us that critical elements of what constitutes Thiel are not going to change.
"Everything's going to remain the same," he said. "We're not going to come in and try and introduce a lot of less expensive products for the market. We're going to remain high quality. We're going to remain 'Made in America.'"
All bets are off…
Doubling down on his repeated assurances that nothing is changing, our previous interview with Thomas also noted:
"As if to further drive the 'nothing's changing' point, Thiel's new Nashville-based CEO says the company is not moving. 'We're not trying to reinvent the wheel here,' Thomas assured us. 'It's [Thiel] been in Lexington for 35-years and everything's going good. All the people [employees] have families – we are not uprooting anybody.'
Obviously, in the face of this new development (that the owners are moving the company), it seems to suggest that all bets are off as dramatic new change is coming to the company. The reasons behind these decisions remain a mystery at this point.
Mysteries multiply…
There is much we don't know – and Thiel's statement raises as many questions as it answers. Our first question would be…why? If everything was "going good" in Kentucky, as Thomas told us…why the move to Tennessee?
Even if the move to Nashville does make sense…and it might…it would still raise many questions. Did they let everyone go in Kentucky? How many employees did they hire in Nashville? Specifically, how many engineers did they hire in Nashville? How large is the new factory? What is the production capacity in Nashville? When will the new production lines be in operation?  Where will the showroom be? Will it carry products other than Thiel? Will they sell Thiel products in their showroom? Are they out of products now? If dealers need service, where do they turn? And many more.
We are told that all will be revealed soon, so perhaps all of our questions will eventually be answered. But for now, the mysteries seem to only multiply.
Statement hints at bright future…
Thiel's statement sounds positive and seems to hint at a bright future. It also conveys an air of bustling activity – new facilities, new showroom, new factory, new equipment, new engineers, new administrative offices…just a buzz of activity. Yet as exciting as all of that sounds, we find it somewhat ominous that on the Thiel website job listings page, you see this:

For more information on Thiel, see: www.thielaudio.com.