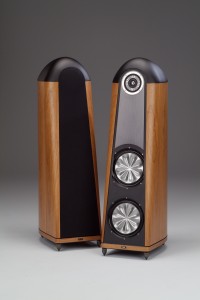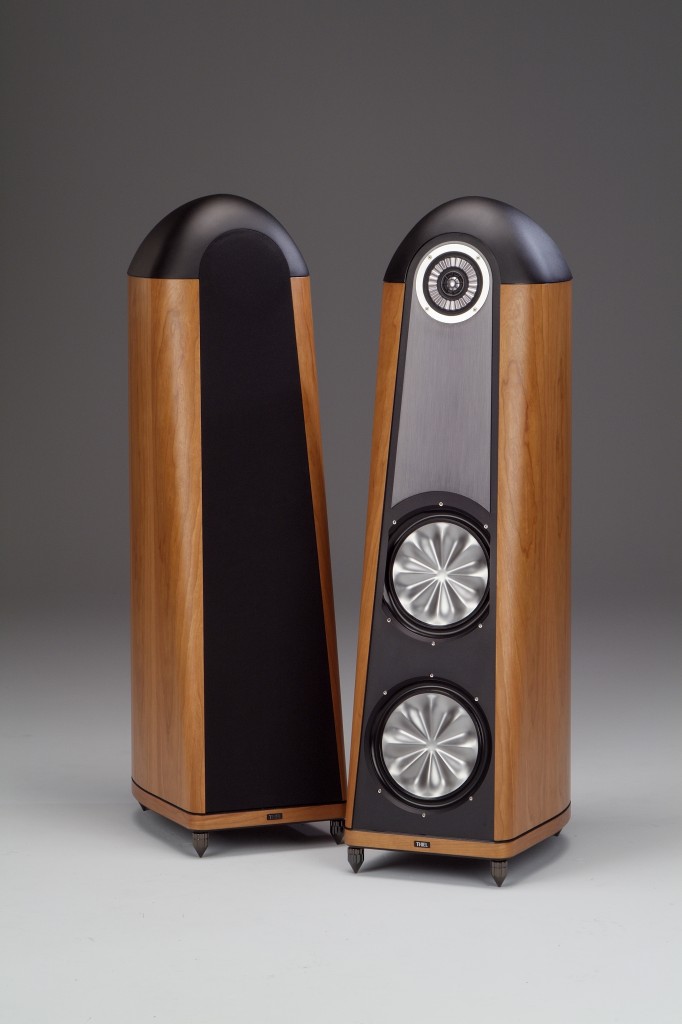 Last week, we told you about the many changes we learned that were taking place at Thiel Audio – some of which we characterized as "troubling." Thiel, a storied brand whose products were originally based on technology and research from co-founder Jim Thiel, was purchased by a group of investors in 2012. Last week, we learned that these investors were closing up the Thiel factory in Lexington, KY – the company's base of operations for 38-years – and moving it to their home base of Nashville, TN.
When we first heard this news, we reached out to the company, but they declined to speak with us.
Now, in the wake of our story last week, the company reached out to their dealers…
As Strata-gee.com and SYNCH readers know, we've been following this story fairly closely since the acquisition in 2012. The reason for our interest is because we feel that what's happening at Thiel is emblematic of major changes hitting the specialty A/V business.
The new owners of Thiel had a significant challenge – perhaps more than they even understood at the time they purchased the company. It was the same challenge that the previous owner, co-founder Kathy Gornik faced in the wake of the death of Jim Thiel from cancer in 2009. That fundamental – existential, really – challenge is how to continue to progress a company whose products relied on the very specific and unique engineering and technological philosophy of a single engineer…who no longer exists.
Coherent Source technology…
That technology, Thiel called it Coherent Source, is based on very strongly held beliefs on phase- and time-coherence. And it was Thiel's commitment to this Coherent Source concept that drove the company into developing not only their own box and crossover designs…but their own driver design as well.
If Coherent Source was so great, why didn't other speaker manufacturers adopt the technology? The fact is, certain other speaker manufacturers did utilize designs that in different ways addressed either time-alignment or phase issues. But Thiel's specific approach was unique to Jim Thiel. And it was a design that is said to be finicky and tricky to manufacture.
New engineer…new direction…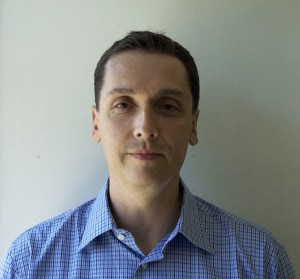 Last year, the company announced the appointment of Mark Mason as Director of Product Development – the engineer who would chart a new course for Thiel. Prior to joining Thiel, Mason had worked at Specialty Technologies (SVS) and PSB. Mason was charged with moving the company forward, launching new products with new designs and…to the chagrin of some Thiel aficionados…new technology.
Mason's first design was a pair of bookshelf sized speakers called the TM3 that the company showed at CES this past January. This was the first new product engineered by Thiel under the new management. But perhaps even more importantly, this was a huge change as it was the first post-Coherent Source speaker offered by the company.
One big change follows another…
Then, as we noted last week, the company is moving its operations from Lexington, KY to Nashville, TN – another huge change. As we caught wind of this move, we noted that there was no official announcement by the company about this move – strange considering we saw that the factory was shut down and the equipment was literally auctioned off.
We contacted Thiel to try to find out just what was going on at the company – but executives declined to speak with us. However, after our story ran the company did reach out to dealers in a communication that went out early this week.
After Strata-gee article hits, Thiel emails announcement to dealers…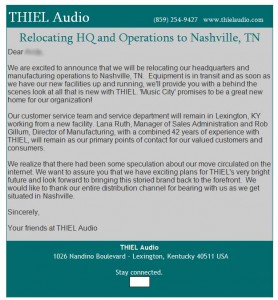 In an email to dealers, the company announced – finally – that they were moving to Nashville. They didn't say why, but they did say that "as soon as we have our facilities up and running, we'll provide you with a behind the scenes look at all that is new with Thiel."
Thiel also told dealers that they were retaining a small customer service/service operation in Lexington, KY that will be in a new facility. Popular employees Lana Ruth (Sales Administration) and Rob Gillum (Director of Manufacturing) will remain in Lexington as this service center is expected to continue.
Exciting plans?…
The Thiel note to dealers also said: "We realize that there had been some speculation about our move circulated on the internet. We want to assure you that we have exciting plans for THIEL's very bright future and look forward to bringing this storied brand back to the forefront."
We're not sure if this comment relates specifically to the article on Strata-gee or in the SYNCH, but we do know that this is the first official communication from the company about a process that is mid-course at this point. Just as soon as they share with us what their "exciting plans" are – we will report back to all of you.
For more about Thiel, see: www.thielaudio.com.