BREAKING NEWS

Strata-gee.com learned from sources early today that Thiel Audio Products was sold last week to a Nashville, TN-based private equity company. Late today, the company distributed a formal press release confirming what we have heard. Kathy Gornik, CEO and President of the company is said to be leaving effective immediately and the release refers to "New Thiel CEO Bill Thomas."
Sources are telling us that Gornik's departure is related to a dispute with the new owners that occurred literally within days of the closing of the sale. We contacted Thiel's public relations representative who refused to confirm or deny this report. A separate company-related source has suggested that Gornik has decided to retire.
Our sources also told us that the international sales manager, Dawn Cloyd, is also leaving the company. Cloyd is Gornik's daughter and is said to have been with the company for several years.
According to the company's release "long time Thiel employees Brad Paulsen, Gary Dayton, Lana Ruth and Rob Gilum" will all remain with the new company.The company also says that the "entire factory team" as well as the currently existing sales channel of sales reps and dealers all remain intact as currently configured.
"We identified Thiel as a brand with an unmatched heritage in performance audio and it is our intent to invest in the company's infrastructure, strengthening the engineering department first and foremost," Thomas said in a prepared statement. "We can improve efficiencies here at Thiel in the product development and manufacturing stages, shortening the time to delivery for new product with zero compromise in product quality."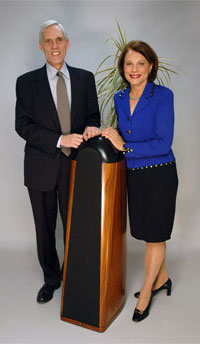 Thiel was co-founded 35-years ago by Jim Thiel and Kathy Gornik and is headquartered in Lexington, Kentucky. Thiel's research into time- and phase-coherent speaker designs back then, continues to drive their product development of high-end loudspeakers.
Over the years, the company's product line – originally floor-standing speakers only – has grown to include bookshelf speakers as well as several in-wall and on-wall speaker designs. While prices cover a wide range, the company remains a high-end player with speakers priced between $1,000 each to $13,000 per pair.
In July 2010, Thiel decided to offer their products for sale on Amazon.com – a controversial decision for a specialty company. In a telephone interview with strata-GEE.com's ALERT newsletter, Gornik said that the company had covered its bases with this decision and had engaged in three years of detailed negotiations.
"We felt we got everything we needed to protect Thiel and preserve what we needed to protect our dealers," Gornik told us.
Still, sources have told us that the company has pulled out of Amazon.com and was in the process of refocusing its energies on its bricks-and-mortar retail partnerships.