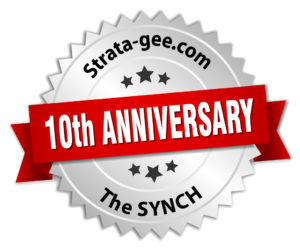 Wow…what a way to wrap up our TEN-YEAR ANNIVERSARY! My head is spinning! At the risk of sounding boastful, please indulge me for a few moments while I share with you what I think are some remarkable results from 2017 for Strata-gee.com. First and foremost, let me say that it is completely thanks to you…our readers…that we have just had the best year in the history of our website.
Read more about the year we had in 2017 – thanks to you, our readers…
Looking at our website and email statistics at the end of this, our tenth year of providing our readers with the top stories in tech, was truly exciting! We wanted to take a moment to both share with you our results, and THANK YOU for your incredible support this year.
So here then, in no particular order, are selected stats from 2017, our 10-year anniversary:
PAGEVIEWS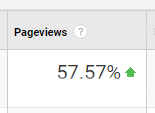 Pageviews is considered to be the most important statistic for any content provider – it represents the number of times a page or post has been viewed/read. We turned in unbelievable numbers this year! After a relatively flat performance in 2016, our pageviews grew this year by an astonishing 57.59%! This seemed to be a huge increase – certainly the biggest ever recorded for Strata-gee. When discussing this with a few people, I asked them – why do you think this is the case? "You had big stories this year," one told us. But there have big stories every year, so it must be something more than that.
What I hope to be the case is that you, our readers, are finding our content interesting and useful – and then telling your friends about us. We have watched our page views increase all year long, picking up particular momentum in the Fall. The graphic included here is an actual screen shot from Google Analytics showing the rate of growth in Pageviews on Strata-gee in 2017 vs. 2016.
SUBSCRIPTION LIST GROWTH
Our list of subscribers continues to grow – and it should be noted that this list is growing organically. We have done no promotions to try and pump up our list. Again this year, we experienced more than 12% growth in the number of subscribers to the Strata-gee SYNCH e-newsletter.
I know, compared to 57%, 12% doesn't sound particularly impressive. But we've averaged double-digit increases since launching Strata-gee back in 2007. Every year, I keep warning my business advisory team that I expect to see the subscription growth rate to begin tapering off. I believe this will happen because the raw number of subscriber-adds required to maintain the same percentage growth is getting pretty big – it's not reasonable to assume it will continue forever. So, in other words, that number of new subscriptions we need to maintain that 12% growth rate at this point in our development is many times more than was required back in the early days. So I anticipate a decline in the subscriber growth rate.
I've been warning of that decline for about five years now. Still, for some reason, the subscribers keep coming…
SINGLE-POST RECORD
In addition to our pageview record mentioned above – we set another, single-post record. One of the stories we reported in 2017 as part of our B&W/Classé coverage, Case Closed: Classé Closing October 6th, hit pretty big – in just 96 hours, it generated tens of thousands of page views. This is both a "speed" record, and a "quantity" record.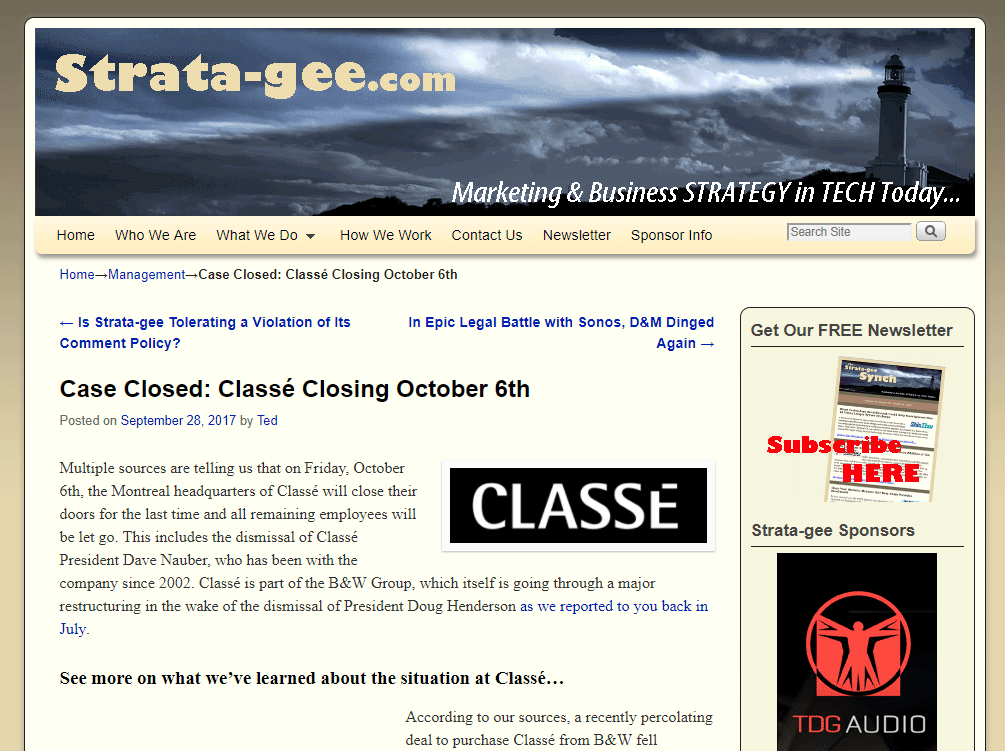 As is well-known in content creator circles, some stories have "long tails" and this story is no exception. Case Closed is still generating significant daily pageviews, even though the story was first published in September 2017.
If you had told me ten years ago that one day I would write a story that, within a matter of just hours, would be read by tens of thousands of readers…I'm pretty sure I wouldn't have believed you.
WELL-ROUNDED GROWTH STATS
If you look at the graphic in this section, we point out how well-rounded our growth was this year. This is also a direct screenshot from Google Analytics and it offers really gratifying information on users and their behavior on Strata-gee in 2017.
As you can clearly see, more readers came to Strata-gee this year (Users: +50.75%), they came more times (Sessions: +55.42%), spending more time with us (Avg. Session Duration: +3.72%), reading more pages per visit (Pages/Session: +1.40%) and driving an overall gain in pageviews (Pageviews: 57.59%). I absolutely could not ask or expect more of our readers!

There are many more data points that could be shared with you because a "rising tide raises all ships." For example, I could mention that the amount of site traffic Strata-gee gets from "referrals" is up 52.65%…so THANKS, you are definitely telling your friends about us! And the amount of traffic received from social media is up an amazing 149.91% (traffic from mobile Facebook is up 240%)!
That's Enough of That!
OK…enough of this gloating. It's getting a little unseemly, don't you think?
These results turbocharge my enthusiasm for a bigger and better 2018! I have some great things planned for this year as I continue to work hard to earn your eyeballs…and your referrals. Some of these things will be modest…and some huge. One of those announcements – a big one – is not quite yet ready for publicising now…but is just around the corner, so stay tuned!
Finally, I can't THANK YOU enough for your support, loyalty, and longevity as a reader. Because of you, Strata-gee had a great year. So please know that I will never take you for granted…
These are tough numbers to anniversary, but I accept the challenge – on to 2018!