*By now you've likely heard about the massive sell-off on Wall Street over the last week or two that is largely a reaction to the spreading coronavirus pandemic and its potential impact on markets. Although not a new situation, coronavirus (now known as COVID-19) has spread around the world and is now making its way into the United States – potentially putting U.S. markets and companies like Emerald Expositions in jeopardy.
But while most public companies have seen their stock values drop during this market decline, Emerald Expositions has seen the market value of their stock decline at a much greater clip… What's going on?
Why is Emerald's stock value crashing?…
No doubt about it, COVID-19 has really spooked investors on Wall Street. So much so that the Dow Jones Industrial average (DJI) has dropped an amazing 1,760.38 points over the last 90-days (as of the close of business on March 3rd). Actually, most of that was lost in just the last week. But that drop equates to a loss of -6% of its total value…a huge number for the bellwether of the market indexes.
COVID-19 is a global phenomenon with both Asia and Europe seeing a huge impact at this point. They both were in earlier waves of the spread of the virus and by watching them, we get a sense of the type of future disruption we may be facing here in the U.S. And that disruption could be pretty big.
How COVID-19 Has Impacted Other Countries
For example, Korea and Japan have both been hard hit. Japan just made the decision to close all schools in the country…and to close them for a full month. That's a pretty big deal in a country dedicated to education. Not to mention the incredible disruption it is causing to working families who have to figure out how they will take care of their kids. Japan is also looking as though the coronavirus pandemic will force their country into a recession.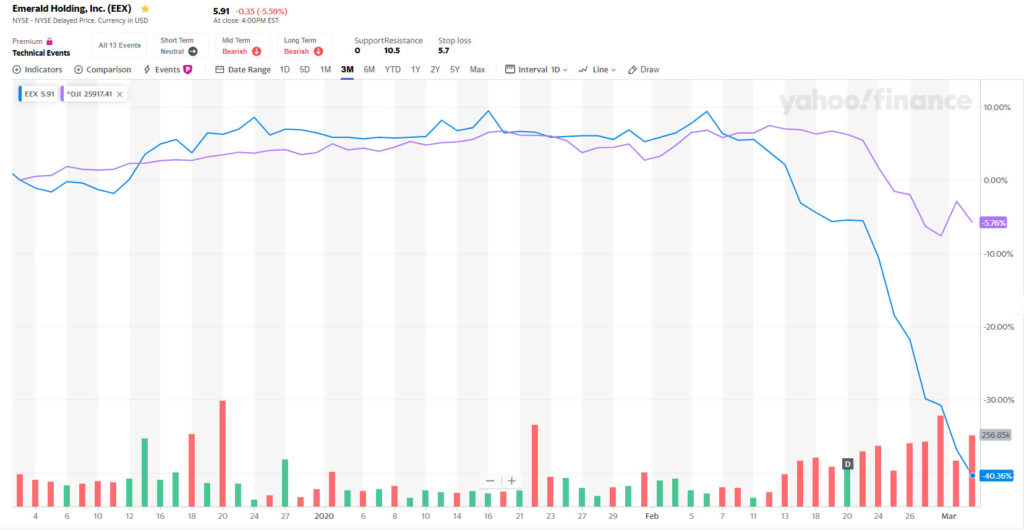 So concerns like this about COVID-19 are weighing heavily on investors who fear the same kind of dramatic disruption of business and, especially, of consumer markets here in the U.S. as we are seeing elsewhere in the world.
Wall Street is Getting Hurt, Emerald is Getting Hammered
But as bad as the overall financial markets are being hurt, Emerald Expositions Events, Inc. (Emerald) – owner of the CEDIA Expo show and CE Pro – is getting hammered even harder. Remember that DJI collapse of 6%? During that same 90-day time period, Emerald saw their stock share value drop by a stunning 40%! Why?
I believe that Emerald is being hit by a double witching event. First, on February 13th, the company announced their fiscal results for the fourth quarter and full year…and these results were not well received. The stock closed down the day of the announcement, and began trending down every day after that for the next week or so.
COVID-19 Concerns Hit the 'Street'
And then, only days later, the news about the COVID-19 pandemic began to dramatically impact the overall market and act, perhaps, as a bit of an accelerator for Emerald's accelerated decline. Why would COVID-19 hit Emerald harder than the average company?
Emerald management has regularly bragged that they felt immune to market downturns because they own so many shows that span so many different industries. If one industry declines, they have all of their other shows to ride upon. That confidence seems to have almost invited this karmic impact by a global pandemic that is forcing companies to implement travel bans, airlines to cut flights to infected areas, and people to choose to stay home, rather than risk their health by traveling.
Emerald Has All Its Eggs in One Basket
It turns out that Emerald has ALL of their eggs in one basket – face-to-face marketing events…i.e. tradeshows. Yes, Emerald does have their "other" division with various publications as a further bit of diversification. But this division is a very small part of their business – about 10% in 2019.
That means 90% of their revenue is derived from tradeshows. If some external force were to disrupt the tradeshow industry – say, a global pandemic – they would likely be hit much harder than your average non-tradeshow company.
A Growing List of Cancelled Tradeshows
Have we seen any tradeshows or other public events impacted by COVID-19? Oh yeah…here's a small sampling:
ISE – ISE was able to get their show off in early February before COVID fears had really taken off. But even so, attendance at the event was off by 30,000 as compared to the event the previous year…a big impact.
Mobile World Congress – Barcelona – cancelled
High End Audio Show – Munich – cancelled
Facebook F8 – San Jose, CA – cancelled
Facebook Global Marketing Summit – San Francisco – cancelled
EmTech Asia – Singapore – cancelled
Google News Initiative Global Summit – Sunnyvale, CA – cancelled
Inspired Home Show – Chicago, IL – cancelled
The Summer Olympics – Tokyo, Japan – organizers are considering cancelling
One trade show group says that – so far – more than 24 major trade shows have been cancelled. And that number is rising…
Even in cases where trade shows continue on with their events – organizers are finding that many exhibitors are cancelling at the last minute. Making matters worse, audience attendance is dropping off as well – just like ISE experienced – disrupting planned monetary receipts from the event.
Will Emerald Cancel Events?
So far, there has been no public comment from Emerald on the dramatic decline in the value of their stock. Nor has the company made any announcements about any changes to their existing trade show schedule…yet.
Learn more about Emerald Expositions by visiting their website at: www.emeraldexpositions.com.
* NOTE
The day this story was published, the stock market had a rebound with the DJI rising 1,173.45 points or 4.53%. Most news outlets reported that the reason for this rise was due to the results from the Super Tuesday Democratic Primary taking place the day before.
Emerald's stock also rose, closing at $6.48/share or up 9.64%. While this is a better result, it still lags the DJI over the last 90 days with the Dow down only 2.02% and EEX down 33.88% over that time period.