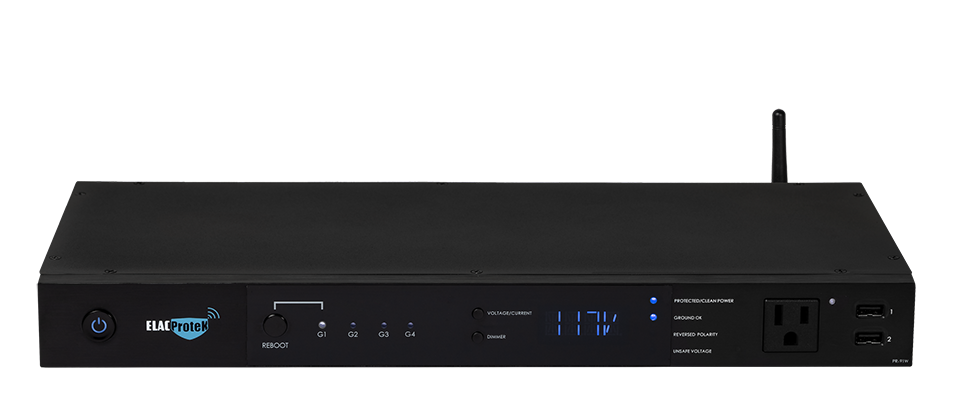 Respected high-performance speaker maker ELAC announced this week that they are branching into the equipment protection product category by launching a series of surge protectors and power conditioners under the Protek name. But this new line is not just any ordinary equipment protection devices, the company applies its clever engineering capabilities to deliver an upgraded, higher-performing protection solution.
See the new ELAC line of surge protectors and power conditioners
ELAC set out to develop a line of equipment protection products that offer more contemporary features and a higher level of performance. Features like App control, Wi-Fi, Bluetooth, and Alexa / Google Assistant compatibility are a cut above much of the competitive landscape in the category. Considering that this is a category that grew out of the more mundane office power strips, there has been a lot of technological advances leading to almost a reinvention of these now important system additions.
Most system designers now consider equipment protection products to be an essential system component, rather than just an accessory. The fact is, system performance depends on a steady, clean supply of energy. At the same time, component longevity demands protection from various spurious power factors, such as surges or "spikes" of power.
This new series brings a much-needed technology upgrade to the category. With the ability to set up multiple schedules, timers, and senario-based routines from your smartphone, the Protek line offers great flexibility and innovation to a more traditional category.

Joe Riggi, ELAC President and CTO

Key features of the new Protek line include:
RFI and EMI Filtering – The company says that the power you receive from your local power company can often be dirty or noisy. In addition to that, appliances in your home or even static electricity can also introduce noise into your line. Protek products provide anywhere from 40dB to 70dB of noise reduction and deliver cleaner power to your electronics.
Surge Protection – Power surges can happen at almost any time for a variety of reasons – some external and some internal. Perhaps your power company does a grid switch, or perhaps one of your appliances (such as an air conditioner or electric oven) is switched on or off – all of these things can cause a surge of power in your electrical supply. Protek products provide surge protection up to 6,480 Joules with a 1 nanosecond reaction time.
Voltage / Current Display – Displays on Protek models (PR-71S, PR-81B, and PR-91W) offer you a readout of the voltage coming from your electrical outlets. The PR-81B and PR-91W also show the current draw of your connected device.
ELAC Protek App – By connecting the PR-91W, PB-62W, or PB-12W to your home Wi-Fi network you can download the Protek app an open up a whole new level of control. The app allows for setting a countdown timer, scheduling, and controlling the power on groups of the surge protectors' outlets. You can even control the device when you are out of the house. Additionally, the PR-81B includes Bluetooth Low Energy for local app control without Wi-Fi.
USB Charging Ports – Convenient USB charging ports provide up to 2.4 amps of charging power. The PR-81B and PR-91W feature 4 USB ports (2-front/2-rear).
Alexa and Google Assistant Compatibility – Protek models can be added as a device in the Alexa or Google Home app, enabling you to control it via voice command or from touch panel interfaces.
All models are available now at your nearest ELAC retailer nationwide. See pricing in the table below [Click to enlarge]…
To learn more about ELAC, visit: elac.com.