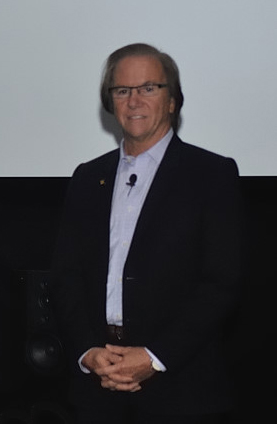 At this month's CEDIA Expo, Sony Corp. professed to the attending media corps their continued commitment to the custom integration (CI) channel…trotting out none other than Sony U.S. COO and President Mike Fasulo (in photo at right) to make the case. But what really proved their case were the impressive product introductions – products clearly designed with custom integrators in mind.
See what Sony introduced that caught our attention at Expo…
Fasulo told the press assembled for the show that Sony believes that AV integration is "the biggest opportunity." We assume he means for Sony, although it is a little confusing. AV integration is a substantial market, but hardly the largest market within which Sony competes. But perhaps he was referring to the market offering the biggest growth opportunity. In this regards, Sony has room to grow their share of the channel, as it was a channel that they essentially ignored for many years in the past.
And apparently they are growing, as Fasulo told reporters the company has seen its sales in the channel increase by 63%. As impressive as that sounds, we suspect that Sony…a late convert to CI…was starting from a fairly small base initially.
But the most powerful statement that made their case was the new models they introduced at Expo. Sony focused on five new introductions: 4 new projectors (three of which were native 4K resolution). and a new ES AV receiver.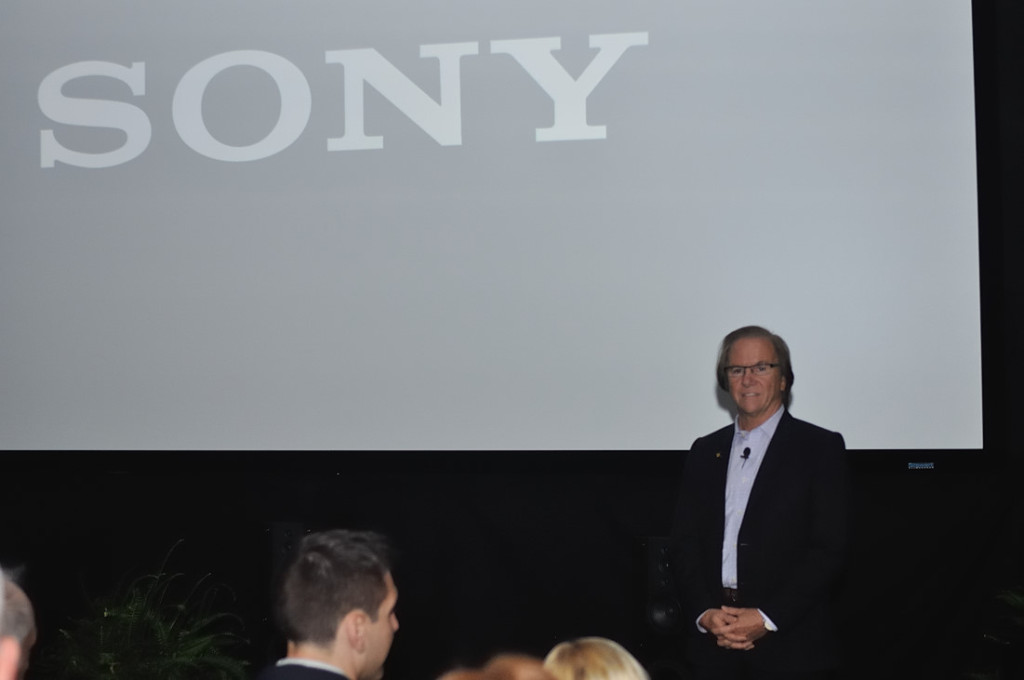 Projecting Success in 4K
Of the four new projectors that Sony introduced at Expo, one was an affordable HD model called the VPL-HW65ES. Sony presenters didn't discuss this model in detail, focusing instead on the other three models which are native 4K resolution models. The new 4K projectors from Sony include:
VPL-VW365ES – The VW365ES includes a new long-life (6,000 hours) lamp with what the company says is high brightness and high contrast "for even more vibrant images." The 365ES is native 4K resolution and is compatible with HDMI input of HDR (high dynamic range) content. The company claims a 300,000:1 contrast ratio (dynamic)
The 365ES also includes Sony's SXRD™ panels which the company says does "no artificial manipulation of pixels." Sony's proprietary TRILUMINOS™ engine is said to provide "rich and accurate color." Also included is Sony's Motionflow™ technology for clearer reproduction of fast-paced images.
This new projector supports the latest HDMI standard with HDCP 2.2. Aficionados of 3D content will be glad to hear that Sony includes a built-in RF 3D transmitter which will interface with industry-standard 3D glasses.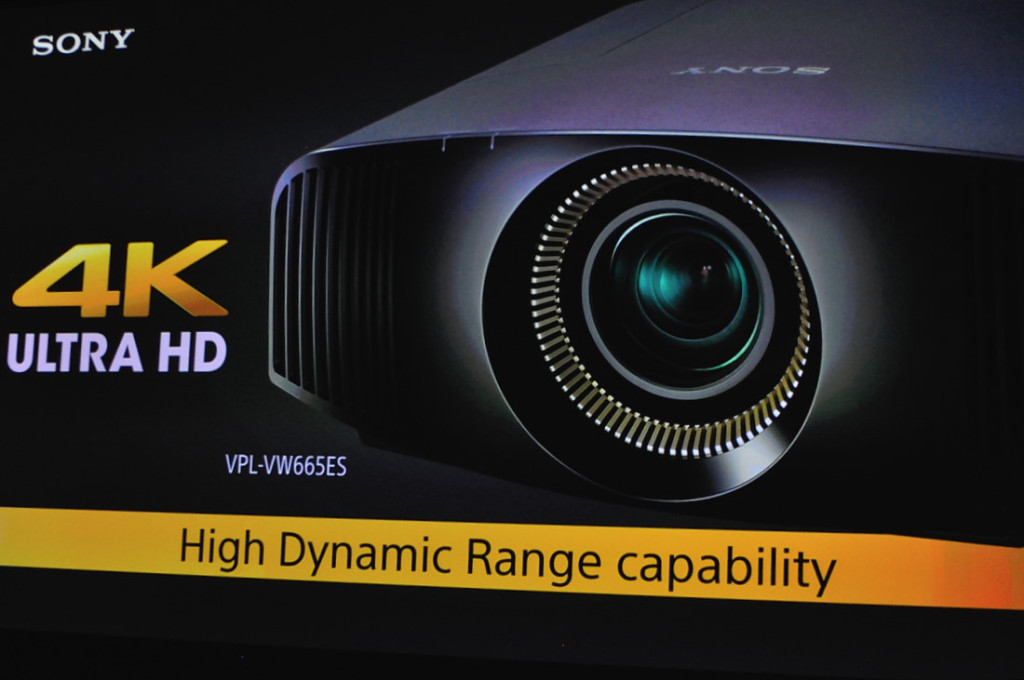 Finally, the company says that this new Sony projector includes professional calibration features that installers can use to optimize images for their clients' taste. The company even offers Projector Calibration Pro software which allows integrators to manipulate all of the projector's features and calibration from their laptop. This flexibility includes what the company says is sophisticated calibration tools. Helpfully, setup configurations can be saved to a file for simple upload later in future installations.
The VPL-VW365EX is available this month with a suggested MSRP of $9,999.
VPL-VW665ES – The 665ES includes all of the above as well as a higher brightness level of 1,800 lumens. (The 365ES has a brightness of 1,500 lumens.) The VPL-VW665ES is also available this month with a MSRP of  $14,999.
The Ultimate 4K Home Theater Projector
But the Sony projector that generated the most buzz at the show is a model that Sony says is the "Ultimate 4K Home Theater Projector" – the VPL-VW5000ES. This bad boy's laser light source is head and shoulders above its LCD-based brethren, at least in terms of brightness – with a whopping 5,000 lumens for bright 4K perfection. See more on this new top-of-the-line Sony projector model:
VPL-VW5000ES – The top of Sony's 4K line, the 5000ES uses their 4K SXRD™ laser light source. Laser has amazing, must-see-to-appreciate color brightness and the 5000ES boasts no less than 5,000 lumens of brightness. This brightness, coupled with compatibility with HDR content and an expanded DCI-P3 color gamut and you have a stunning picture quality. (Please keep in mind that we have not personally tested this unit yet.)
"The VPL-VW5000ES projector is truly the ultimate home cinema display," said Yamato "Tank" Tanikawa, Director, Home Entertainment & Sound, Sony Electronics in a prepared statement. "The VPL-VW5000ES joins an impressive lineup of Sony home theater projectors specifically designed for the installer market, like the VPL-VW665ES and the VPL-VW365ES models also announced today. All of these 4K resolution projectors offer a truly immersive viewing experience with high brightness and high contrast bringing the home theater experience to the next level."
Sony says it is the only manufacturer that is providing full 4K resolution imagers to the consumer market. The company also says that, thanks to the design of the 5000ES' light engine, it produces infinite dynamic contrast ratio, along with the previously mentioned 5,000 lumens of color light output.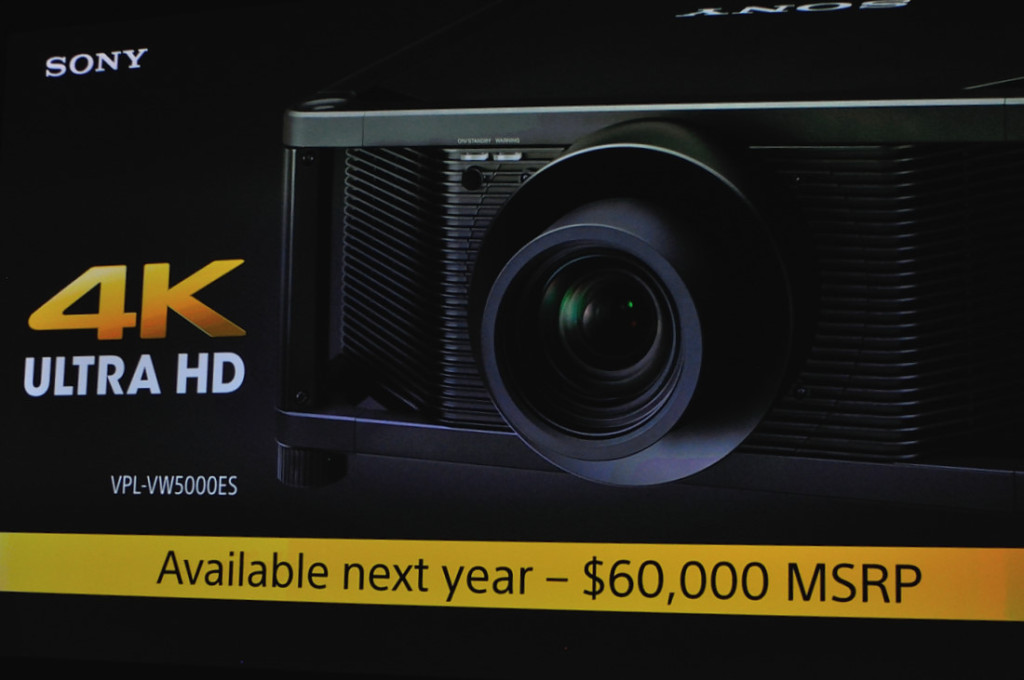 The 5000ES covers the DCI-P3 color gamut, as we mentioned above. But integrators using the calibration tools included with the projector are also able to set the unit to emulate the more expansive BT.2020 color gamut as well. The company notes that this facilitates compatibility with future video formats and essentially future-proofs today's theater installations.
Like the other models, the 5000ES also incorporates Sony's Motionflow™ technology that reduces blur and smooths the image for fast action content…such as sports. The projector features an HDMI input with HDCP 2.2 compatibility. This input has enough bandwidth to accept a 4K 60p signals up to YCbCr 4:4:4 8bit or YCbCr 4:2:2 12bit. Again, this projector can handle just about all types of video content today…and tomorrow.
The 5000ES uses a unique liquid cooling system which enables very low noise operation. Go ahead and place the projector near your guests, the noise level will not interfere with their movie watching pleasure. Included with the projector is a standard powered zoom lens with a ratio from 1.27 to 2.73:1 and lens shift capability of +/- 80% vertical and +/- 31% horizontal.
Finally, the 5000ES offers an incredible 20,000 hours of lamp life…and up to 40,000 in low brightness mode. The company says that the lamp will feature a linear decrease in brightness, so the color shift of traditional projectors won't be experienced. But to ensure color accuracy, the 5000ES has an auto-calibration routine to reset the calibration to the original factory setting over time to compensate for any loss due to an aging lamp.
The VPL-VW5000ES is expected to ship sometime in Spring 2016 and is available for pre-order now with a MSRP of $60,000.
Finally, the Audio Side of AV
Last, but not least, Sony launched a new Sony ES receiver, the STR-ZA5000ES. With this receiver, Sony looks to more fully support their video chops. See the details on this new AVR below: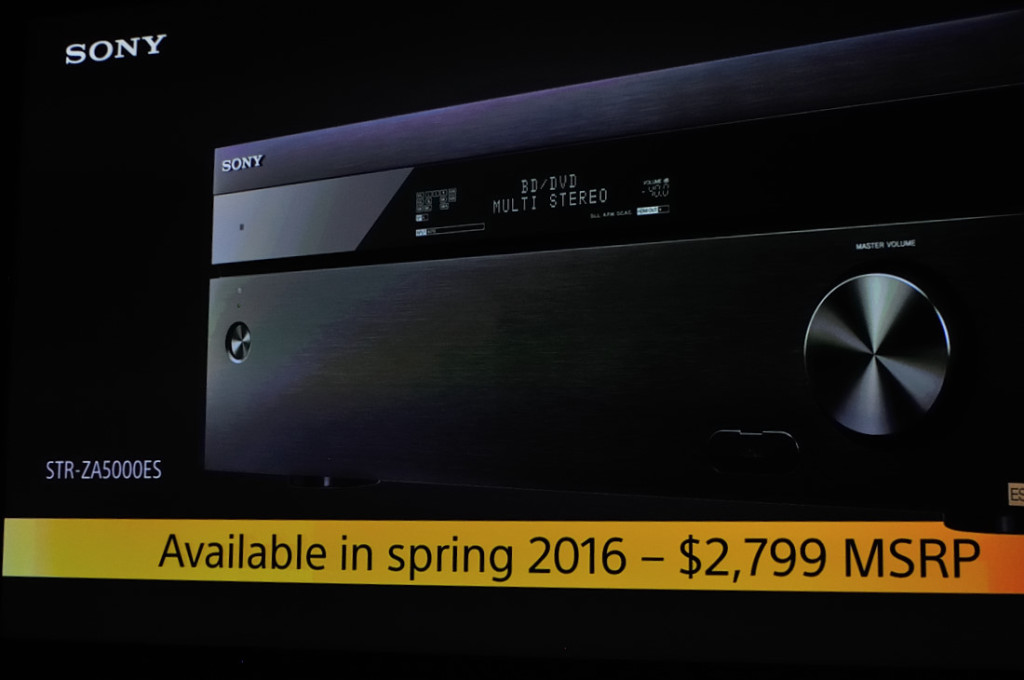 STR-ZA5000ES – The ZA-5000ES is incredibly robust and includes 9-channels of 130wpc power. This is meant to be the heart of your home theater, so the company has included the most current surround technology available, Dolby Atmos and DTS:X.
Sony says it has improved the "structural stability" of the unit with a purer analog signal path and a high-quality (high purity in Sony-speak) preamplifier. As is the case with competitive AVRs, the ZA-5000ES includes a easy to understand and operate GUI that appears on the end-user's display.
Naturally, as you would most likely suspect, the ZA-5000ES supports Hi-Res Audio over HDMI – a technology to which Sony has made a corporate commitment. There are a total of 6 HDMI inputs and 2 HDMI outputs for good installation flexibility. And the ZA-5000ES supports 60P 4:4:4 UHD content, as well.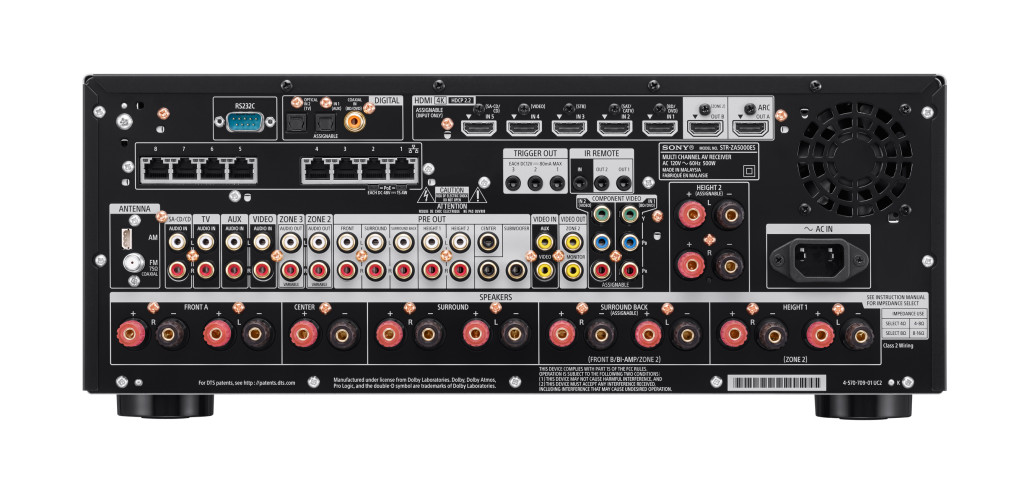 Here's something unique – Sony has included a full 8-port Ethernet hub in the jack pack of the ZA-5000ES. We're not sure how installers will look at this as they most likely have provided for robust Ethernet connectivity to the entire AV rack already. But perhaps the DIY-er will embrace this unusual inclusion.
Finally, Sony has included a "Ping" button that fires off "discovery" protocols for CI controllers to facilitate establishing a network connection with the receiver.
The Sony STR-ZA5000EW is expected to be available in the first quarter of 2016 with a MSRP of $2,799.
To see more about Sony and the products it offers, visit: www.sony.com.