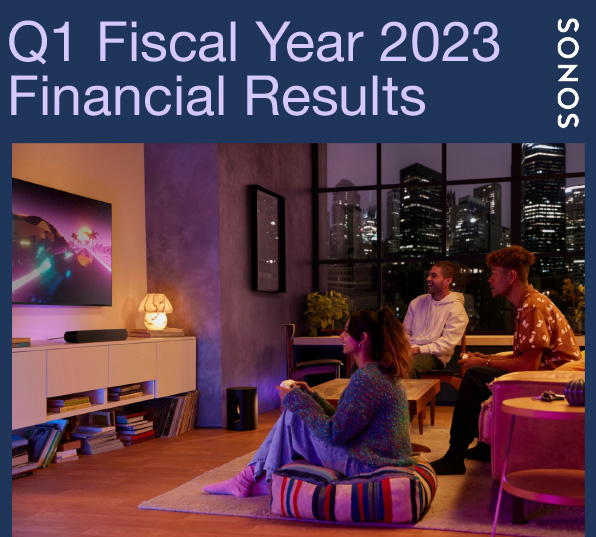 Wall Street can be a fickle partner sometimes. Occasionally, a company will turn in a good performance, but its stock value will decline anyway because the performance wasn't as good as financial analysts had expected. And sometimes, as is the case this time with Sonos' fiscal 2023 first quarter results, you can turn in poor performance, and your stock value can take off flying – because this time, your performance was not good, but not as bad as the financial analysts had expected.
See more on the Sonos fiscal 2023 first-quarter performance
Sonos, Inc. (Sonos) (NASDAQ: SONO) reported its fiscal 2023 first quarter performance after the close of the market on Wednesday. The performance, to put it kindly, was disappointing. But apparently, it didn't disappoint Wall Street which bid up the value of its stock by 16.32% in afternoon trading on Thursday.
In announcing its results, Sonos management started by noting that after three years of COVID and supply chain issues, this was the first quarter where the company finally felt it began the quarter with enough inventory in-house. In fact, it felt it had enough inventory to run promotions in order to propel revenue growth.
Let's Look at the Numbers
The company booked revenues of $672.6 million in the quarter that ended on December 31, 2022. CEO Patrick Spence called this a record first quarter result and while that may be true, it was only a 1.2% gain – essentially flat – over the $664.5 million booked in the same quarter that ended on January 1, 2022, a year ago.
The profit picture was even more serious. Operating income, sometimes known as profit from operations, came in at $86.3 million, down -35% from operating profits of $132.6 million in the same quarter last year. WORSE yet, net income for the quarter came in at $75.2 million or -39% from the net income of $123.5 million booked in the quarter the previous year.
Hold the champagne…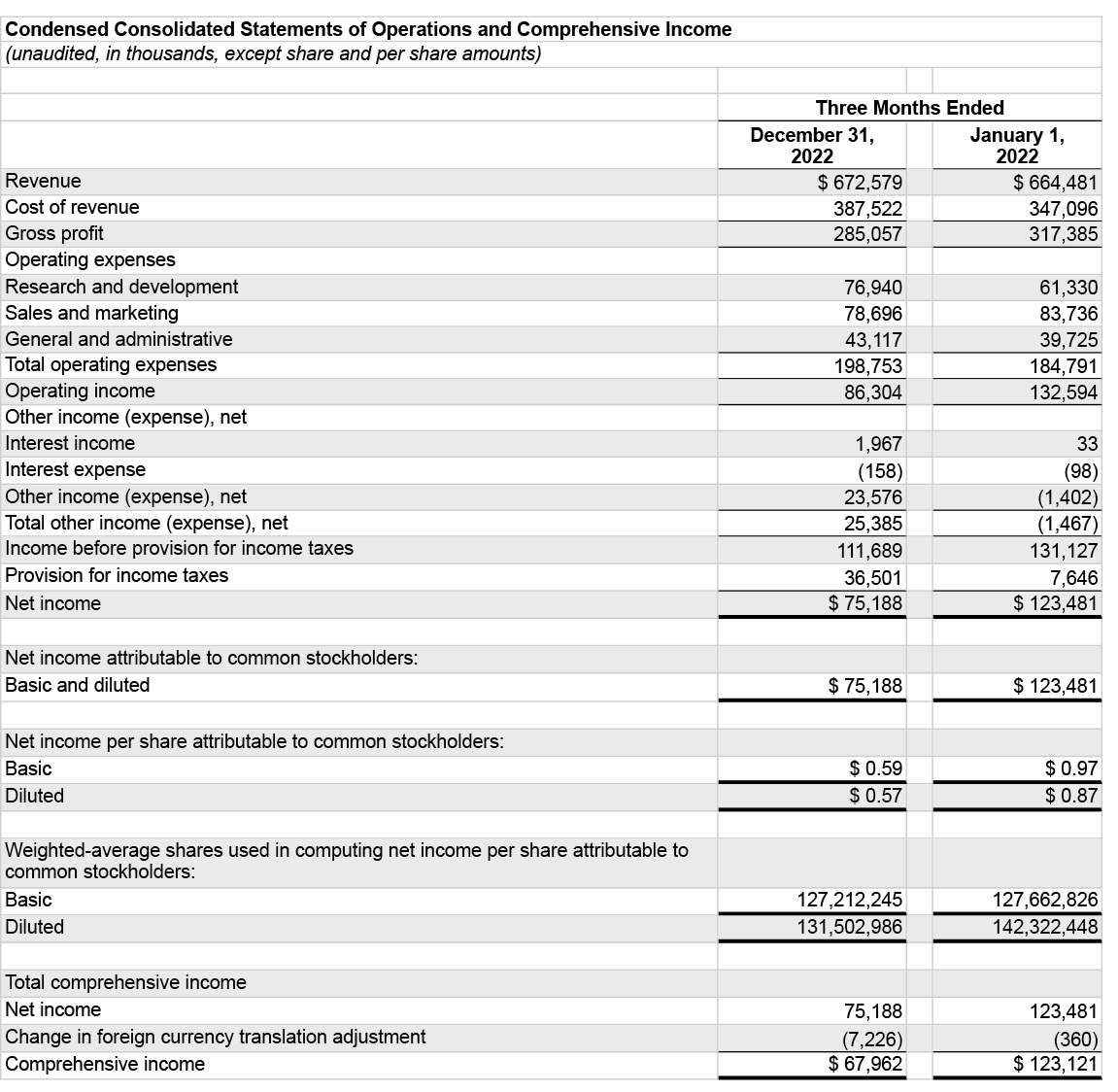 Enough Stock to Promote and Drive Revenues
We hadn' been in stock in three years and hadn't been able to promote. The consumer was hungry for our products. We gained a lot of share, especially in home theater, over the holiday period.

Eddie Lazarus, Sonos Chief Financial Officer (and lawyer) in an interview with MarketWatch
Lazarus' comment is a touch perplexing. What he's saying is that even though they spent millions on promotions to drive revenues (so much for the consumer being "hungry" for Sonos products), they only managed to do slightly better than flat revenues as compared to last year. On top of which, that spending obviously impacted profits, so I'm not sure I would be celebrating so much.
Keep in mind that gross margins fell a statistically significant amount – from 47.8% in the quarter last year to 42.4% in the quarter this year. That's a painful gross margin decline of -5.4%. Ouch.
Perhaps this is why Lazarus went on to tell MarketWatch, "While we're very pleased with how we did" in the first quarter, there's "no spiking the football."
Why is Wall St. So Happy with Sonos' Lackluster-to-Poor Performance?
Well, the answer to this is simple if you understand the peculiar ways of Wall St. That first quarter revenue of $672.6 million was only flat in a YoY comparison to revenues last year…but it was much better than analyst expectations of a Q1 revenue decline to only just $594.3 million.
Last year, the value of Sonos stock dropped just under 50%. The company scaled back its fiscal guidance estimates and tempered analyst expectations based on what they called a deteriorating macroeconomic environment. With that information, analysts scaled back their estimates for the company's performance going forward. But Sonos was able to exceed those reduced analyst expectations – a happy circumstance on Wall St.
Lower Profits? No Problem!
The same held true for profit forecasts as well. Sonos' net earnings came in at $0.57/per share. This result was well below the $0.87/share earned in the quarter last year. But it was WAY over analyst expectations of only $0.38/share. So that's how you book flat sales and declining profits…and still please Wall St.
With such a big "win"(?!?!) you'd think that Sonos would revise their forecasts upward…wouldn't you? Well here is probably an indicator of their continued nervousness. Sonos says it is maintaining its initial fiscal 2023 guidance for now.
So are You Raising Guidance Performance for the Year? Ah…Nope
"What we look to is the balance of the first half versus the second half, and we're right on plan," Lazarus told MarketWatch. "We're sticking to our guidance because it's so early in the year and there's so much uncertainty."
Is that how they really feel? Or are they managing expectations again?
CEO Patrick Spence, on a conference call with analysts, expressed confidence in 2023 with new models coming, including a first entry into a new product category, which he didn't specify. Yet he's not quite confident enough to bump up their guidance.
Learn more about Sonos by visiting sonos.com.