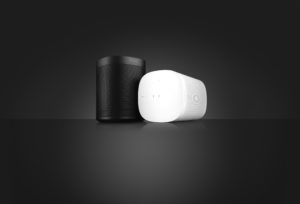 The Wall Street Journal is reporting that wireless music system maker Sonos is getting ready for the big time by planning an initial public offering. According to the report, the IPO could happen as soon as this July…or even June.
See more on this new of a Sonos IPO…
According to "people familiar with the process," Sonos has confidentially filed paperwork with the Securities and Exchange Commission for an IPO. Earlier this week, the company held an "analyst day" at the company's Santa Barbara offices where senior executives presented the company's financials and walked analysts through the details of their business.
Previously, Sonos had raised $110 million from the investment community, including from KKR & Co. As the report noted, CEO Patrick Spence had told the WSJ this past Fall that the company was on track to exceed $1 billion in revenues for the year, in part because of the success of its Playbase speaker selling for $699.


Sources put the company's value at somewhere between $2.5 billion – to $3 billion. The IPO would be expected to raise several hundred million dollars in proceeds for the company…depending on the stock price, which will be set closer to the IPO.
Analysts say that the market for tech IPOs may be heating up…after a long dry spell where many companies in tech eschewed Wall Street, turning to alternative sources of capital such as private equity companies or even selling themselves to competitors. Now, however, many think the tide will turn…and Sonos may lead the wave of more tech companies turning to public markets.
Ahead of this IPO being handled by Goldman Sachs and Morgan Stanley, Sonos has been building up partnerships with rival voice interface providers, such as Amazon, Apple, and Alphabet in a direct frontal assault of the smart speaker market. Last year, Sonos launched their Sonos One at $199, their first smart speaker based on Amazon's Alexa voice interface. The company has also said it is working on incorporating Google and Apple voice interfaces in future products.
For more information on Sonos, visit: www.sonos.com.