Savant Systems, LLC announced on Tuesday that it has hired William J. Lynch as its new CEO. Who is Lynch, you ask? He is the ex-Barnes & Noble CEO who left there in the middle of last year. The Savant announcement surprised many as, on paper, Lynch looks like an unlikely candidate for the role.
Since the announcement, social media has buzzed about this appointment. See more…
Savant Systems has long been a significant player in the control segment of the custom integration business. And they were one of the first to base their products on the Apple operating system. Clearly the company was taking a path towards products that are easier to operate…and address a large installed base of Apple enthusiasts.
Largely sold through custom installers and system integrators, Savant has had the ability to offer reasonably sophisticated systems for less than the ultra high-end alternatives. According to the company, it has 1,500 dealers and retailers in 35 countries.
A book seller?…
At first glance, the idea of hiring a CEO from the nation's largest book retailer, makes no sense. Savant is a technology company, in an intensely competitive electronics industry. It is not in the book business…nor the retail business.
You have to dig a little deeper to learn that Lynch had joined B&N back in 2009 to run its then-new Nook e-reader business. When Lynch joined B&N, the Nook project was underway and in late 2009 the company launched the Nook, which went up against Amazon's mighty Kindle.
Trying it before buying it…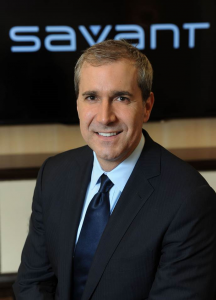 Initially, the Nook did well…very well. According to Businessweek, the Nook "looked good, worked well and sold better than Barnes & Noble expected." In fact, many reviewers were picking it over the Kindle and many consumers liked being able to try it before buying it in the Barnes & Noble stores.
But this period of market leadership for the Nook was short-lived. Only 90-days after launch, Apple introduced the world to the iPad…and the game changed. Ultimately, by the end of fiscal 2013, Nook was responsible for $776.2 million in sales…and an operating loss of $475 million. Lynch left the company in July of 2013.
Prior stints…
Prior to Barnes & Noble, Lynch had done stints in marketing with HSN's (Home Shopping Network) website (HSNI), general manager of e-commerce for the now-defunct Palm, and he co-founded the Gifts.com website.
In Savant's announcement, the company said that founder Robert Madonna would step aside as CEO, but added that he would continue on with the company in the role of Chairman of the Board. In this role he will "continue to help steer Savant's innovation."
Good growth, about to get gooder…
Savant has experienced growth, its announcement said, as a result of increasing penetration of home technology into the luxury residential market. Savant's technology "enables management of appliances, home theater, music, security, thermostat, lights, energy management, automated shades and more."
But according to the company's materials, it envisions expanding beyond this luxury high-end residential market and moving to the much larger mass market with a new system that it will be launching this spring. Although it didn't specify what this new system will be, they say it "leverages its proven technology to bring smart features and the Savant experience to a broader audience."
Social media buzzing…
Since the announcement of Lynch's appointment, social media has been buzzing with conjecture about why Savant would hire someone who appeared to be from outside the industry. Much of the speculation centered around the fact that while Lynch might not be a hardware guy, he was the CEO of an almost $7 billion public company.
Ever since Control4 went public last year, there has been a lot of speculation about which of the other home automation players would take the same step. Perhaps, the thinking went, by hiring Lynch, Savant intends to go public.
Hello?…Mr. Google?…
One industry insider told us that it could simply be that the company has reached the point where it wants to transition from "hobbyist" management to more professional management.
Yet others suggested that this development could be a reaction to the recent blockbuster news of Google purchasing Nest for $3.2 billion. Perhaps, the thinking went, Savant wanted someone with big company experience who could seek out and lock up a partnership or an investment from a major player. During Lynch's time at B&N, for example, the company cut a $300 million deal with Microsoft.
We reached out to the company for comment on this story, but management was not available to comment prior to publishing.