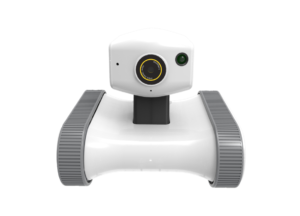 iPatrol, a provider of home-monitoring solutions for the smart home, announces the availability of your own personal security robot they call Riley. Riley is an app-controlled Wi-Fi enabled roving security that patrols your house in the evening and alerts you via a notification if there is an intrusion.
But can Riley – cute little Riley – really protect you? Read on…
Basically a GoPro on miniature tank treads, Riley is designed to go anywhere and keep its unblinking eye always watching for trouble. Whether you're home or away, you can access Riley's camera to see what's going on. Not sure if you locked the door? Power up your app and "drive" Riley over there to see for yourself.
Although, to us, Riley looks a bit like a kid's toy…there is some serious technology here. First, the image is high-definition…the better to see if it's really Grandma, or a wolf disguised in her shawl.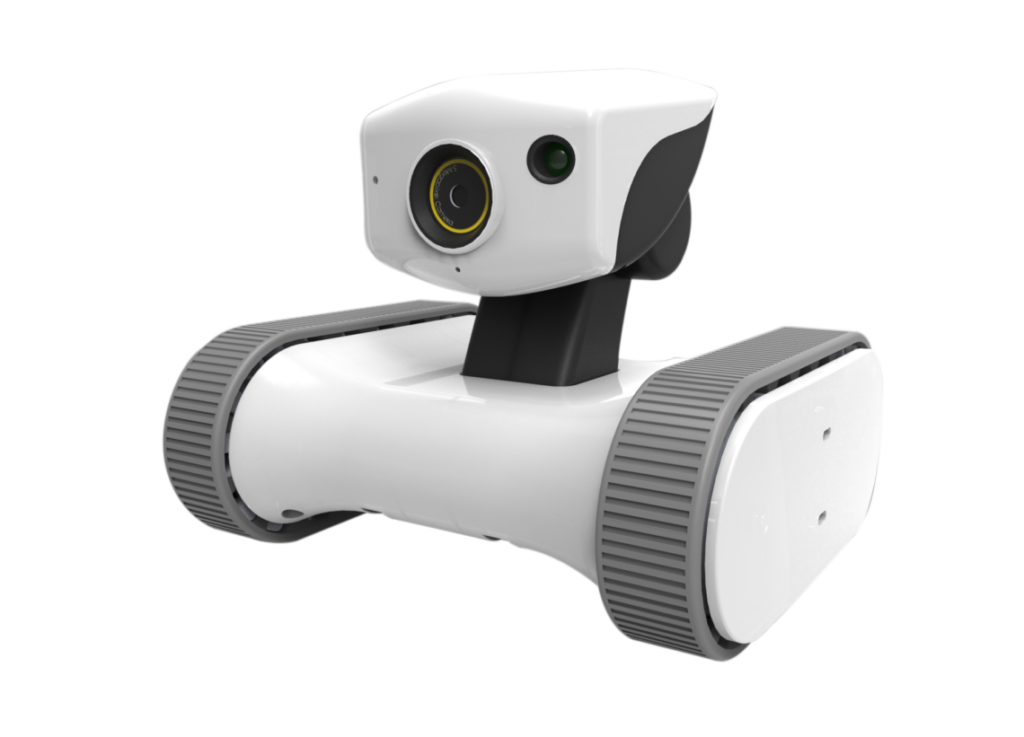 Second, Riley is helpfully packing night-vision to be able to keep an eye on things even on the darkest of nights. A motion sensor summons Riley's attention when something unexpected is happening.
App-controlled, Can Hear/Speak
Users have full control via an iOS or Android app. When Riley notifies you it has detected motion in your empty home, you simply open up the app and drive it to where you believe the issue is. Riley has a microphone and speakers – so you can hear the smoke alarm sounding…or tell the bad guys the cops are on the way.
Beyond the security function, Riley is also a great way for parents to keep an eye on their kids after school. You can tell them to do their homework, after you've discovered them playing video games.
Grippy Treads
Riley's mobile treads (available in multiple colors, can be user changed) allow it to go virtually anywhere, no matter what type of flooring. They call them "grippy treads" and they can instantly and seamlessly travel between hardwood floors and deep carpet.
"Riley is a smart and mobile companion that monitors your home with real-time video," said iPatrol's Founder Rodney Lo. "Unlike most home-security devices, Riley is mobile and can travel on most any surface without getting stuck, thanks to is rugged tank treads."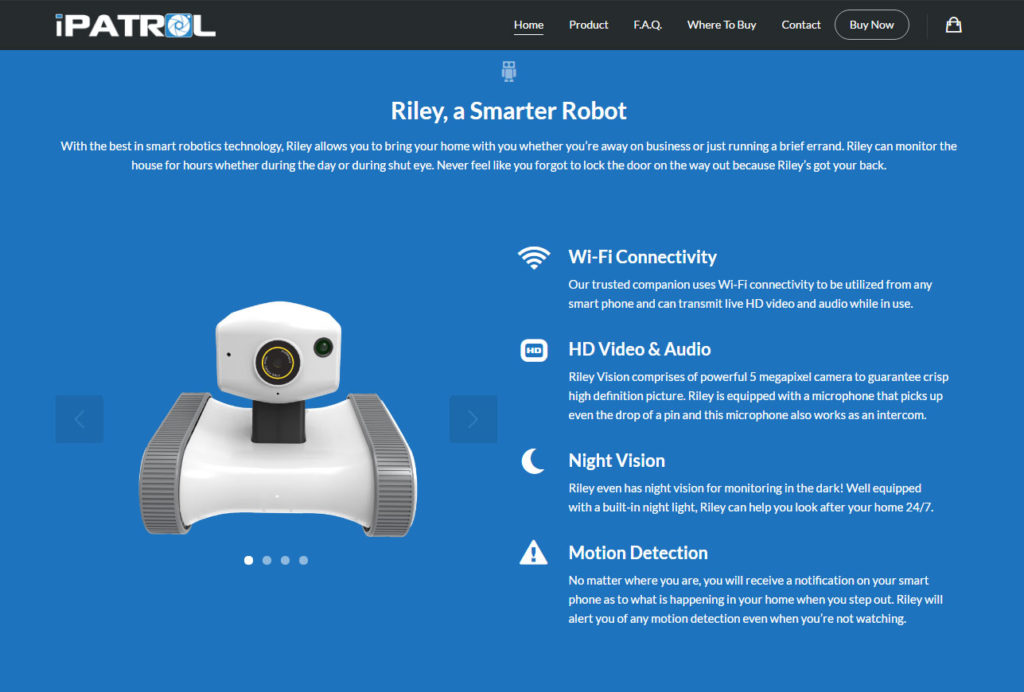 Riley Has Power Even When You Don't
Thanks to its on-board rechargeable batteries, Riley is still hard at work guarding your home…even when the power's out. And when batteries are low, Riley simply drives himself into the recharging dock. And even when it is on the dock, Riley's camera is operable and the dock rotates for a full room view to the owner on their app.
Riley started life as an Indiegogo crowdfunding project that exceeded its goal by more than 300 percent. This is a Gen-2 version with better camera (5 megapixel vs. 3 megapixel), and a longer-lived battery. It is available at select retail stores and online websites for a MSRP of $229.
About the only thing we see that needs to be changed is the name. I mean, does Riley sound like a big, mean security guard to you? They should call him Rock, or Chief, or something more intimidating. Riley…just sounds like a friendly, funny kids toy.
In any event, check out Riley at: www.ipatrol.net.