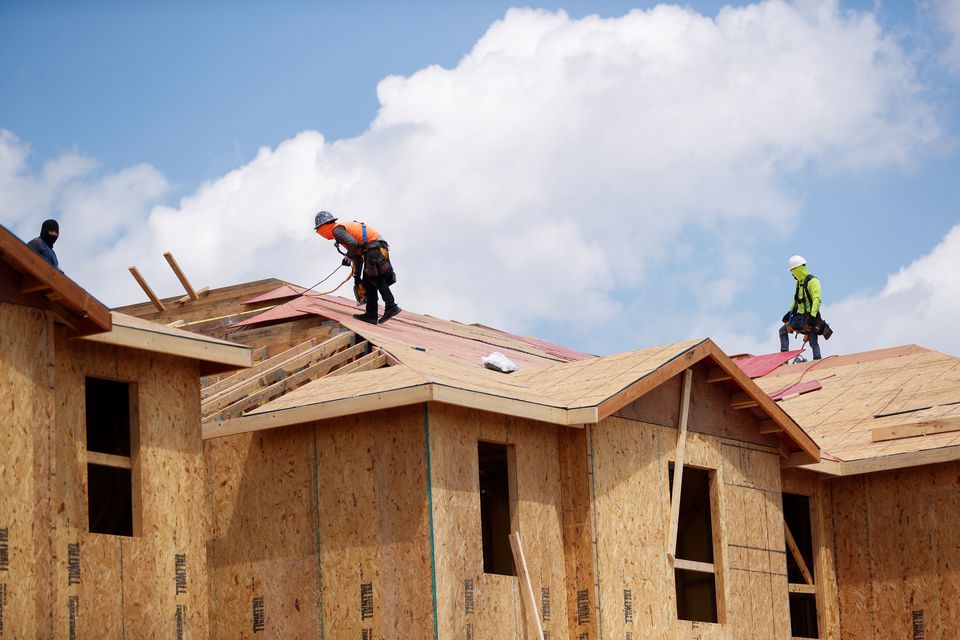 Residential construction of new homes – known as housing starts – continues to register monthly declines as a combination of still-high home prices along with rapidly rising mortgage rates results in collapsing home affordability. While economists continue to debate if and when the U.S. economy enters a recession – it's clear that housing overall, and the home building segment specifically – is already there.
See the latest data on single-family starts…
It's definitely not a good time to be in the home building business right now, as new data from the U.S. Census Bureau and the U.S. Department of Housing and Urban Development continues to show month after month. Their latest report for the month of November 2022 continues the trend.
While overall housing starts moderated somewhat, this was largely due to a trend of increased multi-family housing construction, as investors and builders seek to take advantage of historically high, inflation-driven rent levels. Overall starts still declined, but at a much more moderate seasonally adjusted annual rate of 1.427 million units or -0.5% lower than the 1.434 million units booked in October. However, this overall rate is still a much more concerning 16.4% below the rate of 1.706 million units built in November 2021.
Single-Family Starts at Lowest Level Since May 2020
What is likely to be a bit more of a concern for Strata-gee readers is the latest data on single-family starts, a figure that more directly correlates to the custom integration business. Here we see a bigger impact with single-family starts coming in at 828k units or -4.1% below the rate of 863k units started in October. Even more startling is that this rate is -32.1% below the rate of 1.220 million units started in November 2021.
In fact, November's single-family starts rate is at its lowest level since May 2020.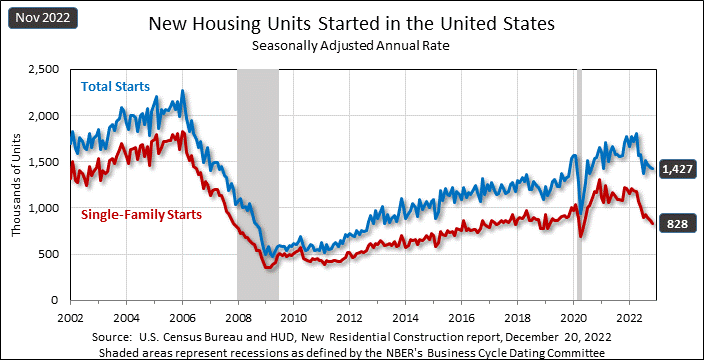 The single-family construction starts rate in November is the fifth straight month in a row with a reading of under one million starts. That rate continues to decline. Many analysts view 1 million starts of single-family dwellings to be a key inflection point in revealing the health of the housing business.
Builder Confidence Decline Sets a New Record As Well
This data helps to explain the results of another survey which shows that confidence among homebuilders has, in the words of the venerable Reuters News Agency, "plummeted for a record 12th month in December."
You don't have to be some kind of economic wizard to divine what's going on here. As the Federal Reserve Board has sought to put the brakes on rising inflation, it began raising interest rates – its primary inflation-fighting tool. And the Fed has been exceptionally aggressive in its battle with inflation – issuing historically high three-quarters basis point increases in three consecutive actions – following that with a half-basis point increase in its last session.
Mortgage Rates are Double That of a Year Ago
What the Fed's actions have done is drive up mortgage lending rates, which topped a whopping 7% last month. And even though, as CNN noted, those rates pulled back a little during November, they remain "double what they were one year ago, continuing to put pressure on new home purchases."
The Fed's rate hikes are doing what they are supposed to, further deepening the recession in the residential housing construction markets. There's nowhere for homebuilders to hide. We don't know about the rest of the econmy, but the housing market is clearly in recession.

Christopher Rupkey, Chief Economist for FWDBONDS, told Reuters
Regional Results Swing Wildly
On a regional basis, single-family starts actually increased in two regions: the Northeast (+15.1%) and the West (+16.0%). But these gains were offset by declines in the South (-6.6%) and the Midwest (-26.7%).
Building permits issued in November offer no hope for an early housing construction turnaround. According to this latest data, overall permits issued dropped to 1.342 million units in November, a -11.2% decline from October's 1.512 million units and a -22.4% drop as compared to November 2021 with 1.729 million units. Single-family project permits dropped as well, coming in at 781k in November or -7.1% below the October rate of 841k units, and -29.7% as compared to the 1.111 million units in November 2021.
What the Builders Association Expects 2023 to Be
What does all of this portend for the future? Well, here is what the NAHB Chief Economist Robert Dietz thinks:
As far as the broader economy, all signs point to the Fed continuing to drive up interest rates to further bring down inflation. In the wake of moderating price increases over the last couple of months, some on Wall Street have over-exuberantly declared a "soft landing" for the overall broader U.S. economy.
Are We Headed to a 'Soft Landing'?
While the concept of a soft landing for the economy is a pleasant one and suggests less overall pain, it is by no means guaranteed. Even though recent data shows inflation is slowing down, it is still way over the Fed's target inflation rate of just 2%. They will continue to notch up the interest rates until the broader economy begins to contract.
In other words, they will force a recession to bring down inflation and reach a more "normal" economic activity level. And that, my friends, suggests there will be more pain…and not just in housing construction, but in more segments of the economy.
So buckle up…2023 could be a bumpy ride.