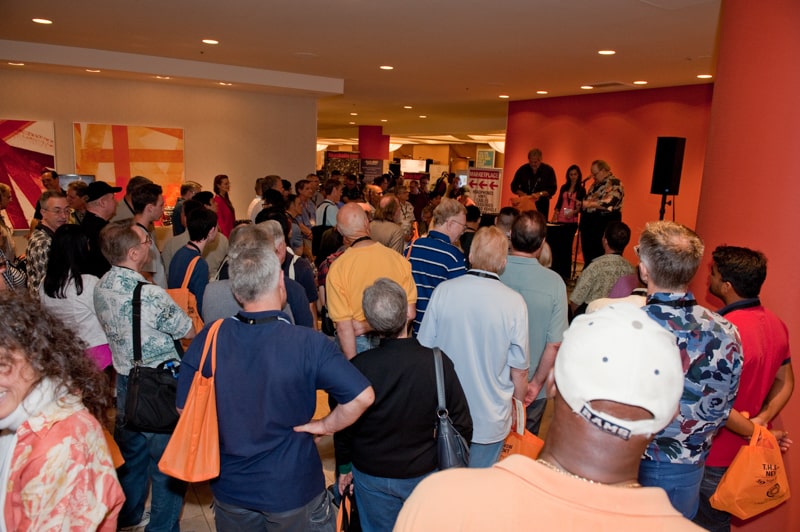 One of the industry's most successful luxury high-end audio shows, T.H.E. Show Anaheim, will take place at the Hilton Anaheim next month on September 22-to-24. Known to be a strong draw for audiophiles and other aficionados of luxury entertainment products, T.H.E. Show (The Home Entertainment Show) is a great place to see the best and the latest luxury high-end A/V and associated gear.
See more about T.H.E. Show, including why you may want to exhibit there…
Taking place literally next door to Disneyland, audiophiles and newcomers alike can expect a great weekend with not only some of the finest gear to be seen and heard, but also other events T.H.E. Show promoters have put together for the weekend. The scope of T.H.E. Show has been expanded to encompass related luxury pursuits including exotic automobiles, fine wines, fashion and more.
Typically drawing more than 10,000 audio and music lovers, promoters say the show covers a wide range of tech, with displays and demonstrations of loudspeakers, audio components, home theater, video, HDTV, digital music, vinyl recordings, headphones, virtual reality and more. On display at the Hilton will be literally millions of dollars worth of equipment from more than 400 brands from all around the globe.
A Rare Opportunity to Learn From Experts
Attendees will also get the opportunity to participate in educational seminars from highly regarded experts. These seminars are included in the admission for the weekend. The scheduled seminars are:
Rikki Farr, Founder and Chairman of RIVA Audio – Farr will share stories and information from his remarkable career in live and recorded music. With a personal history that includes everything from the Beatles, Led Zeppelin, Pink Floyd…to Bob Dylan, The Who, Guns N Roses, Rod Stewart, Bob Marley and more – Mr. Farr and his engineers have a wealth of experience in live music and technology to share with attendees.
Dr. Floyd Toole, a renown industry expert in sound reproduction, as well as acoustics and psychoacoustics – Toole will conduct two separate "Science of Sound Master Class" sessions. One will be on loudspeakers and the other will be on loudspeakers/room systems. Dr. Toole will also be signing copies of his book Sound Reproduction, which is also available for purchase at the event.
Unique Show Highlights
Adding to the entertainment value of the show, the promoter has added several new highlights:
Exclusive Preview of Land Rover and Jaguar automobiles, including the latest 2018 models. As sponsors of the event, Land Rover and Jaguar will have factory representatives to show their new models, offer presentations on new design features and specs, and answer any questions attendees may have.
Rick Reus of Reus Audio Systems will show some amazing luxury automobiles with custom designed sound systems.
Performances by popular music acts, including jazz keyboardist/composer/producer/author John Novello & the All Star Band featuring Tom Scott. Also, winner of two LA Critics Awards, The Papermoon Gypsy.
An Exclusive Runway Ballet – a unique VIP fashion show featuring professional ballerinas showcasing the latest mobile audio products and designer clothing from Sen Couture.
Why You Might Want to Exhibit at T.H.E. Show Anaheim
If you sell high-end, luxury AV products, you may well want to consider exhibiting at T.H.E. Show Anaheim. According to T.H.E. Show Sales Director Angela Speziale, there are more reasons this year than ever before to consider exhibiting, including:
Extensive marketing campaign to capture new, younger, affluent audience of music aficionados
Full day for media only preview-Thursday, September 21
Exclusive exhibitor sales specials with on-site sales and future referrals
New presentations including Ballet Fashion Show with Tech accessories
Experienced show operations and logistics team
"This year, we're responding to an evolving marketplace and making entertainment and music more accessible with a new larger venue, pre-holiday show dates in September and expanding exhibit categories," said Angela Speziale, Sales Director for T.H.E. Show. "We've made a big marketing investment and expanded the exhibitor base to include world class brands with a technology/luxury element. Jaguar and Land Rover are previewing their 2018 models at the show and Classic Album Sundays will also be exhibiting."
The numbers from last year are impressive: 10,359 attendees visited the booths of 410 exhibitors. In addition to that, there were another 760 media and industry attendees.
If You Want to Exhibit or Attend
If you would like to learn more about the benefits of exhibiting at T.H.E. Show Anaheim, contact Angela Speziale by phone at (845) 564-2120 or by email at angela@thehomeentertainmentshow.com.
For those interested in attending T.H.E. Show Anaheim, it will take place at the Hilton Anaheim, 777 Convention Way, Anaheim, CA. The show is open to the public on Friday, Sept. 22nd from 10AM-8PM, Saturday, Sept. 23rd from 10AM-7PM and Sunday, Sept. 24 from 10AM-5PM.
Tickets can be purchased here: https://thehomeentertainmentshow.com/buy-tickets/