Savant Systems has launched a clever new package that allows them to address a new entry-level market segment, and provides custom integration pros with a more robust solution for their less sophisticated clients. Called the Simple Host and Pro Remote System, Savant applies what they've learned from their consumer business to offer a solid solution sold only through professional integrators.
See more on Savant's new solution…
Although widely known for their sophisticated higher end system solutions, Savant knows that their integrators often perform installations of entry-level systems, based on the client's needs. Up to now, integrators have been forced to seek out lower-end solutions to address that entry-level market segments. But with this announcement, that reality is about to change.
About a year or so ago, Savant had launched a consumer do-it-yourself (DIY) product that consisted of a remote control and a simple gateway or host as Savant calls it. This package sold direct to consumers for $500 through major retailers like Best Buy.
Addressing the Entry Level Market
For integrators, a full-fledged Savant system started at around $2,000 sold only through the custom integration community. But many integrators do a healthy entry-level business consisting of, for example, simple two-room installations. These integrators were often forced to add other vendors such as Universal Remote or RTI specifically to address this entry-level segment.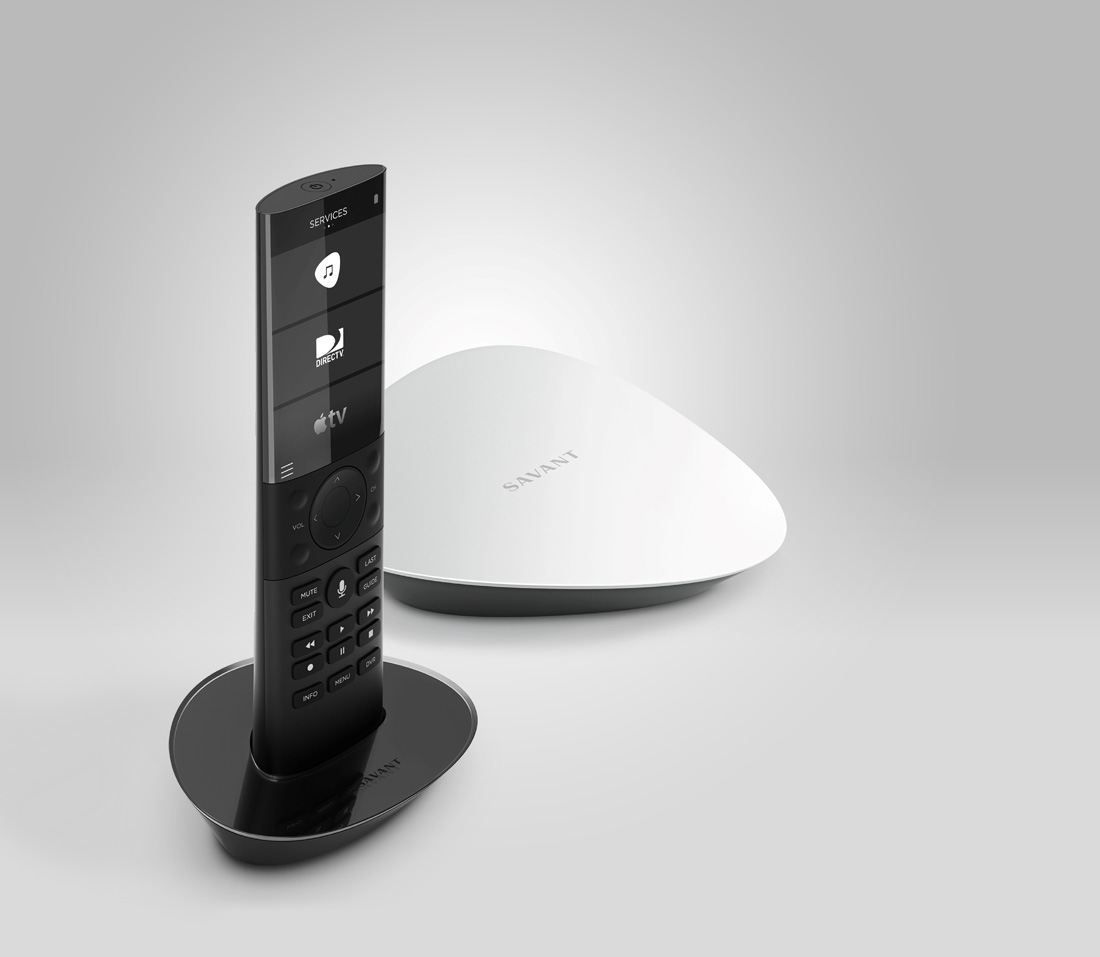 Tim McInerney, Savant Director of Product Marketing, told us this new solution combines the best of both worlds – the very well-respected Savant Pro remote from their pro integrator line and the processor from the DIY system in a package that sells to integrators for $500. This package is designed to open the entry-level market for Savant, and bring a more capable solution to the integrators who want to address it.
The Best of Both Worlds
"So in a small starter system for $500 [MSRP], you can get a two-room system from Savant, plus our Pro Remote which has voice control and a beautiful touch screen and all these really high-end features," McInerney told us. "So it's our kind of push to our integrators to capture the business they are doing at the low-end. This is our first package for integrators that meets that price point from Savant."
And unlike the DIY model, which McInerney told us is quite limited in its expandability, this new version exists in the more expandable Savant Pro world. So it's programmed with their Blueprint software – meaning it has all the power of the customizations in their Pro software ("that controls castle, mansions, and yachts," McInerney said)…basically the full extent of the Savant product line is available to them. McInerney says that with this system, integrators "can get all of our wired controllers…they can get our relay controllers to hook up a garage door or a fireplace…they can get all the things that integrators like to do to make the system custom."
For 2-Room Installations
But because the system is targeted at the entry-level market, it's processor capabilities are somewhat limited. It is designed to drive a two-room AV system and can handle no more than 32 loads of lighting.
McInerney says the company believes that the entry-level or starter system business is big…perhaps 70% of the overall market. Shooting from his hip, Savant's marketer says he believes the breakdown is roughly about 70% of the market is in small 2-room installations…another 20-25% are medium-sized installations of up to 12 or 15 rooms…and 5% or so are the whales – the big 25,000 sq. ft. monster installations.
8.3 is the Key
The key to this new package is that it is compatible with Savant's latest 8.3 software. This update opens the door to more features and capabilities.
Learn more about Savant at: www.savant.com.