12-Hour 'Image Retention' Test to Make OLED Look Bad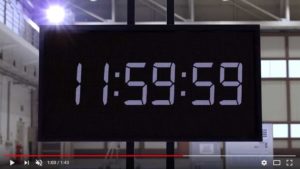 Korean media is reporting that a nasty fight has erupted in South Korea, where Samsung has uploaded a video that compares its QLED screen versus an LG OLED screen. The slickly produced comparison video allegedly shows "image retention" (commonly called burn-in over here) on the OLED screen after gamers play on both screens for twelve hours straight. LG, understandably, cries foul…
See this ugly fight that has erupted on the eve of the big TV sales season…
Although these two major TV manufacturers are relatively gentlemanly competitors over here in the U.S., they are known to engage in some nasty street fighting when on their home turf, with some battles over sales practices landing the two in court to settle. This appears to be one of those fights, and Korean media is debating why Samsung took this unusual step.
In the video, titled QLED vs. OLED, 12-Hour Image Retention Test, which is well produced, you see a large, very clean hangar that is completely empty. Time lapse photography shows a set being built in the center of the expansive floor with a white, modern looking desk on a white stage with several lighting cans suspended on a truss overhead. A group of six young men walk in all dressed alike in white and gray outfits. Text pops up briefly on the screen, indicating that this group of young men are a team of pro video gamers.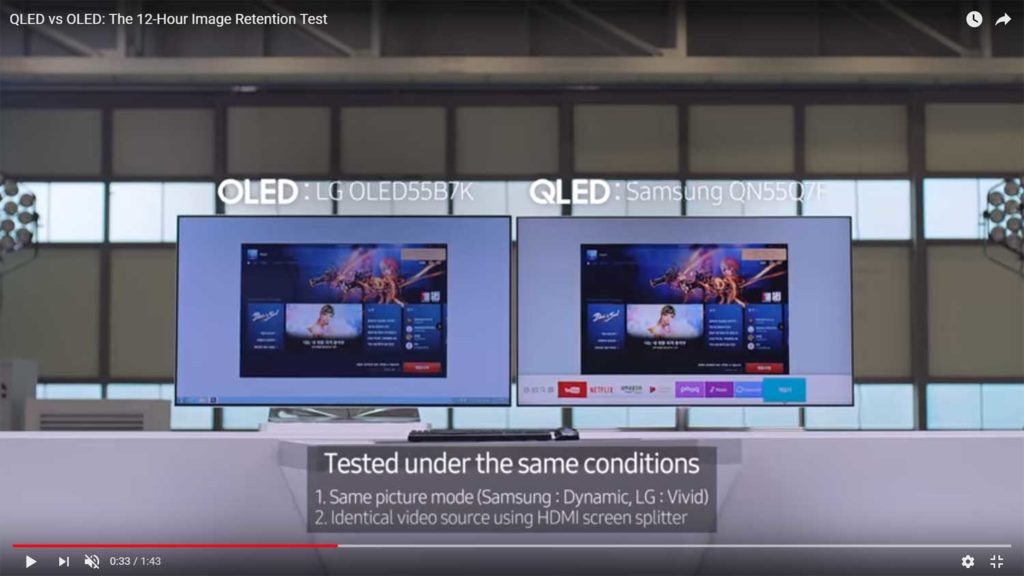 Samsung's 12-Hour Image Retention Test
The video shows full frontal shots of both screens sitting side by side with text indicating the make and model of each screen (LG OLED 55B7K, Samsung QN5507F), and that both screens are in the same mode and getting an identical video signal. But, as LG will complain later, there is no detail provided on specifically what video generation equipment is being used, or how the screens are adjusted (the LG screen has a constant kind of unpleasant blue hue during the entire test).
The camera pans to a shot of a large digital timer and the twelve-hour test begins. After a few shots of the players playing the game, we skip ahead to the 12-hour mark and – gasp – there is a zoom in to show image retention on the LG screen, apparent on the lower part of the screen where the more static components of the game were present. A comparison magnification screen opens up on both screens and the retained image or burn in is visible on the LG OLED screen, with no image retention effects on the QLED screen.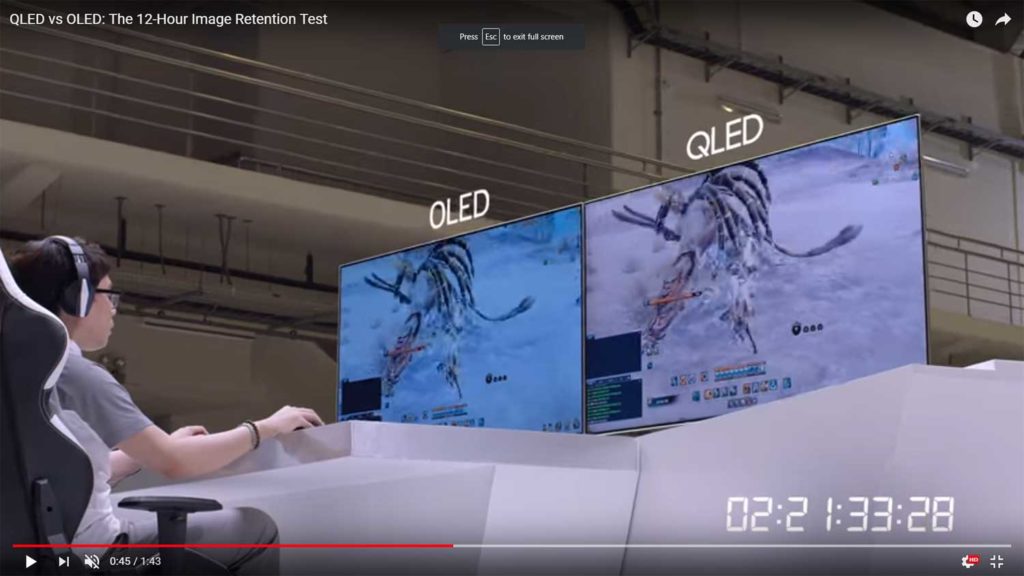 LG is Not Happy
As you might imagine, LG was very angry about this representation and argues that the depiction gives no specific information about test conditions other than very basic screen mode information. Not only that, but LG charges, Samsung is not selling the positives of QLED technology…but, rather, offering a negative slam on OLED technology…a spurious, unfair claim they maintain.
The video, uploaded at the end of August, is fairly short at 1 minute 43 seconds, but its impact has been pretty profound. According to the YouTube view count, this video has been viewed just under 11.2 million times.
Korean Media: This is an 'All-Out War'
Samsung, for their part, appears to be enjoying LG's unease.
"This video was uploaded to inform customers about [the] excellence of our technologies on QLED TVs and it was not uploaded to criticize particular products," a representative for Samsung was quoted as saying in local media. "Consumers will be able to understand accurate information about our technologies."
But of course, the video does name a particular competitive product, so that statement is a bit tongue-in-cheek, at best.
It is pretty clear, to the Korean media at least, that Samsung has launched "another all-out war" with its most vexing competitor, LG who is enjoying substantial success with OLED, a technology in which it is the global leader. Samsung, struggling to get some traction with its own QLED technology, may have launched this attack now to try and slow some OLED momentum and give QLED some more breathing room. It is the eve of the big TV selling season, and local media is speculating that the timing of this attack is not coincidental.
OLED Sales are Doubling, A Problem for QLED
Recent data from market researcher IHS indicates that 377,000 units of OLED TVs were shipped in the second quarter of this year. That is fully double the number of OLED units shipped in the same period a year ago and gives the technology big momentum heading into the critical end of the year selling season.
"This test was based on arbitrary standards," an LG Electronics representative told local media. "This video crosse [the line of] business ethics as it names company names and product names while not presenting evidences for standards of its evaluation."
For now it appears that LG, other than complaining vociferously, is going to turn the other cheek. As far as the Korean media has able to ascertain, there are no counter-measures being planned by LG.
See the entire video by following this link…