Samsung Display Co. Ltd, announced on Tuesday that it has developed  Mirror and Transparent OLED display panels, targeted for the digital signage market. Although Samsung calls this development a "world's first," we told you back in February about Planar introducing a transparent OLED display that they showed at ISE 2015 earlier this year.
See more on Samsung's new mirror and transparent digital signage displays…
Samsung displayed their new panels at Retail Asia Expo 2015 in Hong Kong this week at a special showcase for personalized shopping and informational browsing technologies. One display included a "virtual necklace" concept designed by a jewelry company to show how these "advanced commercial" OLED panels could potentially be employed.
The panels themselves, Samsung says, offer a more "engaging" experience for shoppers. But Samsung also includes Intel's Real Sense technology that allows them to create a "virtual fitting room" for consumers to see how clothes would look on them in the display without physically putting the item on their bodies.The company says that this technology is appropriate for those clothing, footwear, and jewelry retailers who wish to provide a greatly enhanced point-of-purchase shopping experience.
Mirror Display with RealSense technology…
Samsung says Intel's RealSense technology is key to the enhanced shopping experience that these displays can provide. RealSense "takes human-computer interaction to the next level of visualization," Samsung maintains.
The Mirror OLED panel can be used to replace mirrors in the typical consumer's home, providing a platform for digital information services to be displayed while using the mirror. The Mirror OLED panel has more than a 75% reflectance level, which Samsung suggests is 50% more reflective than competitive products.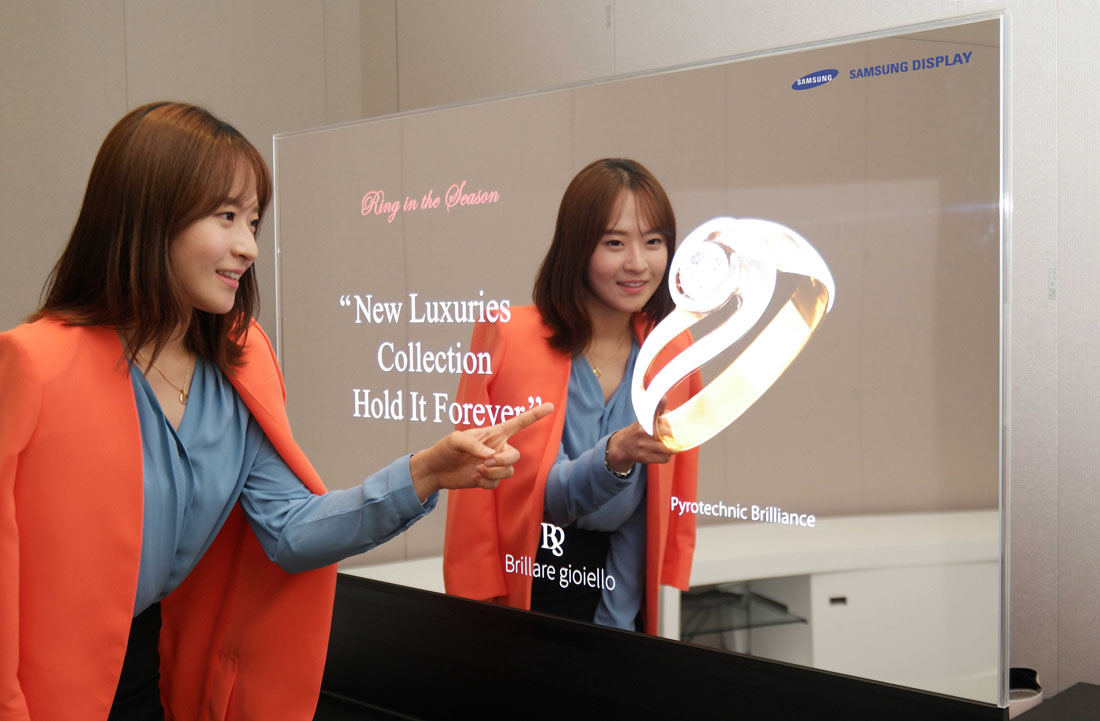 The company also says that, as compared to competitors using LCD mirror panels, its Mirror OLED panel has a wider color gamut (100% vs. around 70% of NTSC), a higher contrast ration (100,000:1 vs. 4,000:1), quicker response (under 1ms vs. 8ms); and OLED requires no backlighting as LCD does, offering a purer image in the mirror.
More transparent with better image than competitors…
Like the Mirror OLED, Samsung's new Transparent Display offers breathtaking images, combined with the Intel Real Sense interaction technology, which brings voice and gesture control to a 3D rotatable viewing system. Samsung envisions these displays as being particularly useful in public information, transportation (especially car dealers), retail, and hospitality/hotel environments.
Offering many of the performance upgrades of the Mirror OLED models, Samsung's Transparent Displays also offer a transparency level of more than 40%. This level of transparency is well over competitor's models with only a 10% transparency level in most cases with LCD based products.
"Samsung has a long legacy of leadership in technology innovation for digital signage, as well as for other applications, and we are now leading the next wave of digital signage advancement with our Mirror and Transparent OLED display solutions," said Oseung Yang, vice president , Samsung Display Company in a prepared statement. "We are very excited to help bring a new interactive dimension to the world of multi-channel shopping through the integration of our newest OLED displays with Intel RealSense technology."
Learn more about Samsung Display and its products here: www.samsungdisplay.com.