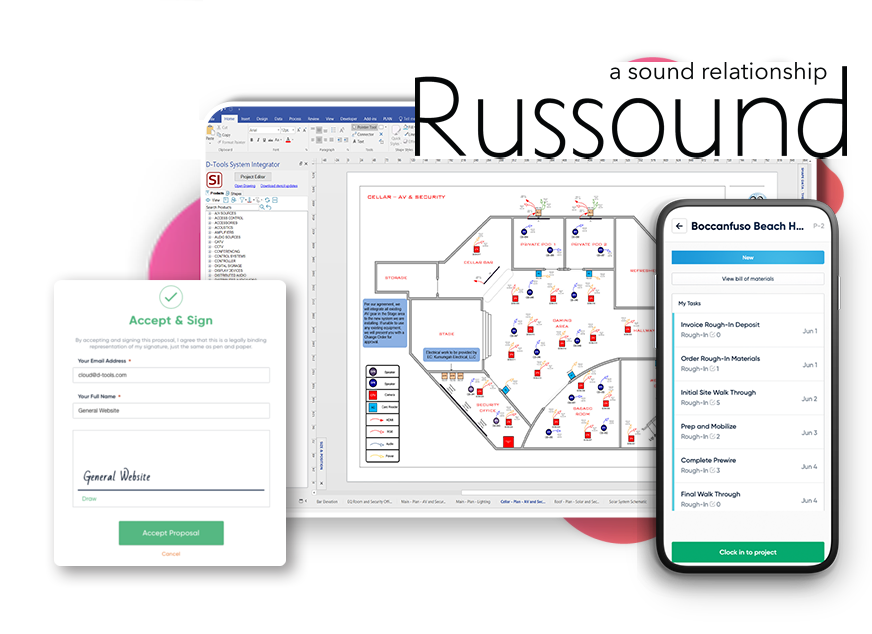 Russound announced today that it is partnering with D-Tools, a leading software provider of system design tools, to offer a new productivity solution to its dealers. The company says this new program will turbocharger their dealers' productivity.
See more on this Russound & D-Tools partnership
Russound says that via this new partnership, its dealers that use the D-Tools Cloud and System Integrator software will now have access to detailed product specifications and dealer-specific pricing. And this data can be instantly and effortlessly input into projects for sales, system design, documentation, procurement, and field management of Russound products.
This partnership will add tremendous value for Russound dealers who use the D-Tools software and who in the past were forced to rely on more manual methods of inputting data on the company's products into their system design process. And for Russound dealers who aren't using D-Tools for system design, the process improvement that this partnership offers could be a motivation for them to consider switching.
Founded back in 1998, D-Tools was one of the first solutions to emerge for integrators who wanted to take a step up in professionalism from the days of their Microsoft Word and Excel hand-built proposals. Their solution has continued to grow and evolve into a full integration company eco-system that streamlines the process of sales, system design, documentation, procurement, installation, back-office management, and service.
Partnering with Russound helps further achieve our mission at D-Tools in providing software solutions to help integrators to grow their business. We look forward to this partnership that will no doubt benefit all of our customers.

Barrie McCorkle, D-Tools Director of Supplier Programs
Learn more about D-Tools at: www.d-tools.com.
See all of the products and programs offered by Russound by visiting: russound.com.