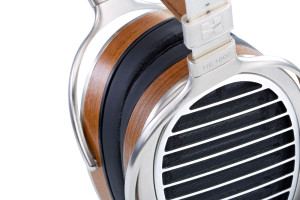 HiFiMan, an independent manufacturer of high-end headphones, portable music players, and associated accessories, announced on Wednesday a new top-of-the-line, full-sized headphone – the HE1000. Featuring the company's preferred planar magnetic technology and a breakthrough diaphragm design, these headphones are for serious music listening, or as the company puts it, "intended for reference use in home or studio."
Learn more about this remarkable high-end model, with a nano-tech breakthrough…
We first met HiFiMan and its founder, Dr. Fang Bian, at the 2012 Consumer Electronics Show and it was hard not to be infected by Bian's enthusiasm. One of the few press conferences we've attended where there was live music preceding the presentation – the company already got our attention as a stand-out of the show.
And they've got our attention again, with the HE1000. With a MSRP of $2999, this is obviously intended for serious, committed music lovers. A stunning chrome and leather contemporary modern industrial design not only stands out from the typical dull black plastic design of most other headphones – it also signals that you have your hands on something distinctly different.
Nano-nano…
Dr. Bian has a PhD in Nano Technology from the City University of New York and he puts his knowledge to good use here as the HE1000 features a Nanometer grade thickness diaphragm. That means the diaphragm is less than 0.001mm thick – not visible, the company says, if looked at edgewise. HiFiMan says this is the world's first Nanometer diaphragm and we're certainly not aware of anyone else making this claim. It took the company seven years to develop this diaphragm design.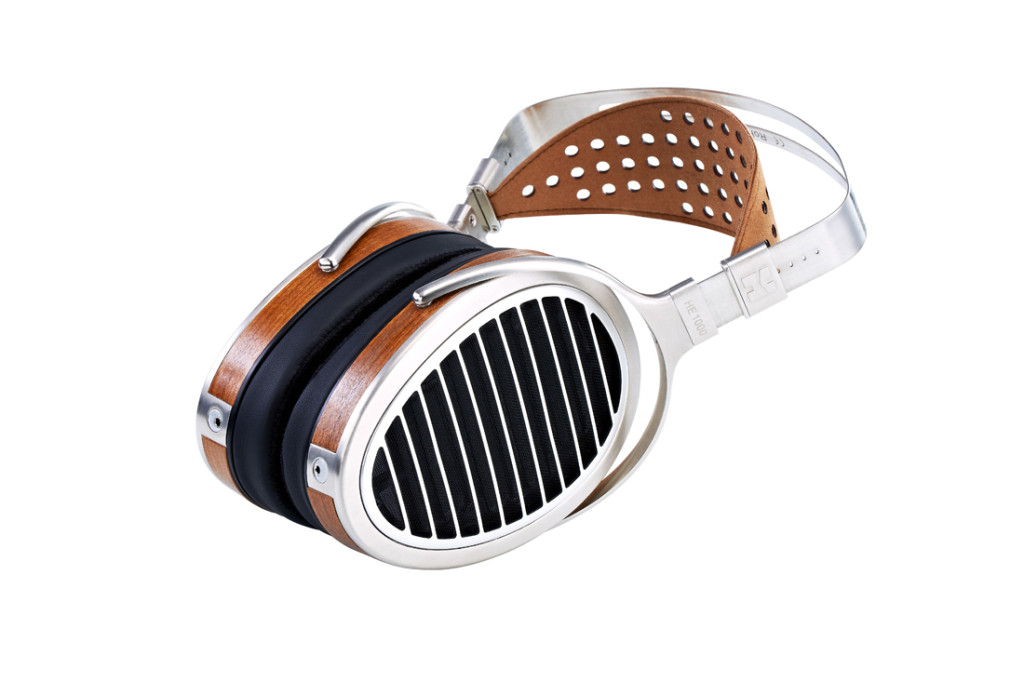 We have not heard the HE1000 yet, so we can not independently verify company claims, but they say this diaphragm technology provides for "effortless response with negligible distortion." It only stands to reason that such a low-mass design should provide for incredible precision and detail in reproducing high frequency waveforms.
A magnetic design…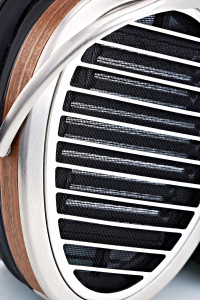 HiFiMan also says the HE1000 features a unique magnetic circuit design they call Advanced Asymmetrical Magnetic Circuit. Rethinking the balance between driver efficiency and sound quality, the AAMC, the company says, achieves an optimal symmetry between these goals.
Even the outer grill on the back of the earcups to protect the drivers is high-tech. Named the Window Shade Grill System, the company says its goal was to create a high-performance open-air grill system constructed of premium alloys that provides for the unobstructed exit of sound waves to avoid unwanted distortion. But in the process, these grills create a unique and attractive cosmetic look to the headphones.
Long-wear comfort designed in as well…
The HE1000 has an over-the-head aluminum outer band with a separate leather (calf's skin) band that suspends the headphones on your head. The leather band is perforated to dissipate heat and improves comfort. The company says they have designed the scale of the headphones to fit any size head. Earcups are asymmetrical to fit over your ear properly and features a velour edge for maximum long-wear comfort.
Finally, the HE1000 is shipped with high quality cables featuring high purity, oxygen-free copper wire. HiFiMan includes three connectors with each headphone – a mini 6.35mm, a ¼-inch 3.5mm, and a 4-pin XLR. With this assortment of connectors, you are ready for just about any type of system.
"For many years now, HiFiMan has created planar magnetic headphones that have sounded quite good and the company has developed a strong following," said HiFiMan founder Dr. Fang Bian in a prepared statement. "However all along, it has been my dream to create the world's best headphone and I decided that to do that I had to leverage my background in Nanotechnology. [The] HE1000 has taken us several years of patience and hard work and so far, the results are very exciting."
For more details on HiFiMan and its products, including the HE1000, visit: www.hifiman.com.