Seattle, WA-based AudioControl announced Wednesday that it is launching two all-new AV receivers in their Concert AVR line featuring Dolby Atmos surround technology and 7-channels of high-current, high-power amplification. These new models, the AVR-9 and AVR-7, are expected to ship sometime in fourth quarter of 2015.
See more on these new and impressively upgraded AVRs from AudioControl…
AudioControl is a unique manufacturer that addresses two major consumer electronics business segments – a mobile av (automotive) division, and a somewhat newer residential av division. An innovative creator of unique solutions-centric products, AudioControl has been quietly gaining market share as more and more integrators discover products that offer both flexibility and utility.
A few years back, the company entered the crowded AV receiver category based on feedback from dealers that they needed a high-quality AVR solution from a provider who better understood and supported the custom integration channel. Rising to the occasion, AudioControl developed a line of receivers that was marketed to custom integrators with programs and policies clearly designed to support and protect the channel.
Impressive Product Upgrade
The company has succeeded in establishing their AVR models despite strong competition from the more usual suspects in AVR category, and now offer what appears to be an impressive product upgrade.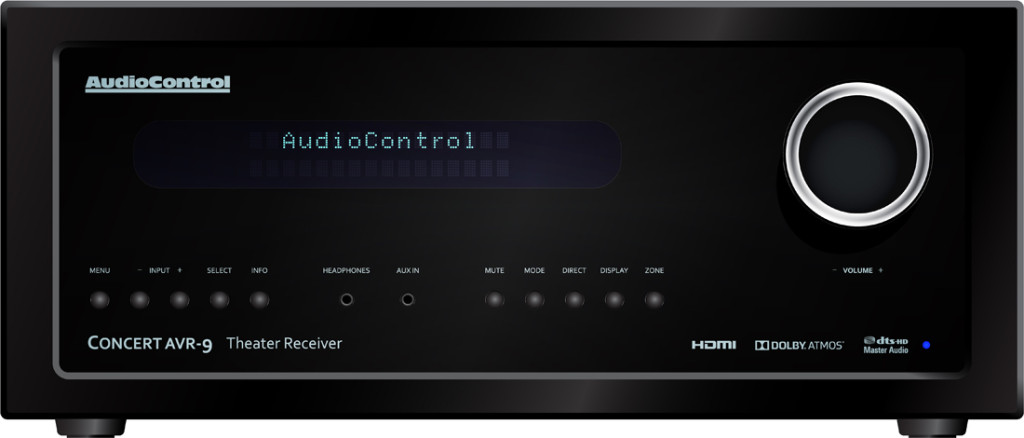 Both new models feature Dolby Atmos surround technology, the latest innovation in surround capability. The company did not include DTS:X, DTS's new surround technology that competes with Atmos, but the company says the AVR-9 and AVR-7 are DTS:X ready.
Configurable Atmos Solution
With seven channels of built-in power, these receivers offer a traditional 5.1 surround configuration with one additional set of Atmos height channels, or what is known as a 5.1.2 configuration (l/c/r front and l/r surround – subwoofer output – l/r height).
To achieve a 7.1.4 configuration (as claimed by the manufacturer), the company has provided preamplifier level Atmos outputs. By simply adding an external amplifier, the installer can easily achieve the 7.1.4 configuration. By the way, the Atmos preamp outputs give the installer much more flexibility in adding external power to meet a wide variety of installation situations.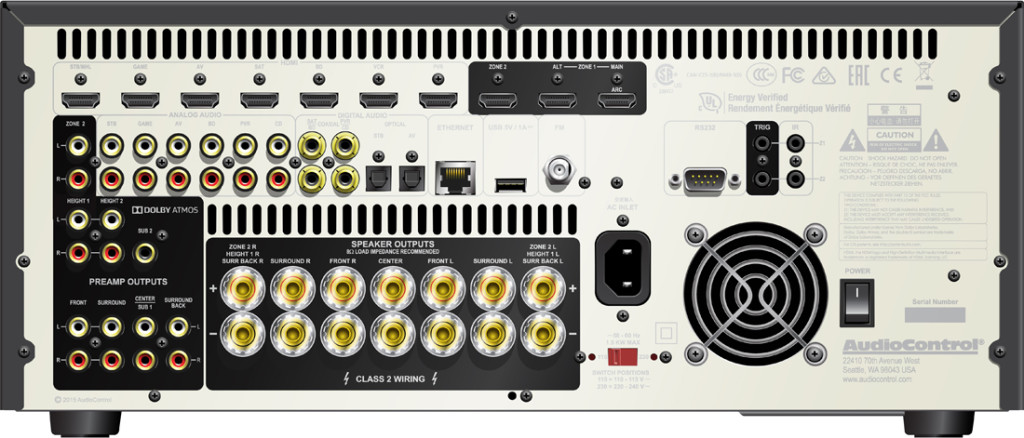 New DIRAC Live Room Correction
AudioControl has also included a new room correction technology from DIRAC Research AB called DIRAC Live. DIRAC Research is a Swedish company that was created out of research conducted at Uppsala University (Sweden) in signal processing, automatic control, systems modeling and acoustics.
Various versions of DIRAC technology have been implemented in a wide variety of applications including automotive, mobile phones, and high performance audio systems. Licensees include BMW, Rolls Royce, Bentley, Naim, Kreisel, Oppo, Pioneer, Barco, Lear, and others. More specific to our industry, brands such as Emotiva, Theta Digital, and DTS all use DIRAC Research technology.
Both AV receivers feature:
7 HDMI 2.0a inputs
4 Coax SPDIF digital audio inputs
2 TOSLINK digital audio inputs
6 stereo analog inputs
1 USB input
Ethernet
A dedicated HDMI (w/ARC) Zone 2 output
RS232 connectivity
IR connectivity
Surround Modes: Dolby ATMOS, Dolby True HD, Dolby Digital Plus, Dolby Digital EX, Dolby Digital 5.1, Dolby Pro Logic IIx, DTS-HD Master Audio. Also DTS:X ready
Full compatibility with Control4, Crestron, RTI and Savant control systems
The AVR-9 features 7 channels with 200 watts/ch. of what the company says is high current power. The AVR-7 offers 7 channels of 100 watts of power. Both models will ship in the fourth quarter of 2015. As is the company's policy, no retail pricing was provided.
Those attending next week's CEDIA EXPO can see all of AudioControl's line in Booth #4628. Until then, visit: www.audiocontrol.com to learn more about the company and its products.