Pioneer Electronics (USA) Inc. announced today two new Elite A/V receivers that offers multi-room and multi-source capabilities and 4K Ultra HD compatibility. The new receivers, the VSX-43 7.1-channel and the VSX-70 7.2-channel receivers are designed to appeal to advanced hobbyists and the custom installation community alike.
See more about these very capable, and very affordable Elite A/V receivers…
Pioneer says it has engineered these receivers to offer expanded control for access to a wide range of digital entertainment options that customers have come to expect. At the same time, these AVRs are ready to provide room-shaking home theater performance as well.
The company says its Elite branded products are built to exacting standards with a level of engineering and manufacturing standards that are anything but "standard." But at the same time, the company has packed them full of features for maximum flexibility and control. Both can also be conveniently controlled via Pioneer's ControlApp and iControlAV2013 App.
"Pioneer's Elite brand represents the pinnacle of Pioneer home electronics. Any time we introduce new technology or proprietary features, it's featured first on our Elite products," said Chris Walker, director of AV product planning and marketing for the Home Electronics Division of Pioneer Electronics (USA) Inc. in a prepared statement.
A multi-facted system control center…
Notable features on these receivers include multi-zone / multi-source capability. the VSX-43's 7.1 channels can be configured for a 7.1-channel home theater, or a 5.1-channel home theater and a 2-channel zone for music in a second room. And with multi-source capability, each zone can be playing a different source, such as a Blu-ray disc in the theater and a CD playing music in the second zone.
The VSX-70 goes one step further with 3-zone capability. For example, the theater in the main room, a powered zone 2 and a third zone Pioneer calls a HDZone – meaning an HDMI source to a third room. You can even use the iControlAV2013 to control the HDZone.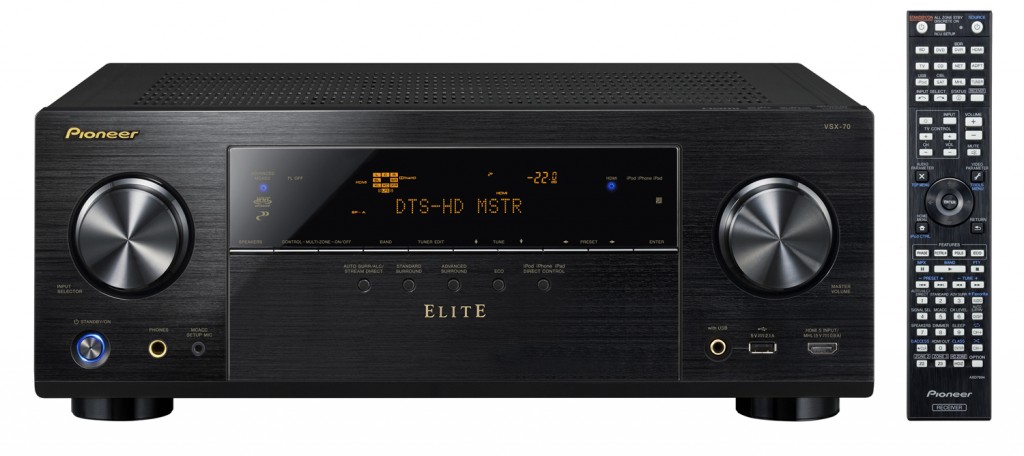 Ready for custom…
Another upgrade for the VSX-70 is that it is easily integrated into a custom installation environment. The VSX-70 offers connectivity with full two-way RS-232-over-IP control. This step-up model is also Crestron and Control4 certified.
These new Elite receiver are even eco-friendly. Pioneer has added power-saving ECO management feature which is said to reduce power consumption in both standby and on modes. The receiver monitors the content and analyzes and controls the peak content to reduce power consumption, while maintaining sound quality. Are you listening critically? The company gives you ability to defeat this option for those times when maximum sound quality is your goal.
File fantastic…
Both receivers are ready for anything digital music enthusiasts want to throw at them as they can playback WAV, MP3, AAC and FLAC files from a networked computer or a flash drive plugged into the front USB port. Pioneer has also built-in playback of high-resolution AIFF and Apple Lossless files. You can access your favorite Internet radio music services such as Pandora and vTuner.
Also, both receivers have the ability to pass through 4K video signals to compatible displays. The VSX-70 will also upscale analog and HDMI video signals for 4K Ultra HD resolution.
But wait – there's more…
These new Elite receivers also allow you to access your music and video content on your iPhone, iPad and iPod touch device for maximum enjoyment. With Apple's AirPlay, users can stream their iTunes music on their Mac's or PC and also the music stored on their mobile devices.
The Elite VSX-43 features 80 watts x 7-channels and has a MSRP of $525.
The Elite VSX-70 features 90 watts x 7-channels and has an MSRP of $750.
There are many, many more features these receivers offer. For complete details, visit: www.pioneerelectronics.com.