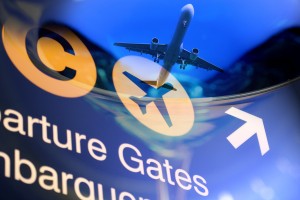 Often, when a company contacts The Stratecon Group (our marketing company, and owner of www.strata-GEE.com), to ask for advice on "business development issues" (i.e. they are in trouble and running out of ideas), the first question we ask of the owner/CEO/president is: "How Often Do You Travel with Your Sales Team?" The answer to this question is critical to our assessment of the situation. Understand, there's no right or wrong answer…but the answer will be incredibly illuminating as to several critical elements of their management of the enterprise.
And what do you think the most common answer we receive is?…
The first response we generally get to this question is a look of puzzlement. What could this possibly have to do with [what they think is] their problem? How does taking time to answer this question help them get on top of their problem? And, for that matter, what business is it of Stratecon's, anyways?
Once we assure them we only have their best interest at heart and will answer all their questions just as soon as they answer ours…we ask again: How often do you travel with your sales team?
Obvious discomfort…
Their discomfort is immediately obvious. There is a lot of hemming and hawing. Um…now, let me see…there was the time that I – no wait, that was for a business meeting. Well, then there was the time…no, no that was a trade show.
Can you see where this is going? Yep, that's right. It is not uncommon for us to learn that the company principal has NEVER traveled with the sales team. Surprised? Would it also surprise you if we told you that we also get this answer from the principals of sales representative companies?!?!
Embarrassment or defiance…
Sometimes there will be a confused embarrassment when they finally admit that they never (or very rarely) travel with their sales team. And sometimes – we get defiance. "I don't have time to sell – that's what I pay THEM for!" The THEM is those pesky salespeople.
A few months ago, in an article titled CEOs Need to Get Serious About Sales, Harvard Business Review noted that research shows that CEOs that put sales management at the heart of their agenda find that their companies outperform their competitors as far as sales growth – and profit growth. How much do they outperform their competitors by? An impressive 50%-80%!
Damn…more questions…
Occasionally, during our questioning, a principal will proudly tell us that they DO, from time-to-time, travel with their sales team. Ah, good…now we're getting somewhere. "Where did you go with them, who initiated the trip, and what was its purpose?"
Damn…more questions. Most likely, IF the CEO ever went on a sales trip – it was to see a Top 10 dealer. The trip could have been to solve a problem or a dispute. But if that was not the situation, then the purpose was probably to hand out candy (market development funds, a generous promo, etc.)…a favorite pastime of principals. But these royal visits do little to help the situation and can actually be more disruptive than constructive for relationship-building.
However, done properly – CEO sales visits can solidify relationships through mutual understanding. The more each side understands the other, the better. And not just the nuts-and-bolts details of a buyer/seller relationship, i.e. a certain product at a certain price…but a deeper connection on mutual goals, strategies, and philosophies.
Three reasons why CEOs should go on the road with their salespeople…
The road is where the action is – The fact is, whether you're the CEO of Sony or the founder of a small specialty distributor, your very livelihood is based on the sales and support your company receives from your dealer and distributor network. And while you can get a general sense of how sales are going by looking at your computer reports – you can get a BETTER sense of your brand's stature relative to the overall market, or your competitor, by hearing it straight from the horse's [dealer's] mouth. Meet with your dealers. Ask them open-ended questions [not loaded or leading questions]. View this as the purest form of fact-finding possible.
The best way to fight "Ivory Tower Syndrome" – There is a great story from the time of our Civil War – Abraham Lincoln was traveling by boat to meet with his generals near the front. He was puzzled by their overly-cautious, conservative approach to the war. So one night, when they had camped on the shore, Lincoln took a small rowboat by himself and crossed the river to scope out the enemy position. Quantitative data (such as your computer and financial reports) is good, but qualitative data (such as direct dealer input from the field) breeds a deeper understanding. If you really want to understand market trends, dealer trends, product trends…then stop looking at reports – and start traveling.
A golden opportunity to truly assess your brand's sales efforts – including your team. There is no better way to get the full picture of your company's sales efforts than to watch it in action. Go into markets, visit your dealer's locations. Read their sales floors. How are your products merchandised? How are your competitor's products merchandised? Listen in on the retail salesperson's presentation on the floor. Ask the retail/distributor sales team, "How can we be a more valuable brand for you?"And when you meet with the retailer's management, emphasize the importance of your salesperson by letting them make the presentation. Don't let this be a royal visit, all about you. On the contrary, let this visit be about the dealer and his relationship with your brand. After the meeting, recap with the salesperson: What was accomplished? What are the next steps? And be sure to tell him/her what you LIKE about the presentation? What do you think could be handled better?
Oh, I know, Mr./Ms. Principal – you employ a VP of Sales for this purpose. Isn't this THEIR job? What's that you say, you have more IMPORTANT things to do than sales?
Ignorance is bliss…
The truth is, many principals don't take the time to stage visits like this because – as the old saying goes – ignorance is bliss. Or, put another way, truth – sometimes – hurts. But "ivory tower syndrome" can truly cripple your organization. And like cancer, the sooner you detect and address it…the better your chances of survival.
So make sales the cornerstone of your agenda…and then show its importance by occasionally visiting the field. Your team will appreciate the support. Your dealers will appreciate the attention. And you'll appreciate learning more about, and demonstrating the importance of, sales.