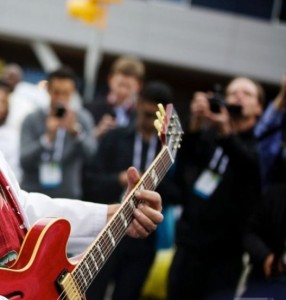 We learned last week that talks between Gibson Brands and deal making king KKR Credit Advisors fell apart in a dispute over "the appropriate consideration for the various parties involved," according to a statement from Gibson Brands. As yet another bail-out opportunity slips by them, Gibson Brands sees their options narrowing, with an August deadline on a required financial restructuring of more than $500 million of debt rapidly approaching.
See more on this dire situation at Gibson Brands…
In a rather terse statement from Gibson disclosing the breakup of the talks with KKR, the company revealed that it had provided KKR with an "illustrative implied future equity value" for its Musical Instruments/Pro Audio businesses. The entire statement was only four paragraphs long, and that includes one of which containing a cautionary disclosure about forward-looking statements.
Gibson says their "implied future equity value" for the business was based on an adjusted EBITDA range of $60-$65 million and a multiple of 10.7 times EBITDA. This would suggest an enterprise value of between $642 million – to – $695.5 million.
Negotiations Included Change of Control
Gibson's negotiations with KKR occurred during the period of March 15 to March 28. The two parties, the statement said, were negotiating a transaction "involving a change of control" that would leave the company substantially de-leveraged via a debt-for-equity conversion. As Gibson notes, shareholders "would receive some cash and/or warrants." 

The principal shareholders that Gibson is referring to are Henry Juszkiewicz, majority shareholder, and his long time partner at Gibson, Dave Berryman, a minority shareholder according to a report by the Nashville Post. So these shareholders were on one side of the transaction, while KKR was on the other.
Juszkiewicz Wanted More Money to Exit, KKR Didn't Bite
Gibson says the talks fell apart because the shareholders and KKR could not come to an agreement on "the appropriate consideration for the various parties involved." In other words, Juszkiewicz and Berryman wanted more money, but KKR wouldn't bite.
As we've regularly reported, Gibson is facing debt maturities in July and August that total more than $500 million, as the company borrowed heavily to finance an expansion into the consumer electronics businesses. Gibson says it owns over 100 brands, including recently purchased CE brands such as KRK Systems, TASCAM, Cerwin-Vega!, Stanton, Onkyo, Integra, TEAC, Esoteric, Philips Audio Accessories and more. Unfortunately for the company, those CE companies ended up having problems of their own, thrusting Gibson into a life-threatening debt crisis.
Is Juszkiewicz Beginning to See the Reality of His Situation?
The announcement about the cessation of the Gibson/KKR talks represented a dramatic shift in both tone and position from Juszkiewicz. Up until now, he has strongly resisted the idea of any kind of change in control for the company – repeating constantly that he will successfully refinance the company's outstanding debt while retaining control. But that appears to be a pipe dream now and his efforts have failed so far.
Although the company had recently reported that it had seen a nearly $10 million year-over-year improvement in third quarter results and had paid down $20 million in debt during the quarter, it's status clearly remains dire. Current bond holders appear to be content to wait for a bankruptcy filing. They seem to assume they'll be able to wrest control of the company away from the beleaguered Juszkiewicz and team in bankruptcy court.
With the tone in this new statement from Gibson, it appears now that Juszkiewicz is finally beginning to recognize the reality of his situation…he's a man of few options.
To learn more about Gibson, visit: www.gibson.com.