<March 15, 2012> Onkyo Corp. will launch a new tablet computer which will be targeted towards the business market, according to a report in the Nikkei. And in a move sure to set it apart from the new iPad and other tablet designs, Onkyo's version sports a huge 20-inch screen and weighs over 11 pounds.
The company has made some very interesting design decisions. Not only is the Onkyo tablet screen size more than double the size of the immensely popular iPad's 9.5″ screen, it weighs about 7.5 times the iPad's more modest 1.46 pounds.
Other design considerations are also curious. For example while the iPad is based on Apple's popular iOS while others tend to be based on the Android operating system, Onkyo has chosen Windows 7 as the operating system for its tablet. However, the Nikkei says the unit can be made to run Android  "if customers desire."
According to the report, the company anticipates that this tablet will be used by businesses for presentations when hung on a conference room wall. The company also suggests it is targeted at travel companies who can use the screen to show customers colorful maps.
Perhaps the business market is the most appropriate target as they are more likely than consumers to have the budget power to afford the big-screen tablet's big budget price of between ¥200,000 – ¥300,000 (approximately $2,400 – $3,600).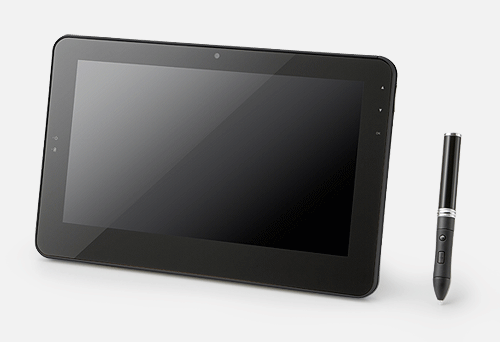 Onkyo entered the computer business several years ago when it purchased Sotec Co. After several years of attempting to penetrate the consumer computer business – primarily in Japan – the company decided to pull out of the consumer market to focus more on business products. Onkyo is said to enjoy solid sales of their first tablet launched in 2010 and targeted for restaurants and hotels.
The Nikkei says that the company is planning to build the tablet at their Tottori plant – a facility that formerly made audio products. Onkyo will assemble the tablets from touch panels and other parts imported from foreign suppliers.
While the new tablet is largely targeted for the Japanese domestic market, Onkyo is said to be considering offering it for sales in overseas markets as well.