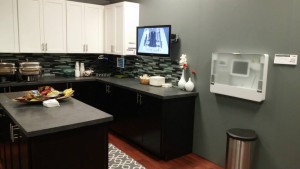 OmniMount, part of Ergotron…which is part of Nortek…showed a new product concept at the Consumer Electronics Show in Las Vegas earlier this month at their private, invitation-only booth. The product is a new concept home product…potentially a real solution to some of the more modern emerging home storage issues. Called the WorkSpace Wall Organizer, will this solution find its say onto the wall in your home?
See more on this unique new storage solution…
OmniMount, getting more creative, is expanding their line beyond the usual TV-, electronics-, and speaker-mounting solutions to offer a variety of docking stations and wall shelving units. Now, at CES this month, the company showed a wall organizer that is designed to address a couple of key concerns – storage for "things," both technology and otherwise; added workspace; and a tech charging center.
Although we felt is had a bit of an "office" feel to the design, PR Manager Betsey Banker assures us that it fits nicely into the home environment. The unit mounts on the wall in a manner easily accomplished by either a DIYer or with the help of an installation professional.
An open-and-closed case…
In the closed position, the unit – at only 3″ deep – is really quite sleek and frees up floor space. Even though it has a glass face…the finish is frosted, so it looks stylish and demure.
But when opened, the homeowner finds themselves with a large desktop space (supports up to 30lbs.) that can hold a laptop or tablet – or for that matter, you can use it as a…gasp…writing surface. Adjacent to the desktop, the unit offers four accessory trays to hold all kinds of stuff.
"Phones, wallets, keys and all sorts of everyday items have a way of disappearing around the house," said Zach Eyman, senior product manager for OmniMount in a prepared statement. "The WorkSpace Wall Organizer gives people a designated place to store and charge electronics, hang keys, and even work or sort mail. It's a beautiful piece of furniture with a lot of thoughtful features."
This slideshow requires JavaScript.
Center of the home?…
OmniMount feels that the WorkSpace Wall Organizer will become the center of the family home – and can image many uses for it. For example, Banker told us, many consumers are likely to put the organizer on the wall in their kitchen – the heart of the home. Here, everyone can plug in their tech gear, check the family calendar, sort recipes…whatever.
Banker also told us that other families are likely to put the organizer near a main entrance. This will allow them to sort or otherwise deal with their mail, store car keys and grab their TECH gear and go.
For users of any height…
Then WorkSpace Wall Organizer has a clever design that enhances its usefulness. On either side of the workspace are two heavy-duty clips that you can release to move the workspace up or down a full 10-inches. This places a laptop or tablet at the perfect height for whomever is using it.
Aside from the four storage trays of different sizes to hold TECH and other gear, the organizer also has a lower compartment where one would likely store a surge protector perfect for charging all of your mobile gear. And if you really don't want the kids to take the car…the folded up desktop can be locked into position.
OmniMount says the WorkSpace Wall Organizer will be available in Spring 2015. For more information, see: www.omnimount.com.