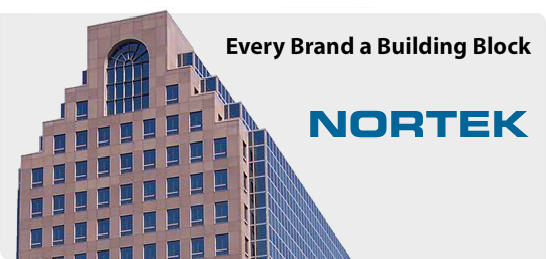 <April 4, 2012> In financial results filed with the SEC at the end of last week, Nortek, Inc. said fiscal year 2011 (year ending December 31, 2011) saw a substantial sales increase of 12.7% from $1.899 billion in 2010 to $2.141 billion last year. However, the company reported that losses also increased from 2010's $13.4 million to last year's $55.9 million. Still, the company feels there's cause for optimism as fourth quarter results improved substantially over the fourth quarter of 2010.
At first blush, Nortek's 12.7% sales growth is impressive. Most manufacturers complain about a continued sluggish economic environment. And Nortek, whose businesses rely heavily on residential U.S. construction, would seem to be exposed to this sluggishness. According to the company, approximately 65% to 70% of their sales is directly related to the residential housing market.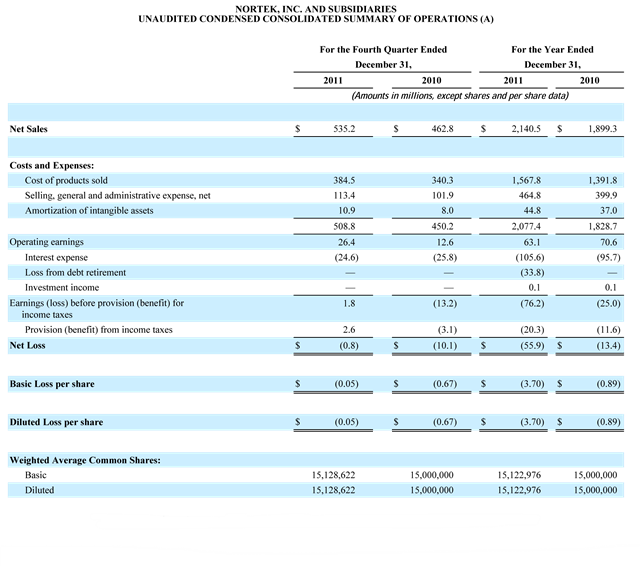 What drove Nortek's sales?…
The company has four divisions: Residential Ventilation Products (RVP) segment; Technology Products (TECH); Residential Air Conditioning and Heating Products (R-HVAC); and the Commercial Air Conditioning and Heating Products (C-HVAC) segment. The company's reported noted the housing sluggishness and said that 20% to 30% of their sales to the residential housing market were related to new construction activity – a previously formidable driver of their business.
There were two factors that drove Nortek's sales success in 2011. First, the company's commercial C-HVAC business saw sales grow a substantial 20% in 2011 (and even picked up steam in Q4 with sales growing 32% in the quarter). This growth was largely driven by a successful line of commercial air handler products that appears to be gaining market share.
Acquisitive fellows…
Secondly, the company benefitted from growth added as a result of acquisitions. In 2010 the company acquired Ergotron (a maker of mounting and tech mobility products), Luxor (an on-line retailer and distributor of security gear), and in 2011 added TV One (a video signal process maker). These acquisitions added $226.5 million to net sales and $19.6 million to operating profits. Excluding acquisitions and foreign exchange rates, the company's sales actually declined slightly compared to 2010.
It is interesting to note that even though acquisitions added $19.6 million to operating profits, they still declined a significant 10.6% from $70.6 million last year to $63.1 million. 2011's net loss of $55.9 million is a per share loss of $3.70 per share versus a loss of $0.89 per share in 2010.
Fourth quarter improvement…
But the fourth quarter financial results showed clear improvement over the same period the year earlier. Sales for the quarter increased 15.6% to $535.2 million from last year's $462.8 million. Here to, acquisitions accounted for a full $57.2 million of the total $72.4 million sales increase.
Gross margins also increased from 26.5% in 2010 to 28.2% in Q4 2011. SG&A expenses, as a percentage of gross sales, declined from 22% to 21%. This helped drive operating earnings up almost 110% from $ 12.6 million to 26.4 million.
Construction at 'historically low levels'…
Still, even in the fourth quarter, Nortek showed a net loss of $800,000 or $0.05 per share. However, in 2010 the net loss for the quarter was $10.1 million or $0.67 per share – so a clear improvement.
"Although activity in the construction markets remained at historically low levels in the fourth quarter, we continued to make progress in strengthening our operations, reducing our debt, and strategically re-positioning Nortek to drive long-term growth," said Nortek's new President and Chief Executive Officer Michael J. Clarke. "Higher sales in our businesses that serve the commercial and institutional markets enabled us to improve our financial results despite weak conditions in the housing sector."
But still, there's those nagging losses…
While the company found cause to be optimistic with the fourth quarter results, the fact that the company's annual results have slipped from a profit of $191.9 million in 2009 to a loss of $13.4 million in 2010 to a loss of $55.9 million in 2011 must still be concerning. Sales may have been up 12.7%…but losses increased more than four-fold.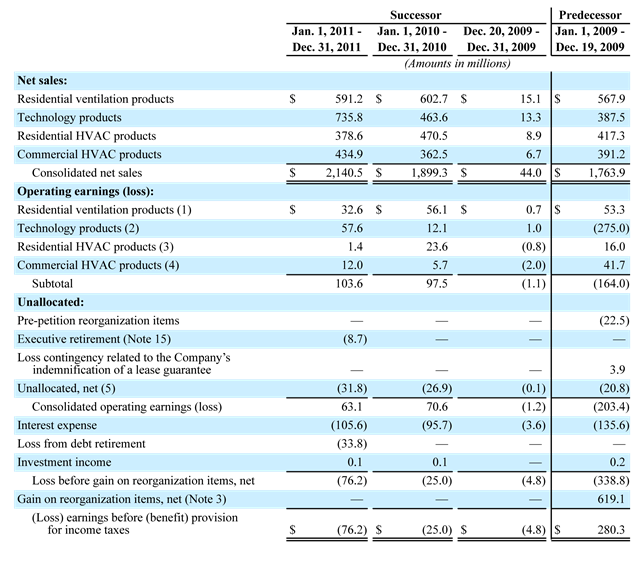 AVC Group's contribution?…
Another interesting trend in the Nortek report was information specific to their TECH segment results which includes the AVC Group's performance. The AVC Group, LLC is the company's new division created in 2010 to combine the businesses of multiple A/V brands including Niles Audio, Xantech, and Elan Home Systems.
The TECH segment as a whole saw sales increase $272.2 million to $735.8 million…an impressive 58.7% increase over 2010's results. But the lion's share of this increase was thanks to the newly acquired companies (Ergotron, Luxor, TV One) which represented a full $226.5 million of that amount.
A/V distribution & control decline…
In addition to acquisitions, another $46 million in sales growth in 2011 was related to a deal with a specific "certain customer." In fact, the company says that sales related to its audio/video distribution and control products declined in 2011 as compared with 2010.
As a percentage of the TECH segment's sales contribution, audio/video distribution and control has seen its share decline to 29% in 2011, down from 43% of the segment's sales in 2010. Meanwhile, digital display mounting and mobility products saw its share of the division's sales jump to 38% in 2011 as compared to 14% in 2010.
Fudd, but firm…
A conference call with analysts and investors was largely conducted by Clarke whose prominent British accent was strong and at times on a noisy phone line made him sound distressingly – and humorously – a little like Elmer Fudd. His message, however, was not funny and he was firm in presenting what he felt were strong future opportunities for the company.
Noting his background in large-scale multi-national corporation, Clarke said he was pleased to find at Nortek a "top-notch team of experienced managers." And the company shows strong "potential for synergies," including opportunities for "economies of scale." By engaging in what Clarke called a "more cohesive management style," including a "strong international flavor" the company "executed well in Q4."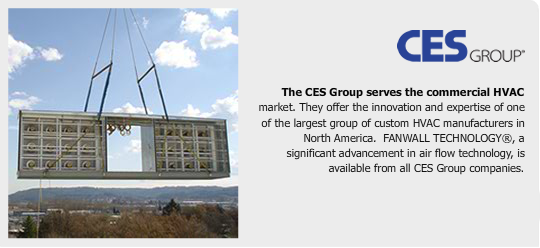 All the right buzz words…
Although Nortek faces a sluggish construction market and residential HVAC had "a difficult YOY comparison," Clarke highlighted their strategic sourcing initiative helping control material costs, an improved pricing structure in the R + C HVAC businesses, improving cash flow, and their decision to pay down debt.
Clarke told analysts that Nortek has "strong core competencies" with a "sustainable scalable business model."
How about 2012?…
"Our forecast for 2012 is for the residential and nonresidential construction environment to be similar to what we experienced in 2011," Clarke said. "Although there was a modest improvement in housing starts during the fourth quarter of 2011, which appears to have continued into the first quarter of 2012, we believe that it is premature to conclude that a sustainable housing rebound is under way. As a result of our business improvement initiatives, however, we believe that we have positioned Nortek not only to compete successfully in a slow-growth environment, but also to benefit from an enduring recovery in construction, repair and remodeling activity when such a recover eventually materializes."
During a question-and-answer period, Clarke was asked just specifically how the company intended to drive its growth – whether it would be through new products, new markets, further acquisitions, etc. Clarke told the analyst that the company was "focusing on the internal aspects of the business" right now. Nortek, he said, is exploring how they can "operationally put these businesses together to get some economies of scale."
Most of…
Clarke also told analysts that the company is conducting a "strategy review" of their businesses which includes "benchmarking" – the results of which have caused him to "feel confident about most of the businesses going forward,"
Nortek remains open to further acquisitions, Clarke said. However, he reminded that group that, in the past, Nortek's acquisitions had been run autonomously. Now, the company would explore ways to, for example, enjoy some product development synergies between the existing companies already in the Nortek fold.
All-in-all, Clarke said he was quite confident about Nortek's future. Time will tell if analysts and investors will be equally confident.