Nortek Inc. released their fiscal first quarter results this week and they were mixed at best. The company showed a sales increase to $572.7 million, up 4.5% over the $547.8 million booked in the first quarter of 2014. However, the company saw its net losses increase from $8.6 million last year to $13.9 million in the quarter this year. And when it comes to Nortek's AV businesses, sales in the quarter declined another 9.5%, although the loss attributable to this segment did show some improvement to less of a loss.
See more on our analysis of the Nortek results…
Nortek management, in a conference call to discuss their fiscal results with financial analysts, said that their first quarter is typically the "seasonal low point" for their fiscal year and suggested that these results were in line with expectations. However, the deeper you dig, the more troublesome the report turns out to be.
For example, sales increased 4.5% to $572.7 million. That's good news, right? However, a big chunk of that increase was courtesy of acquisitions – predominantly the Reznor purchase. When you take acquisitions out of the numbers to get more of an apples-to-apples comparison of organic growth, Nortek's sales actually declined 3.4% in the quarter.
This must be troublesome…
Not only that, but the increase in net loss must be troublesome to management. Last year, the net loss of $8.6 million was a rather substantial improvement over Q1 2013 when the company showed a net loss of $15.1 million. Of this improvement last year, the Nortek executives told analysts they were beginning to feel the positive effects of their restructuring efforts. Well what happened to those positive effects for this year's Q1 net loss results?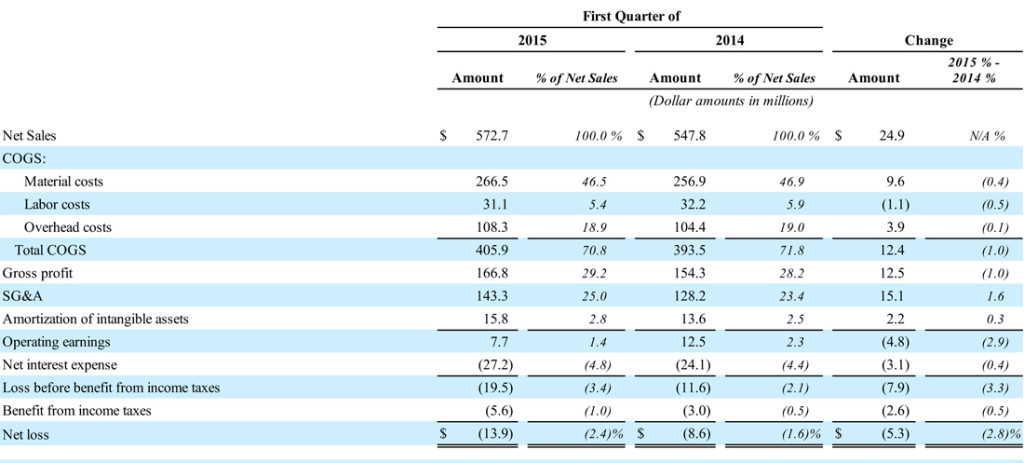 Nortek has five major business segments: Air Quality and Home Solutions (AQH), Security and Control Solutions (SCS), Ergonomic and Productivity Solutions (ERG), Residential and Commercial HVAC (RCH), and Custom and Commercial Air Solutions (CAS). In addition to these major segments, the company has broken out their AV businesses into a separate, minor category they call Audio Video Control (AVC) – which is the segment that most closely correlates to what many in our industry think of as the Core Brands businesses.
3 of 6 business segments showed declines…
As far as segment performance, three of their segments (AQH, CAS, & AVC) showed sales decreases in the quarter. The biggest decrease was Custom Air Solutions which saw a significant decrease in purchases from an unnamed major customer. CAS sales dropped 10.3% from $123.4 million in Q1 2014 to $110.7 million this year.
The second worst segment sales performance was from the AVC segment which saw sales come in at $32.5 million or 9.5% lower than the $35.9 million booked in the quarter last year. Then company noted that the lower sales were largely the result in "lower sales of professional video signal management products."
As far as operating earnings, only two of the six segments generated operating losses – RCH (from a profit of $3.2 million last year to a loss of $4.7 million this year) and AVC (from a loss of $4.7 million last year to a loss of $2.4 million this year). The company said that the lower operating loss generated by AVC was partly the result of "the restructuring  and repositioning actions taken in the second half of 2014."

Goodwill hunting…
Another factor helping reduce losses in the AVC segment is the company's decision last year to write down the goodwill of this business. "Goodwill" is the value of any company beyond its hard assets for things like, customer relationships, patent portfolio, value of the company brand name, etc. This is usually a factor in acquisitions – you typically pay a premium when you purchase a company and it can be a significant factor for companies like Nortek that has acquired a lot of companies over its history.
Overall, the company says it has a total goodwill of $125 million, based on the many brands it has acquired. But the AVC segment? As of the second quarter of last year, the company wrote off all of the AVC segment's goodwill, $4.4 million at that time, and the AVC now has a $0.00 goodwill. So part of the lower loss is due to $1.6 million less amortization charge for goodwill…because AVC has none.
Another restructuring, this time of CAS…
About the only good news for AVC is that the company now has a bigger problem – the Custom Air Solutions segment. Company President and CEO Michael Clarke told analysts that the company has seen a major decline in orders from a "major semiconductor capital equipment customer." This caused the CAS segment to book the largest sales decrease and the largest loss of any of their segments.
As a result of the poor performance of CAS, the company plans to engage in a major restructuring of the division beginning this quarter and running through Q2 next year. This restructuring will involve dropping certain product lines that are unprofitable and further consolidation of production facilities.
Bigger fish to fry…
Clarke said it will cost the company $15-$20 million to restructure the segment and at the end of the process its sales will decline approximately $55-65 million annually. But the segment lost $15 million over the last twelve months, and this loss will be cut.
With this "bigger fish to fry" the AVC segment seemed much less of an issue. During the conference call with analysts, management barely even mentioned AVC. Surprisingly, for the first time in several quarters, analysts did not ask about AVC during the Q&A section of the call.
Customers responding favorably to our products…
However, management did have one final message about AVC with Clarke telling analysts: "In addition, in AV we feel good about our position in the residential side of the business with new management in place and customers responding favorably to our new products."
While this sounds good, new management has officially been in place since the beginning of the first quarter. But pragmatically, they've been in place since the transition was first announced in Q4 of last year. If in fact customers are responding favorably to AVC's new products, those results have not yet shown up in the numbers.
Learn more about Nortek at: www.nortek-inc.com.