AVC Generates an Operating Loss on a 17.8% Decline in Sales


Nortek, Inc. (Nortek) released their results for the 2016 fiscal first quarter and generally showed broad improvement,with sales gains and profit improvements in most of their segments. But not in the Custom and Commercial Air segment which had a sales decline; and especially not in their AVC segment, which saw continued sales declines and generated a loss from operations.
See more on our Nortek 2016 Q1 report…
The news for Nortek in the first quarter was mostly positive. After years of painful restructurings, and shifting the business focus in some segments – the company finally turned in positive results, with sales in the quarter increasing to $613.9 million – a solid 7.2% over sales of $572.7 million in 2015 Q1.
Operating earnings surged from $7.7 million last year, to $28.9 million this year. And perhaps most importantly, the company shifted from a loss last year of $13.9 million…to a positive net income of $2.6 million. This is a big and positive swing in net profits.
Justifiably Proud
The justifiably proud company management boasted of their across-the-board gains in every segment. Every segment, that is, except two – Custom & Commercial Air (CAS) and AVC. AVC, which the company no longer considers a major business segment, is the segment that includes Core Brands – the company best known in the custom integration channel as the holding company for brands such as Niles, Elan, SpeakerCraft, Xantech, and more.
The CAS segment is in the process of going through a major restructuring, with products being discontinued as the company shifts their product line mix to more profitable options. In the middle of this process, CAS saw sales drop to $96.1 million, off $5.2 million (5.1%) compared to $32 million in the quarter last year. However, CAS saw its operating earnings actually improve from $2.9 million last year to $4.9 million this year.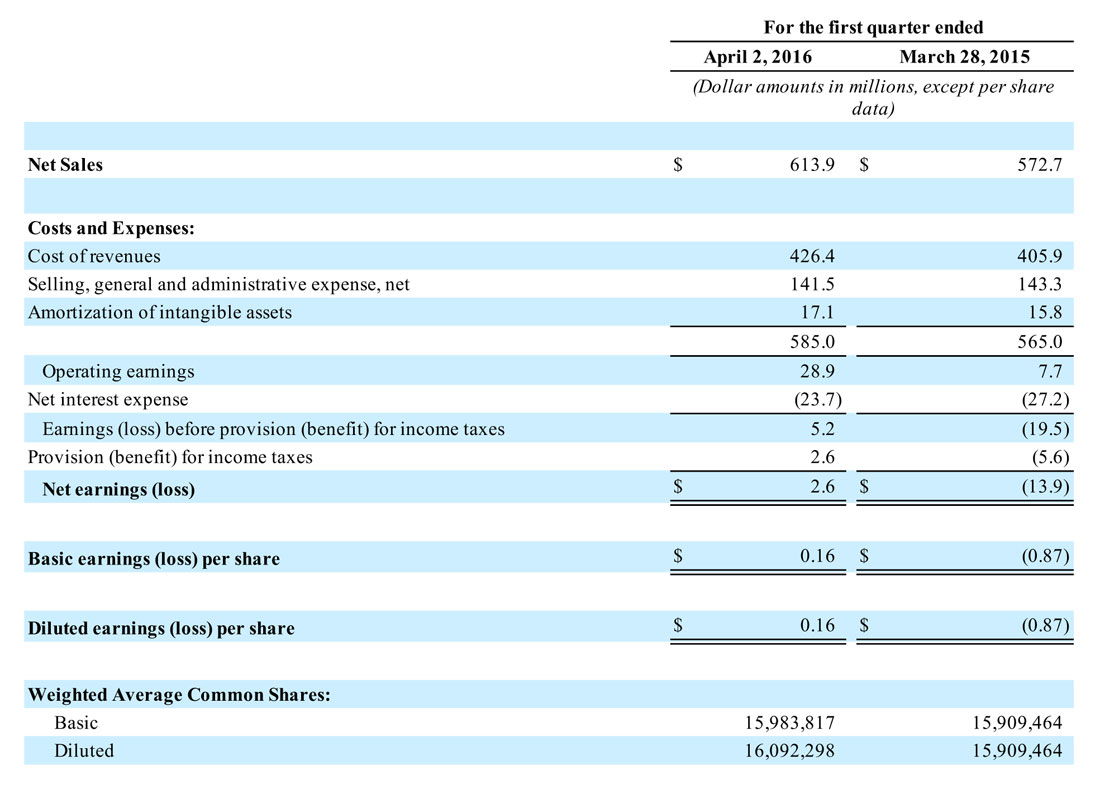 AVC Continues to Underperform
AVC's results were worse. Nortek's AVC segment saw sales decline double digits to $26.7 million in the quarter or 17.8% below the $32.5 million in sales last year. And while AVC's operating earnings improved, they still generated an operating loss of $1.9 million as compared to an operating loss of $2.4 million in the same quarter the previous year.
The company places the blame for the sales decline in AVC primarily on the divestiture of their TVOne subsidiary last year. However, digging a little deeper into the report, we see that TVOne had sales last year of $3.9 million. The total sales decline for the segment in the quarter this year was $5.8 million – so obviously it was more than just the TVOne divestiture. And in fact, Nortek notes an additional decline due to their exit of commercial products in their Gefen line. Taking out the impact of TVOne, AVC sales booked an organic drop in sales of 6.5%.

Dumping TVOne Helped Profits
The company said in their materials that AVC had a $500,000 improvement in profits. This improvement is largely the result of: fewer operations (post-reorganization), lower headcount, and the elimination of TVOne, which was generating losses.
"We started the year with positive momentum, posting solid first quarter financial performance led by market demand, innovation across our businesses and the benefits of our transformation efforts," said President and Chief Executive Officer Michael J. Clarke. "We were especially pleased to deliver strong organic net sales growth of 8% and organic adjusted EBITDA growth of 31% over the prior year period. Strength was broad-based, with Air Quality, Security, Ergonomics and HVAC all posting double-digit organic net sales growth compared to last year. In our HVAC business,k we continue to be encouraged by the order trends and our delivery performance is tracking well. Benefitting from our restructuring efforts and the discontinuation of unprofitable product lines, our Custom Air and AV businesses delivered meaningful year-over-year improvements in segment adjusted operating earnings in the first quarter."
Strategy to Improve AVC? Um, Not So Much
In the company's official 10Q filing with the SEC, we don't get much discussion of the strategy for getting AVC back on a growth track. The only hint we get is the announcement that the company has closed on an investment in MiOS Limited for $4.5 million, which represents about 25% of the company. MiOS is a small online company that sells a wireless home automation system under the brand name Vera.
Never heard of them? Yeah, neither did we, until we dug a little deeper. Vera has actually been around for years – but under a different brand name: Mi Casa Verde. Run by long time consumer electronics executive Lew Brown, as far as we can tell, Mi Casa Verde never gained much of a share of the home automation market.
But they apparently are getting a nod of approval by Nortek management, who have taken this minority stake in the company. And Nortek has big plans for MiOS  – saying in their 10Q, "MiOS will work with the Company's Air Quality and Home Solutions (AQH), SCS, and audio, video and control (AVC) segments to develop lifestyle-driven solutions for the connected-home for various customer bases, including builders, electricians and installing dealers."
This partnership will either be a brilliant strategic move…or a failed last ditch Hail Mary pass into the end zone.
See more on Nortek at: www.nortek.com.