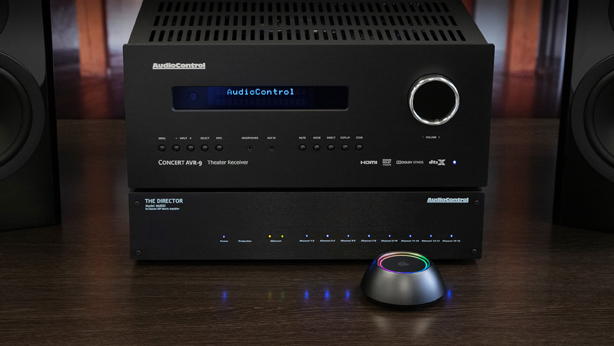 AudioControl and Josh.ai announced last week that they were partnering with an integration that will allow integrators to offer their clients a better voice-enabled home entertainment control experience. A perfect blend of the high-quality electronics from AudioControl, coupled with the natural language and privacy protecting voice automation technology of Josh.ai, means clients can simply say their commands to their system and have their system respond in new powerful ways.
See more on this new AudioControl and Josh.ai integration…
This new integration, means that not only will clients end up with an easy to use system, integrators will find it easier than ever to configure AudioControl products within the Josh.ai A/V workflow. AudioControl's Director Series, Concert AV receivers, and Maestro preamp/processors will now auto-populate within the Josh.ai web portal for configuration once connected to the same network, making setup highly intuitive for integrators.
Beyond the convenience of this auto-discovery ability, other features of this integration include power toggling, volume and mute control, input switching, single-source to multi-zone routing and multi-source to multi-zone routing. In short, the power of tremendous flexibility…enabled by a simple voice command.
A Balance of Flexibility and Simplicity
AudioControl is committed to bringing the best possible entertainment experience to consumers through our integration partners. I see this collaboration with Josh.ai as an opportunity to add the convenience of voice control to our Director Series amplifiers as well as our Concert and Maestro Series theater platforms, merging the ultimate in audio and video performance with advanced, intuitive operability for end-users."

Alex Camara, CEO of AudioControl
AudioControl's Director Series amplifiers have full matrixing capabilities which means that, thanks to this new integration with Josh.ai, users will now have the ability to direct programming to any zone at their preferred volume level by voice command or through the intuitive Josh.ai app. Add to this the fact that the Josh.ai system is able to search for content through all available streaming services (using a compatible source) – and manage volume commands for individual or grouped output zones – providing users with the freedom to enjoy their favorite programming anywhere in the home.
The Power of Integrations

We're thrilled to align with AudioControl as a fellow innovator in our industry. The strength of our partnerships and device integrations are extremely important as we recommend robust solutions for luxury clients who want performance as well as reliability. Our goal with Josh.ai is to deliver a magical user experience, and partnering with AudioControl is another step toward that vision."

Alex Capecelatro, CEO of Josh.ai
Learn all about AudioControl's products by visiting: www.audiocontrol.com.
See more on Josh.ai at www.josh.ai.