BREAKING NEWS
MQA Limited, the company that invented and markets the Master Quality Authenticated digital music system said to deliver lossless high-res streaming music, has entered "administration" in the U.K. Administration is a form of bankruptcy or protection from creditors similar to Chapter 11 bankruptcy here in the U.S. In the U.K., administration offers an insolvent company time to reorganize, develop a new plan, and – with stakeholder and government approval – an opportunity to exit bankruptcy.
Learn more about this dramatic development with MQA
Longtime readers may recall a detailed series of posts on MQA written by guest poster Bill Leebens back in June/July 2021. Those posts explored the dynamic world of MQA which has both its proponents and detractors. Nonetheless, the company had successfully offered its system to a variety of companies – both brands of gear and at least one streaming service (Tidal) – and was a pretty hot topic in those days.
Now I've learned that MQA Limited is insolvent and as a result, has entered into administration. Apparently, the company has lost its main financial backer and needs the administration process to buy it time to seek a new buyer or otherwise come up with a new operating plan.
MQA Statement on Entering Administration
MQA Limited has issued the following statement about the situation…
Following the recent positive reception to MQA's latest technology (SCL6), there has been increased international interest in buying MQA Ltd. At the same time, MQA's main financial backer is seeking an exit. In order to be in the best position to pursue market opportunities and expedite this process, the company has undergone a restructuring initiative, which includes entering into administration and is comparable to Chapter 11 in the US.

During this process, MQA continues to trade as usual alongside its partners.

We won't be commenting further while negotiations take place.

MQA Limited, Company prepared statement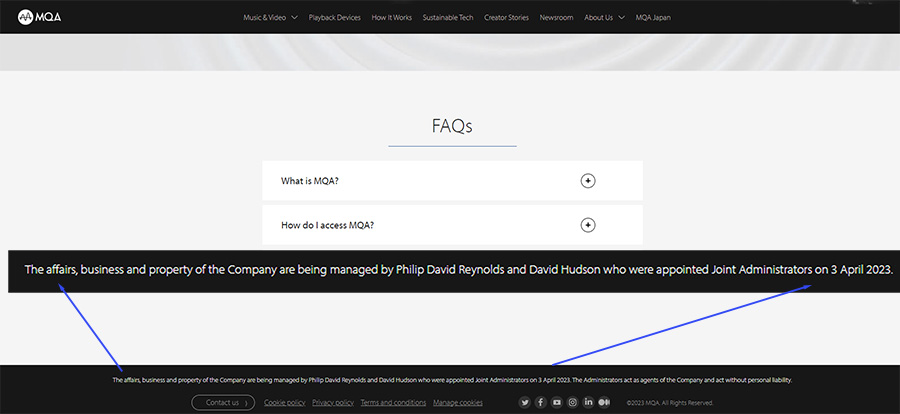 Administration in the U.K. Protects Insolvent Companies from Creditors
According to a U.K. government website, when a company enters administration, it is protected from legal action by individuals or organizations that are debtors of that company. They are prevented from forcing the company into liquidation – although liquidation remains one of the possible eventual outcomes. Basically, the company is allowed to continue, freed of paying its debts, as it comes up with a plan to resolve the situation.

As part of the administration process, a licensed administrator is appointed who takes over control and runs the company. In the case of MQA Limited, Philip David Reynolds and David Hudson, both of FRP Advisory Trading Limited, are the appointed joint administrators
Administrators Must Create Plan to Rectify Situation Within Eight Weeks
Administrators have eight weeks to devise a plan to resolve the insolvency. Once that plan is created it is distributed to all stakeholders (creditors, employees, Companies House [U.K. agency that handles all registrations and incorporations]) for approval or amendment.
According to the official U.K. government website, the range of potential outcomes from administration includes:
A negotiated CVA (company voluntary agreement) – this is where the debtor (the company under administration) proposes an alternative debt payout and payment schedule to the creditors. At least 75% of the creditors must agree to the revised debt payout and the payment schedule.
Sell the business as a "going concern" to another company
Sell the company's assets, known as a creditors' voluntary liquidation. Creditors are paid from any proceeds raised and the company is shut down
Close the company if there are no assets to sell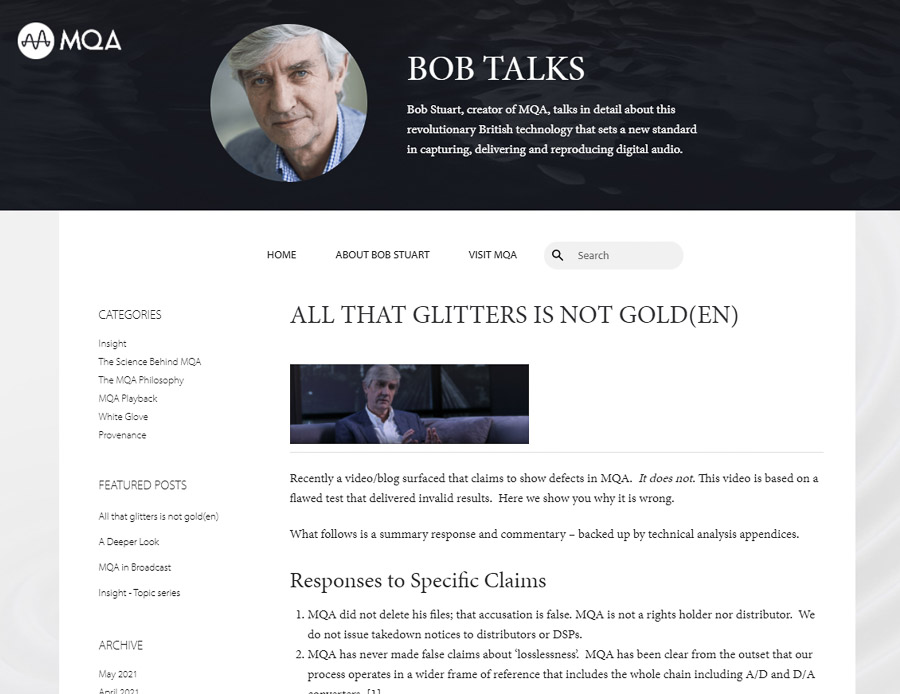 Can MQA Find a Buyer?
In their statement, MQA referred to "…increased international interest in buying MQA Ltd." While they don't name their suitors, it's hard to figure out what kind of deal could be put together. In looking at the company's performance for 2021, the most recent year for which they've released data, the company generated turnover (revenues) of $675,631 and booked a loss for the year of -£4,305,689 ($5.3 million). The company had a loss of -£4,396,165 in 2020.
What is sure to be an issue with any potential buyer is the company's overhead, or as they put it, "Administrative expenses" which run about £4.5 million a year. How has the company survived up until now? MQA Limited exists in large part thanks to the generosity of its "founding funder" which is Reinet Investments S.C.A. Reinet is an investment company that was spun off from the massive luxury goods company Richemont S.A. and it has largely been underwriting MQA operations since then.
MQA 2021 Annual Report Warns of the Impact of Loss of Financial Support

Interestingly, back in MQA'a 2021 financial report, the company's directors note that there is no guarantee of Reinet's continued support (although they believed it would continue), and if that support were lost, there would be "significant doubt over the company's and Group's ability to continue as [a] going concern and therefore its ability to realise its assets and discharge its liabilities in the normal course of business." In other words…they'd be in big trouble.
Perhaps even more ominously, elsewhere in the 2021 report in a section titled "Group Strategic Report," the company notes that: "MQA is fortunate to have the continued support of our longtime founding funder, Reinet Investments S.C.A. As of this report, MQA has obtained commitments for operations through Q1 2023."
Did the 2021 Report Foreshadow the End?
It appears that this notation denotes the end of their relationship with Reinet. An apparent possibility in 2021 that became a reality that has driven them into administration at this time – after the end of Q1 2023.
For now, the company says it has no further comment. We have no choice but to wait for an indication of which potential suitors are contemplating acquiring the struggling company – or if that process fails…what comes next.
Learn more about MQA Limited by visiting mqa.co.uk.