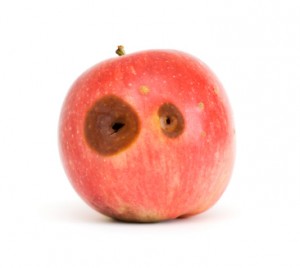 The AP is reporting that Apple, Inc. saw its stock price hit hard in trading today on Wall Street, dropping 23.44 points or 5.5%, to close at $402.80 per share – well below yesterday's close of $426.24. During today's session the stock traded as low as $398.11, setting a new 52-week low and triggering analysts to buzz about trouble in Cupertino. What happened? Another Apple supplier, Cirrus Logic, Inc., released a disappointing financial report that hinted that the real problem lays with Apple.
What's the connection between Cirrus Logic and Apple? See below…
Cirrus Logic supplies Apple with audio chips used in the manufacture of iPhones and iPads. Yesterday, Cirrus Logic reported their fiscal first quarter revenues were $170 million, a figure that was well below analysts estimates of $197.3 million, according to a survey by Bloomberg.
Cirrus said sales "of a particular chip are slowing down as a customer moves to a newer component." Because of this, the company will book a net inventory reserve of $23.3 million in the fiscal fourth quarter. Most of this reserve – $20.7 million – is related to one customer. They did not name that particular customer, but analysts say that it is Apple.
In fact, Bloomberg says that it has figured out that Apple is 90% of Cirrus Logic's total revenues based on a supply chain estimate they compiled. The impact of the Cirrus Logic results hit Wall Street hard, playing to its fears that Apple's best days are behind it. The Cirrus Logic report out yesterday is certainly the cause for the dramatic drop in Apple's stock price today.
"We blame Apple for losing its mobility mojo," Bloomberg quoted Vernon Essi, Jr., an analyst at Needham & Co. as saying in a research report. "This was simply an inventory overbuild for the iPhone 5 relative to Apple's forecast."
Apple will release their earnings on April 23. Shareholders better be buckling their seat belts – if analysts are right, they are sure to be in for a bumpy ride.