When the history of Monster Products is written some day in the future, there will be many legitimate highlights for their historian to ponder. First and foremost among these will be the fact that CEO Noel Lee (known as the Head Monster) virtually single-handedly created an industry when in the late 70s he popularized step-up, higher quality speaker cables that independent specialty retailers pushed like crazy over zip cord because it was much more profitable for them (and for Lee). And even though Monster Cable was more expensive for consumers, a clever Monster-created retail display demonstrated to them that they could indeed hear the difference with their own ears.
But we're pretty certain one scene will not make Monster's corporate history highlight reel – the company's failure to continue to capitalize on its partnership with Beats by Dr. Dre. That partnership dissolved some two-plus years ago…with Beats going on to be purchased by Apple recently for $3.2 billion. Monster's share of that eye-popping windfall: $0.
So why, in the wake of that loss, is Noel Lee talking about Beats to anyone who will listen??…
Noel Lee has been on a bit of a publicity blitz lately. He is willing to talk to just about anybody who'll listen, in print or on the air, about his opinion of Apple's purchase of Beats by Dr. Dre for $3.2 billion.
Lee says this deal is good news – and this was the theme he pursued at CE Week 2014 last month. As journalists sat waiting for the Monster press conference to begin – there was much speculation in the group as to whether Lee would address the topic as the deal between Apple and Beats had only recently been announced.
Wasting no time…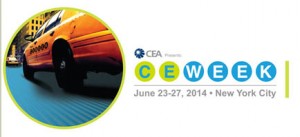 Lee wasted no time…literally starting the press conference in a discussion of Beats. Noting that "people" are always asking him for his opinion of the future of the headphone business – and expressing some concern for Monster's future – Lee assured the reporters, "We are at the tip of the iceberg."
And while he undoubtedly meant this as a reference to his feeling that there is yet a huge market to be driven…I found the discussion of icebergs made me shiver.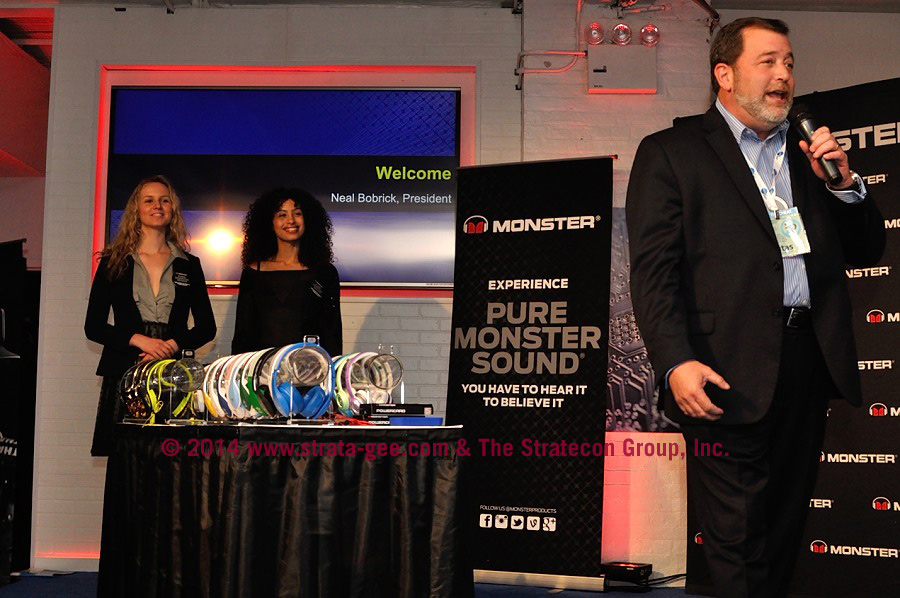 Creating a monster? Or creating a Frankenstein?…
Lee put up a slide with a graphic of the logo of Beats and Apple as he proudly proclaimed, "We created a monster" – an apparent reference to the multi-billion dollar value of Beats. Then Lee added, "You know what I say at home? We created our own Frankenstein."
While this comment was undoubtedly a laugh line…it may not have been the best metaphor to call upon, given the fact that Frankenstein's monster ultimately killed its creator. Still, Lee was greeted by laughter from the assembled journalists, employees, and other guests.
Lee went on to assure the group that he didn't get any of the $3 billion Apple paid for Beats, but he felt that this deal was proof that Monster can create a headphone company worth such a high valuation. And since they've done it before, they can do it again, Lee told journalists.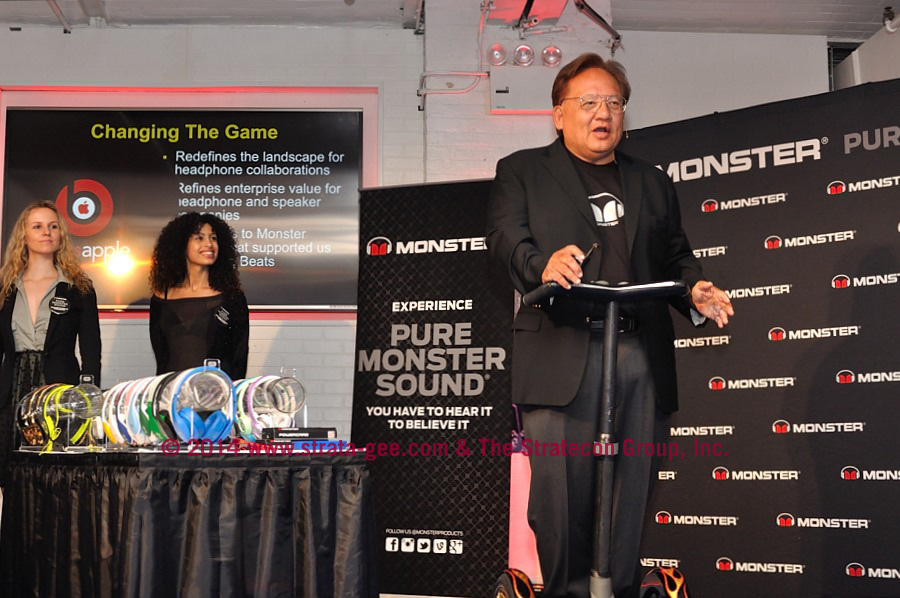 Who gets credit for Beats?…
Of course, Jimmy Iovine and Dr. Dre [whose real name is Andre Romelle Young] may take exception to Lee's characterization of Monster's having created the Beats phenomenon. We're pretty sure that they think they had something to do with it.
In fact, some analysts are saying that Beats – which holds #1 in market share in the headphone segment over $100 – is successful NOT so much because of its products…but because of its remarkable branding. Many articles have appeared noting the clever marketing and savvy brand image created by the Iovine/Dr. Dre combination – literally suggesting that bringing these two music/branding experts in-house was the prime asset sought by Apple.
We built that company…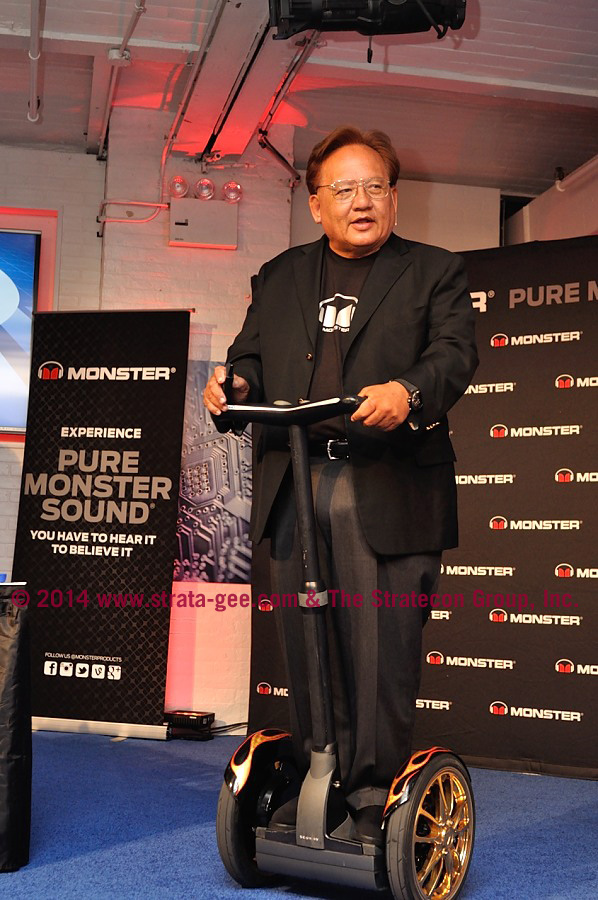 In any event, it is clear that at least part of Lee's motivation for this latest publicity blitz is to try to get some credit for Beats' success. In an interview with the Wall Street Journal (WSJ), Lee proclaimed, "We built that company [Beats by Dr. Dre]."
Lee went on to admit to the WSJ that he "would like to get more credit" for Beats' success and complained about how the media has consistently failed to mention Monster's role in Beats' rise to prominence. But this seems to us like risky business. Every time Lee talks Beats, he reminds people – fair or not – that Monster lost an incredible opportunity there. And some folks might find his effort to try to get credit from Beats' successful deal with Apple as a little unseemly.
Even the WSJ went there – asking about the Beats relationship. When the WSJ interviewer asked Lee why he didn't maintain the Beats partnership so he could participate in this Apple windfall, the Head Monster was forced to admit that "…it wasn't our choice – it was their choice" to break up the partnership and sell the company to HTC. [Beats eventually bought the company back from HTC.]
A game changer…
According to the Head Monster, the Apple/Beats deal is a game changer that, as was worded on his PowerPoint slide, "Redefines the landscape for headphone collaborations" and "Refines enterprise value for headphone and speaker companies."
Lee's theory on why Apple bought Beats and where the industry is now heading is based largely on the concept of how to monetize the business. Interestingly, Lee kept mispronouncing the word "monetize," saying it as money-tize, instead of the more accepted mahn´ eh tize. Perhaps this was done deliberately to keep the emphasis on "money."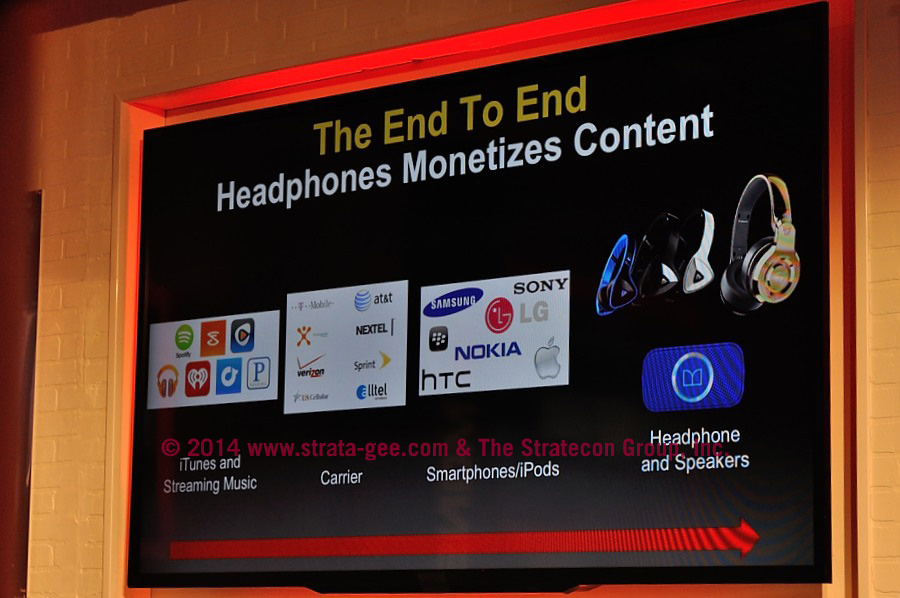 Creating an ecosystem…
Lee told the assembled press that in his opinion, headphones are the last profit center for an industry that struggles to make a profit. Showing a list of streaming music companies, Lee told reporters that companies like iTunes Radio, Spotify, and Rhapsody build their subscriber base by giving away music for free, but they still have to pay all the licensing fees. "And it's no secret that it's hard [for the streaming services] to make significant money," Lee said.
But Beats figured out how to make money, Lee told reporters, because they can "own a piece of the retailer's shelf space to hear that streaming music." According to Monster's logic…streaming services companies, network owners (i.e. Sprint, Verizon, etc.), device manufacturers…all need headphones to turn a profit. They all need to take a system approach by creating an "ecosystem" – a series of collaborative partnerships – that includes headphones in order to make money, according to Lee.
Profit at the end of the chain…
This is the lesson of Beats who, thanks to their partnership with Apple, can bundle the device (iPhone), the service (Beats Music & iTunes Radio), the network or carriers (primarily AT&T), and the headphones (Beats by Dr. Dre). The profit, he suggested, will come from the end of the chain – the Beats by Dr. Dre headphones.
"Get the picture?" Lee barked, working the crowd for more enthusiasm. "That's how you monetize it!"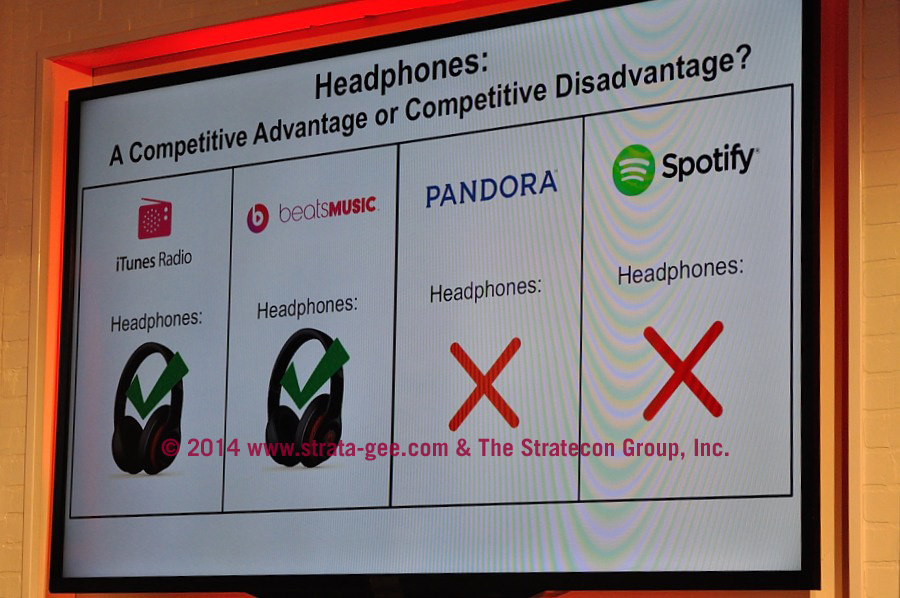 Spotify and Pandora are at a competitive disadvantage, Lee said, because they don't have an ecosystem that includes headphones. Therefore, they can't profitably monetize their services.
Then, in a grand summation that may also have been a message to other companies in the industry, Lee pointed to the slide that listed music streaming companies, network companies, and device manufacturers and told reporters that Monster is open to collaboration,  "Because, we can help them," he said.
Moving on from Beats…
But beyond Beats, Lee took a somewhat circuitous route as he laid out the logic for why he remains so optimistic about what he suggests is tremendous growth potential in the headphone market…and for Monster. Showing a slide that juxtaposed data comparing the unit sales of headphones priced over $100 versus the unit sales of mobile devices, Lee said we have a 97.8% opportunity.
Just what did the Head Monster mean by that? Lee pointed out (on his PowerPoint slide) that last year, headphone unit sales in this segment were only about 2.2% of the total mobile device shipments. This fact suggested to Monster a huge opportunity – a 97.8% opportunity to scale the over-$100 headphone sales to serve the rest of the smartphone market.
Doubling down…
However, we'd be a little cautious about this analysis, as the data was drawn from two different sources (CEA, NPD) measuring data in a different manner. Also, it seems an unlikely supposition that everyone buying a smartphone is going to opt to buy aftermarket headphones costing $100 or more.
But Lee pushed on and doubled down on his market growth estimates – telling reporters that because people tend to own more than one pair of headphones "…that doubles the amount of penetration that headphones take." Hmmm….
"So we're really bullish about that," Lee enthused.
Whether you buy into Monster's assertion that we are on the verge of the next great wave of market expansion of expensive headphones or not – Lee kicked off a series of product introductions that certainly indicated that THEY buy into that assertion.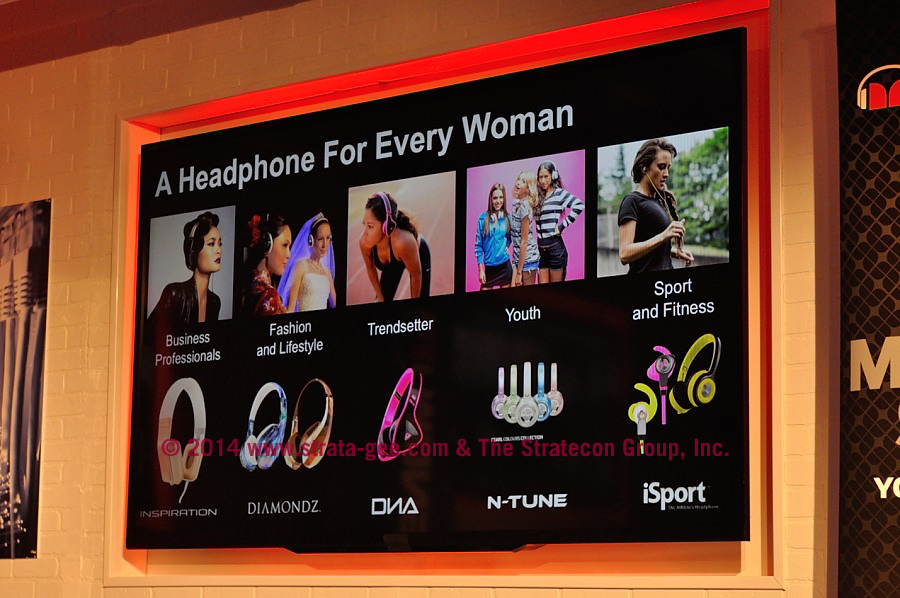 Monster showed:
DNA Pro 2.0 – "This is the best sounding headphone in the world," Lee said modestly. According to Monster, this headphone gets you as close to the music as possible. "You have to hear it to believe it," Lee said. "It's not about bass anymore – it's about dynamics, impact, transparency, clarity, sharpness…it's like high-definition TV…4K…everything comes into focus." The DNA Pro 2.0 comes in different colors and has a $329.95 MSRP .
24K – "You might have seen it, because all the hipsters are wearing it," Lee said. But, interestingly, it has not yet been sold through retailers. Currently, 24K is only sold Direct-to-Consumer on the Monster website for $300. That is about to change as 24K will soon be available through Best Buy, Media Saturn (Europe), FNAC (Europe), Bright House (UK), Selfridges (UK), Herrod's (UK), Dixon's Travel (UK).
Sport and Fitness expansion – Here Monster told reporters that the company has continued to expand in this category with three series of iSport headphones (Strive, Intensity, and Victory), an expansion into wireless over-the-ear headphones, expanding distribution, expanding line of athletic endorsements, and more exciting things yet to come. The company has partnered with Adidas with a line of headphones ranging in prices from $99.95 to $249.95.
Monster Knows What Women Want – "Another phenomenal category is females," Lee told reporters. Females, he said, aren't concerned with sound quality. Lee says what women really want is #1 comfort…and #2 is style. And many retailers, "Don't have a clue how to merchandise and sell to females," exclaimed Lee.  The company is also developing merchandising that is designed to appeal to women that they will make available to retailers.

This is an example of Monster's more female-oriented merchandising
To learn more about Monster Products, see: www.monsterproducts.com.