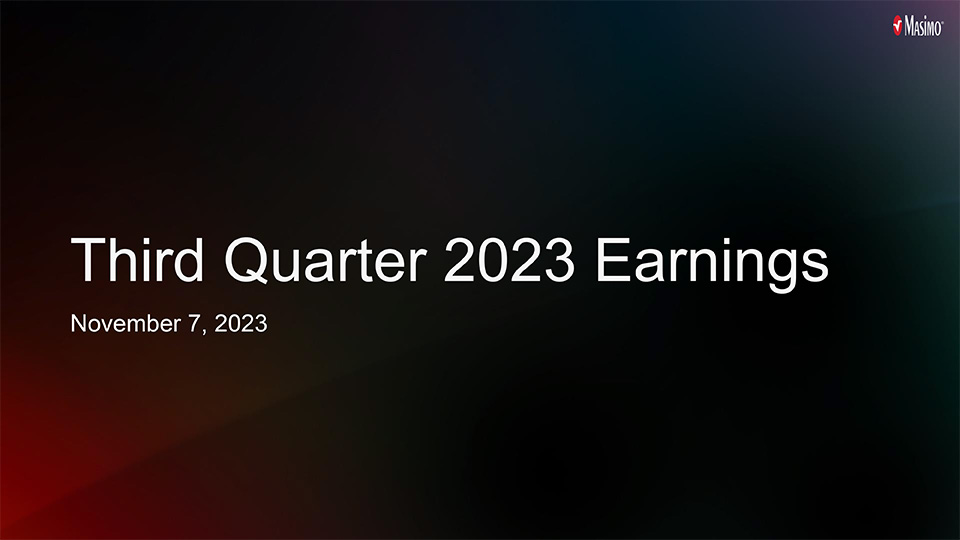 Double-Digit Percentage Declines in Revenues & Profits
Without a doubt, Fiscal 2023 has been a challenging year for Masimo in many ways. And this week, as the company reported its results for the third quarter (Q3) that ended on September 30, 2023, that reality couldn't be any clearer. With revenues down 13% and net income down more than 72%, about all the company could say is – wait until next year…it is going to be great.
Learn more about the Masimo fiscal '23 Q3 earnings report
About the best that the Masimo Corporation (Nasdaq: MASI) could say about its Fiscal 2023 Q3 report is that at least its results were within the guidance range it had previously provided to investors. And one could argue that the results this quarter were a smidgeon better than last quarter…but that's not saying much as the last quarter was also a challenging one.
In that last quarter, Q2, which I reported on in early August, revenues were down by 20% and profits dropped by 13%. This performance led CEO Joe Kiani to admit, "We are disappointed with our results this quarter." The trends Masimo identified that impacted last quarter's performance were continuing, and the company reduced its guidance on performance expectations for the third quarter.
Did Q3 Meet Masimo's Expectations? Barely…
Well, here we are at the end of the third quarter and revenues are down 13% with profits down 72%. Says the CEO for this quarter: "Our performance for the third quarter was within our guidance range communicated last quarter." Yeah, that was about the best he could muster.
But even that statement was a stretch. Why? Because revenues just barely cleared the low end of the range the company had set.
| | | | |
| --- | --- | --- | --- |
| ITEM | Q3 GUIDANCE RANGE (Aug) | ACTUAL | COMMENT |
| Consolidated revenue | $475m-$525m | $478.9m | Low end of range |
| Healthcare revenue | $305m-$335m | $307.8m | Low end of range |
| Non-healthcare revenue | $170m-$190m | $171.1m | Barely made the range |
| Consolidated operating income | $50m-$60m | $56.9m | Middle of range |
| Consolidated net income per share | $0.50-$0.64 | $0.63/share | High end of range |
Company Revised Q4 and Annual Guidance Downward…Again
So as you can clearly see in the table I constructed above, the company did fall within their previously provided guidance for the third quarter, which was revised in August. Bottom line, based on the performance this quarter, the company was again forced to revise its guidance for both the upcoming fourth quarter and full-year performance downwards.
So let's take a deep dive into the numbers.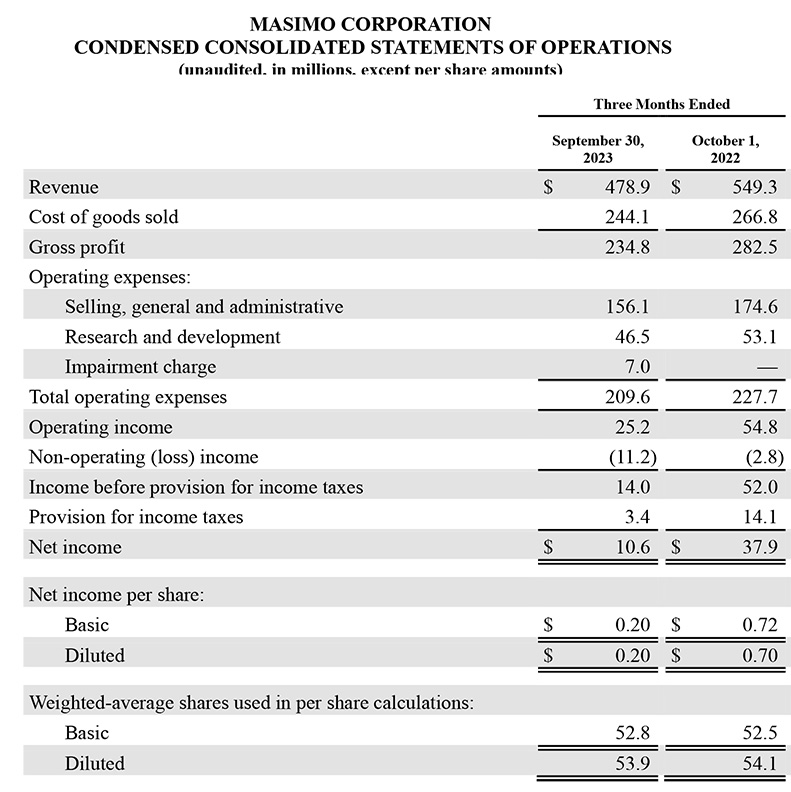 A Deep Dive – Top Numbers
Overall revenues for the third quarter came in at $478.9 million, down $70.4 million or 13% below the revenues of $549.3 million in the same quarter last year. Think about that for a moment. Revenues dropped by a little more than $23 million a month for each of the three months of the quarter.
Masimo's business is comprised of two major divisions – healthcare and non-healthcare. The non-healthcare division, known as Masimo Consumer, is the business the company acquired when it purchased Sound United.
Company: Why Revenues Declined
The company says that the sales decline in the healthcare business is mostly attributed to "lower sensor utilization" and "hospital inventory management." They also point to an "elevated backlog of new equipment installations by our OEM partners" as well as constrained hospital budgets.
On the non-healthcare side, the company says its consumer business "saw continued slowing in demand for consumer audio products. A difficult environment for consumer discretionary purchases is adversely affecting the market for high-end audio systems."
Operating Profits Down 54%, Net Income Down 72%
Operating income came in at $25.2 million, down $29.6 million or 54% below the operating income of $54.8 million in the second quarter last year. Net income for the quarter was $10.6 million which is $27.3 million or 72% lower than the net income of $37.9 million in last year's quarter.
It was hard to find a lot of positives in the raw data. The company executives resorted to extolling their "record level of new contract signings," which while impressive, doesn't get applied to revenues until the contract is fully executed – which can take months to years to realize. They also boasted about "record market share gains," but failed to provide any concrete data establishing such gains. If Masimo did in fact gain market share, then – considering the dismal performance numbers it has shown in the last two quarters – that can only mean its competitors have fared even worse.
Mustering Some Optimism
Both CEO Joe Kiani and CFO Micah Young tried to muster some optimism by suggesting that they are "beginning to see improvement" in the post-COVID period in which most businesses – such as those with whom Masimo does business – are forced to adjust to a lower demand environment. Remember, Masimo is predominantly a healthcare system provider of individual patient sensors and other related products, and of course, healthcare boomed during COVID-19. Now…not so much.
Says CEO Kiani, "…our healthcare business is navigating a clear transition away from COVID era conditions." He then added, "As we continue to gather more data on hospital utilization of our sensors, we are beginning to see that customer behavior and sensor purchasing patterns [ED NOTE: sensor purchases are currently well below historical trend lines] are transitioning back to the pre-pandemic growth trend line we saw from 2017 to 2019."
Hard for an Independent Observer to Find Many Positives in the Data
Let me give you an example of how hard it is to find positives in the available data. Even the "highlights" published by the company in a separate slide deck that was offered to analysts participating in the conference call served to illuminate the problem. Look at the table below and you'll see the first data presented in the slide deck showing Fiscal '23 Q3 actual performance versus the same quarter last year. I personally ignore the "non-GAAP" data which is outside the conventions of GAAP (generally accepted accounting principles).
See that large column on the right labeled "vs. Prior Year"? This column presents the percentage difference between the actual Q3 performance this year versus last year on an "As Reported" or "Constant Currency" basis.
Why are All the Numbers in Parentheses?
Note that all items shown in that column are in parentheses, which indicates that the item is a negative calculation or below the result for the previous year. Again ALL the numbers in this company-supplied analysis are in parentheses…each and every one.
Despite the optimism of the management presentation, this fact gives you a clue that things are not proceeding according to plan.
More Issues Impacting Performance
There are other signs of trouble as well. I'm not going to exhaustively enumerate and cover every item, but suffice it to say there are many indicators that things are not going in the direction the company would like. I have listed a few of what I consider the more salient issues below.
>Selling, general, and administrative expenses (SG&A) – The company is experiencing margin compression on multiple fronts making it difficult to address. First, when the company acquired Sound United for over $1 billion in cash, they didn't realize that the consumer electronics industry is a higher cost, lower margin industry as compared to the commercial healthcare business. This instantly created a disparity in realizable margins with a big differential between the two divisions. (A separate analysis by CFO Young, showed Healthcare gross margins at 60% and Non-healthcare gross margins at 33%).
In this quarter, the SG&A expense in dollars declined, but as a percentage of revenues, it actually increased. The company said the dollars declined because of "lower compensation and other employee-related costs and other items. But these savings were offset by "higher legal and professional fees." I'll detail more on their costly battle with Apple below, but in addition to this, I noted higher advertising and marketing-related costs in the quarter. Even though they spent more money on advertising and marketing, revenues declined 13% in the quarter – and Masimo Consumer's revenues declined 23%. Ouch!
The company also revealed that it is moving more of its production to Malaysia to cut production costs. They did not detail where they were in that process and such a move can raise short-term costs for a longer-term gain.
>The battle with Apple delivered a sweet victory, but it's a painfully costly and continuing battle – Masimo recently won a favorable and meaningfully positive decision by the USITC that may ban the importation of Apple Watches in the U.S. This was probably the most positive news to come out of the presentation. Some analysts are forecasting that this win over Apple could be worth an additional $100 million in revenues to the company. However, Masimo has no time to enjoy that win as they remain entangled in multiple lawsuits in multiple district courts, and appeals courts…as well as actions with the U.S. Patent and Trademark Office, the Patent and Trial Appeal Board, and the United States International Trade Commission.
You might suspect that this much litigation is costly…and you'd be correct. In the third quarter of this year, the company was hit with $6.7 million in legal costs. Litigation insurance paid $5 million of that amount, but the company still had another $1.7 million of direct impact. And there is no end in sight to this cost item.
>It turns out that the legal battle with Apple is costly in other ways as well – While Masimo can legitimately claim a victory in the patent battle with Apple as it relates to three of their patents, Apple was successful in getting the District Court to invalidate claims for nine Masimo patents…Ouch! The company has appealed this ruling…and Apple has appealed the ruling on its successful claims on three of its patents. The expensive deathmatch continues…
>Non-Operating Loss – The company maintains a Non-operating (Loss)/Income category to account for interest income and interest expense – as well as foreign exchange gains and losses. While that category over time will sometimes generate income and other times generate a minor loss, in Q3, that category generated a loss. It had also generated a non-operating loss in Q3 of Fiscal 2022 of $2.8 million, but this year's non-operating loss was $11.2 million…a 300% increase. The company offered no explanation other than to say a $12.8 million interest expense was partially offset by a $.9 million foreign currency exchange gain.
However, it seems likely that there may have been a couple of variables at play here. One, the company financed its >$1 billion purchase of Sound United with debt; and two, interest rates are rising. However, this is just speculation on my part.
>The Sound United acquisition remains problematical for Masimo management – One thing came through loud and clear for me in this quarterly report, both in terms of the data presented in the releases and filings, as well as the narrative presented in the conference call with analysts – the Sound United acquisition remains a problematical issue for Masimo management. Why do I say this? For multiple reasons…
First, the company was clear that the consumer channel is slowing, inserting this text in their 10-Q filing with the SEC.
The non-healthcare segment saw continued slowing in demand for consumer audio products. A difficult environment for consumer discretionary purchases is adversely affecting the market for high-end audio systems. While non-healthcare overall is suffering from the negative macro environment, we again realized strong growth for our hearables category, which increased by more than 140% year-over-year and now represents 10% of segment sales. The positive momentum in hearables has helped to partially offset the macro conditions weighing on the market for high-end audio systems.

Masimo, 10-Q SEC filing
The above text makes it clear that the division is struggling with a challenging consumer market. While the healthcare division is also struggling, its revenues only declined 6%, while the non-healthcare division saw revenues collapse 23% in the quarter. Furthermore, the company revealed that it has been losing money on the division ever since it acquired it. In its 10-Q report to the Securities and Exchange Commission (SEC), the company noted that from April 11, 2022, to October 1, 2022, the division booked revenues of $430 million and generated a net loss of $26.7 million. This year, from January 1, 2023, to September 30, 2023, the division generated revenues of $562.1 million and had a net loss of $21.2 million.
While those loss numbers are not huge for a $2 billion entity, Kiani has been on the defensive, as investors have continued to punish the company for this non-adjacent – and to many, nonsensical – acquisition. Masimo stock remains well below its historical highs. To investors, it seems like all Masimo succeeded in doing is acquiring a company to dump Masimo money into…rather than to generate profits out of.
>The non-healthcare or consumer division hit with a $7 million writedown this quarter, as the value of its trademarks declined. Second, one could argue that the investors are not wrong. In fact, the company's performance in the third quarter triggered a reevaluation of the value of the former Sound United division. Masimo ended up taking a $7 million charge against earnings to write down the value of the Consumer division's "indefinite-lived trademarks…" Says Masimo:
In the third quarter of 2023, continued declines in the Company's stock price and certain worsening macro-economic market conditions, including continued slowing in demand for consumer audio products, contributed to a significant decline in the Company's market capitalization, which led the Company to conclude a trigger event had occurred. As a result, the Company performed a quantitative impairment assessment, which resulted in recording a $7.0 million impairment charge for indefinite-lived trademarks in the non-healthcare reporting unit. [Emphasis added]

Masimo Corporation, Form 10-Q filing for the quarterly period ended September 30, 2023
>The non-healthcare or consumer division is barely discussed in Q3 materials and presentations. Third, in the presentation of the Fiscal 2023 third-quarter results, there was very little mention of the non-healthcare division. I'd say easily 90%-95% of the presentation was all about the healthcare division. Think I'm exaggerating? Consider this example…in the prepared slide deck for presentation to analysts, seven slides were devoted to a detailed analysis of various segments of their healthcare business. But there were only two slides devoted to the non-healthcare division – one showing the division YTD sales through September compared to the previous two years (with this year decidedly down)…and the other showing 138% sales growth in the "hearables" (earbuds and headphones) category, a new category for the company.
Also, CEO Joe Kiani gave an overview of the quarter for analysts. He spoke for over 2 minutes on the business overall and healthcare division matters specifically. And he spent exactly 21 seconds in just two sentences briefly mentioning the consumer business, only addressing the challenging consumer environment and the success of hearables.
The same was true of CFO Micah Young's deep-dive analysis of the company's financial performance. Young spoke of overall company and healthcare-specific performance – sharing a lot of very specific data – for more than 7 minutes. But he turned to the non-healthcare division's data and insights for a grand total of just 45 seconds.
>In a 6½-minute long presentation of exciting opportunities ahead for Masimo, non-healthcare gets little attention. Even more – Kiani was tasked with sharing the company's exciting upcoming plans and products for the quarter and into next year. He spoke at length with great particularity on several new healthcare division products like ORI (oxygen reserve index parameter), LED Rainbow sensors, Halo, AI-powered clinical decision support tools, W1 smartwatch, and more. Kiani spoke for a total of about 6½ minutes. Of this total, he spent a total of 33 seconds on non-healthcare or consumer division products. He only mentioned two products – the Stork baby monitor (which is expanding its retail footprint), and Denon Perl Pro earbuds.
This lack of share-of-mind of the company's top executives or visibility in the public presentations as they discuss the company and its opportunities does not bode well for the Masimo Consumer division. And what I described above was pretty much all they presented. I think that would have been it, if not for the fact that one of the industry analysts asked Kiani about whether he remains committed to the consumer division.
That's an interesting question. Do you think he was seeing the same lack of Consumer Division attention that I saw?
>Analyst asks Kiani if Sound United is a 'distraction'. Is it creating opportunities? – On the conference call with analysts, Michael Polark with Wolfe Research directly asked CEO Kiani this: "And then a follow-up for Joe…just looking for kind of a fresh reflection on Sound United. Relative to your expectations, how do you feel about it [now]? Is it is it proving a distraction? Do you think it's positioned to deliver the opportunities that you saw in it – as you move the consumer products closer to prime time? Just how are you feeling about running that business today?
Polark was expressing a question many in the investment community have wondered about. To this line of questions, Kiani spent a little more time responding.
"When we announced we're going to acquire Sound United, I said, give us three years, and if in three years it's not working, we'll get rid of it," Kiani said. Then he added a few minutes of explanation about why he feels the Sound United acquisition was the right thing to do.
Kiani says by acquiring Sound United and having them lead the charge into the consumer channel, the healthcare side of Masimo can stay focused on continuing to build the healthcare business. Not only is Sound United NOT a distraction…they are actually preventing the healthcare division from being distracted as the company moves into the consumer channel, he suggests.
The CEO also maintains that Masimo could not ignore the consumer channel any longer, because "healthcare is moving into the home." He says the division is excited to be a part of Masimo and a part of this major trend of healthcare moving into the home.
Regarding the Sound United management and employees – Kiani said, "We did not hear from them, 'Hey, leave us alone. We just want to sell speakers and AVRs.' On the contrary, they're excited about being part of Masimo helping people live better lives."
To the investment community, Kiani has this plea. "Please hang in there. I really think this is the right thing for Masimo. I really think it's the right thing for people – and for even payers. This is going to help bend the cost curve of hospital and patient care."