In documents released today but dated November 6th, JVC Kenwood Corp. announced both their results for the first half of the current fiscal year (the period of April 1, 2013 to September 30, 2013) and a radically revised forecast for their entire fiscal year (ending March 2014). Both these documents combine to reveal a company undergoing a surprising change of fortunes with sales and profits declining dramatically as compared to the same period last year…and a downward revision to their annual forecast.
JVC Kenwood now says – in contravention to their last forecast in May – that they will lose money this year.
What has caused such a turnaround in JVC Kenwood's fortunes? See more below…
JVC Kenwood held a Board of Directors meeting on November 6, 2013 to review the company's performance for the first half of the current fiscal year, commonly referred to as the first budget semester. In a matter of just a few months, the company has realized a substantial shift of fortunes as originally expressed in their last forecast, released May 15, 2013.
For the first fiscal semester, JVC Kenwood sales came in at ¥148.4 billion ($1.49 billion), down less than 1 percent from ¥149.3 last year. But while sales declined modestly, profits nose-dived with operating income, ordinary income, and net income all showing big declines from last year – and all slipping into losses.
From profit to loss…and a shift in the business breakdown…
Net income, for example, at the end of the first semester last year was ¥1.2 billion. However, this year the company booked a net loss of ¥5.1 billion for the first semester.
According to a breakdown in sales results by product category, the company has seen significant shifts in their business with the Optical & Audio category seeing its share of sales drop from 28 percent of sales last year to 25 percent of sales this year – a shift of about ¥5 billion. The Car Electronics segment was the biggest gainer, seeing its share of sales increase to 36 percent of sales as compared to 32 percent of sales last year – also a shift of about ¥5 billion.

A changing view on the business' outlook…
JVC Kenwood's rapidly changing results has forced the company to dramatically revise and cut their annual results forecast – from their May forecast of a profit of ¥3 billion ($30 million) to an annual loss of  ¥5.5 billion ($55.2 million). The company now says it will post losses for the year on an ordinary profit and net profit basis – but says they will generate a small operating profit of about ¥1 billion.
The company noted in materials provided with their results that their view has changed as a result of several factors. And there may be a touch of irony in the way that their business has played out as the company sought to address last year's challenges.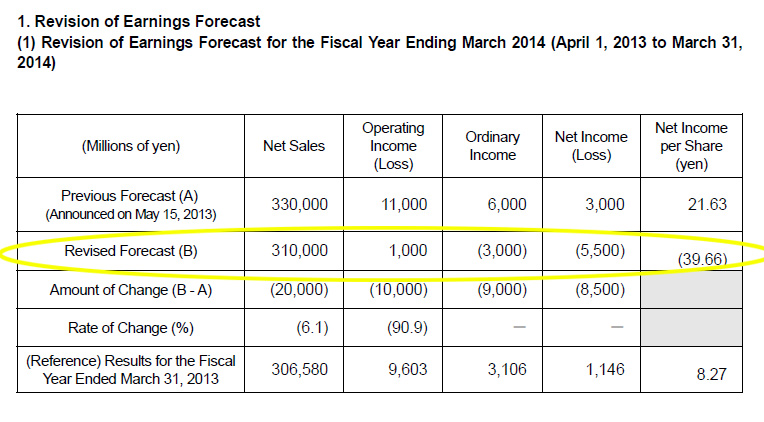 Win a few, lose a few – more…
The company noted that while Car Electronics and Professional Systems sales increased, net sales fell below forecast due to sales decreases in the Optical & Audio segment as a result of a slump in Europe and the "realignment of some models" (which usually means some models didn't sell so well). The company also said that sales dropped in their Entertainment segment due to an unexplained postponement of "leading works" from the first half to the second half of the fiscal year.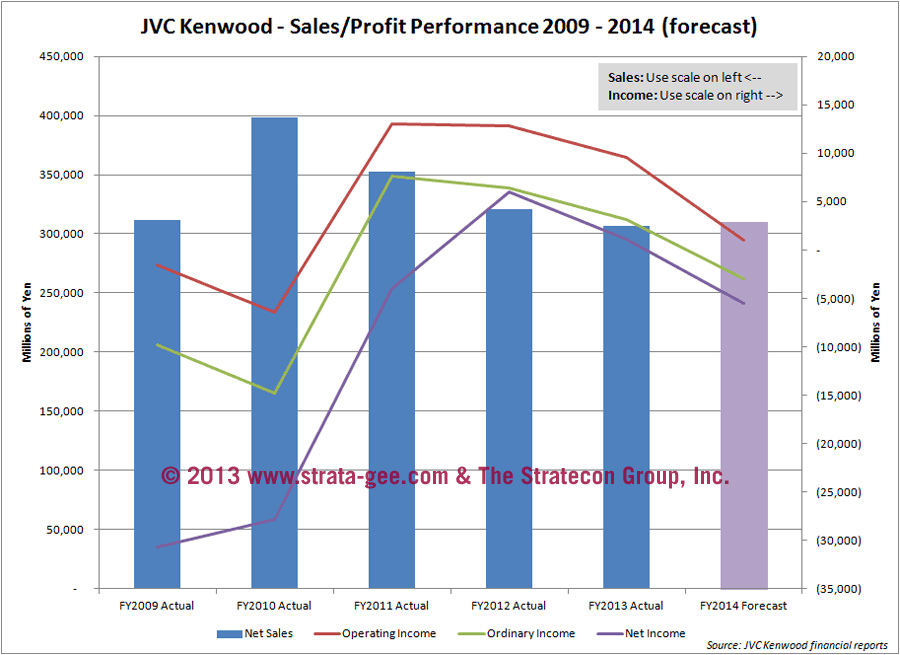 Addressing the matter of their profit decline, JVC Kenwood revealed that their Car Electronics and Optical & Audio segments both experienced "large operating losses in the domestic [Japan] business" due to a negative swing in the currency exchange rate. This was coupled with poor overseas sales in Car Electronics Consumer business, the Imaging business, and – again – the delayed roll out of new entertainment products. All of these issues combined to slam operating profits.
A final slap…
The company's management says it will implement measures to address the situation including: dropping unprofitable 2013 models sooner than originally planned…pushing up new – and presumably more profitable – 2014 models for introduction sooner than originally planned…and rolling out new "structural reforms" as recommended by their "Business Restructuring Task Force."
But until these new measures can take effect, JVC Kenwood acknowledged that "the business environment will continue to be difficult." And in a final slap to investors, the company noted that it would suspend their year-end dividend payment – originally expected to be ¥5 per share.